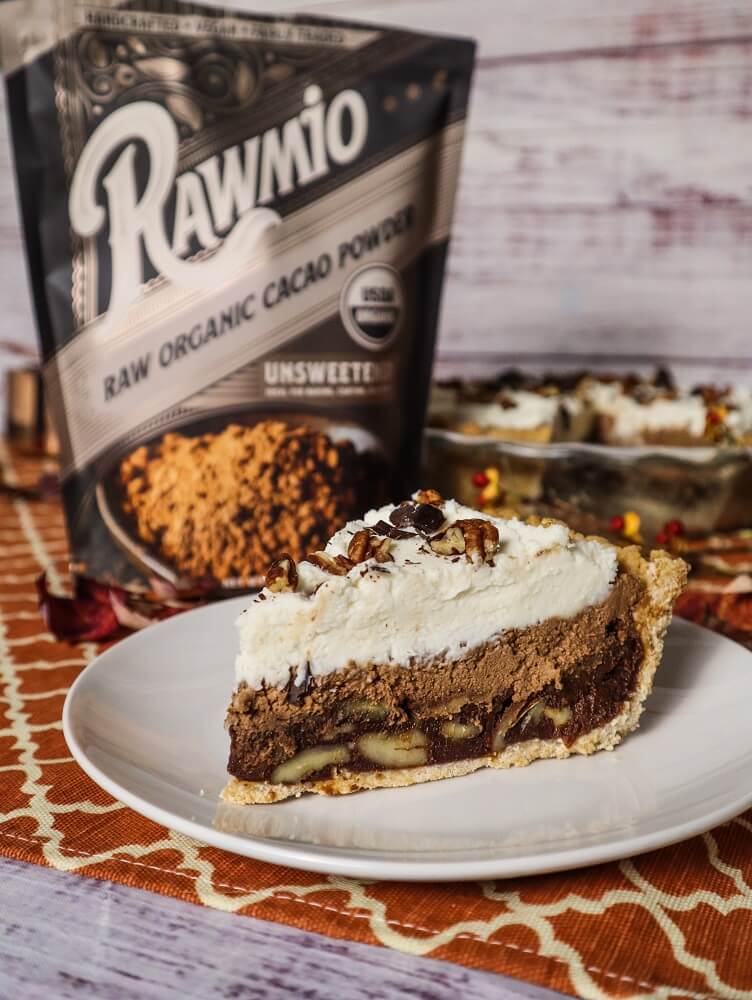 Vegan Chocolate Pecan Mousse Pie 
Growing up, for Thanksgiving my Grandma always had pumpkin, pecan and apple pie for dessert.  I would always take a slice of each, but the pecan was my favorite.  It was my Grandma's favorite and Mom's favorite too, although there was always more left of it at the end because some of my family does not like nuts (and they were totally missing out).  More for us I guess!  I always thought of pecan pie as kind of special because you don't really get it any other time of the year, or I didn't at that point in my life when I was not baking my own pies.  We didn't usually have it for Christmas, just Thanksgiving.  Well, I like to keep the pecan pie tradition going, and I know it is my Mom's favorite so I usually try to make some.  Although it usually ends up not being traditional. Like this year, I had just received some Rawmio cacao butter and Rawmio cacao powder from Raw Guru and I wanted to incorporate them into the pie, because who doesn't love chocolate after all.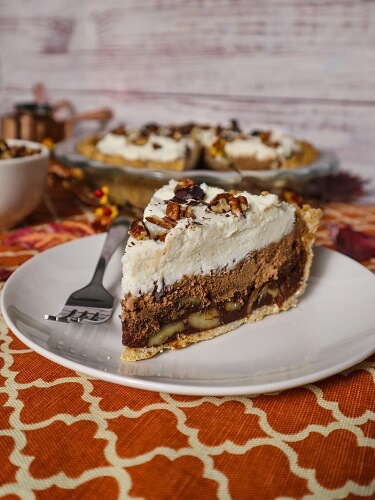 I have made a chocolate pecan pie before, so I wanted something a little more different and fancy.  What I decided to make was a combined version of two of my favorite holiday pies, a Vegan Chocolate Pecan Mousse Pie!  I love pecan pie, and I love a chocolate mousse or french silk pie (something we would serve at Christmas), so I went and combined the two!  Yes, this pie has a few steps to make it and takes a little time but it is so worth it!  And it was something I made after a long day at work when I was tired (over the course of two days) but it wasn't as much work as I thought it would be.  Sometimes I like to divide my dessert making between two days if something has to cool or has a few steps (since I feel like life is busy and I have less free time).  So in this case, I baked the bottom layer and the crust, let it cool outside for a while, while I made the mousse layer, then let it sit overnight in the fridge and made the whipped cream topping.  It worked perfect!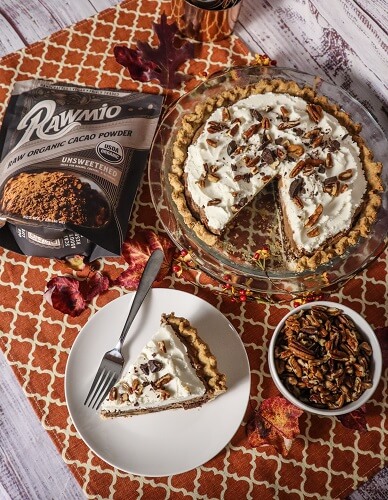 To make the Vegan Chocolate Pecan Mousse Pie, I made a classic coconut oil crust, which comes out rich and flakey and is always easy to make.  Next, to make the pecan pie layer, instead of using corn syrup as traditional pecan pie does, I blended up dates to make a gooey chocolaty caramel which included some of the Rawmio cacao powder.  That baked up nicely and while it cooled I made a rich chocolate mousse filling with full fat coconut milk and the cacao powder and Rawmio cacao butter to give it plenty of chocolate flavor.  If you wanted to make this with coconut butter (not oil though) instead of the cacao butter, that works as well! It was heavenly!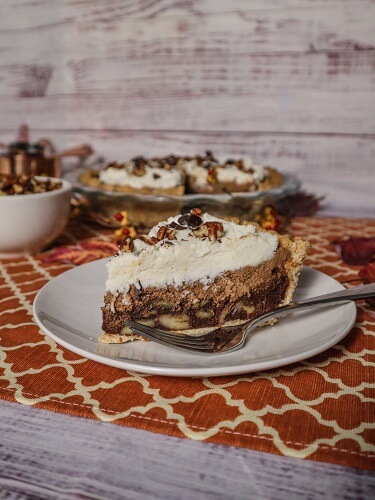 For the topping, I used more coconut milk and the Rawmio cacao butter to thicken it as well.  As a side note, for the topping and filling of this pie, it is important that you use thick coconut milk that is mostly cream, like 3/4 of the can thick cream or just canned coconut cream (but not the sweetened kind) or it will not firm up.  I cannot stress this enough, and I hate to see people's desserts not turn out because they didn't use the proper ingredients so I needed to mention this.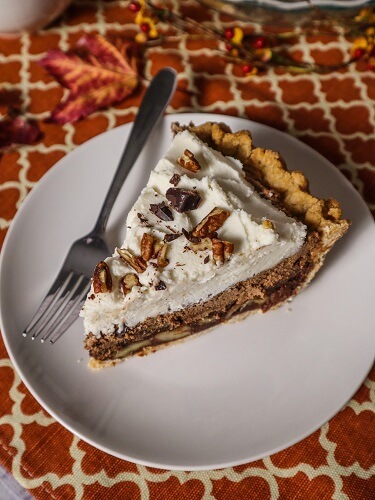 The pie looked beautiful and I could not wait to try it!  Of course I had to photograph it first (the one downfall to being a food blogger no diving right into something like a pie since it needs to look pretty for pics) and my mouth was watering the whole time.  When I showed Eric a piece while I was photographing it, he said "That pie is legit!" meaning it looks pretty impressive, which it does with its three layers.  It is totally heavenly too, and perfect for a holiday dessert!  It has a buttery crust, a crunchy, sweet and gooey pecan layer which is the perfect partner for the rich chocolate mousse and mellow creamy vanilla topping!  If you are looking for an impressive pie for the Holidays this Vegan Chocolate Pecan Mousse Pie is it!  If you are in need of cacao products, check out the Raw Guru website for the Rawmio cacao butter and powder.  They also have some amazing chocolate products and nut butters too that I love!
Vegan Chocolate Pecan Mousse Pie 
Makes one 8 inch pie
Ingredients:
Crust:
1 1/4 cups organic whole wheat pastry flour
2 Tbsp coconut sugar or maple sugar
1/4 tsp sea salt
1/4 cup plus 2 Tbsp coconut oil in its solid state
about 3-4 Tbsp cold water
Pecan Filling:
1 cup soft pitted medjool dates (if they are not soft, soak them in filtered water for 30 minutes and drain well
before using)
1/4 cup pecan butter or almond butter
2 Tbsp Rawmio cacao powder
1 Tbsp maple syrup, plus more for brushing the top of the pie
1/8 tsp sea salt
1 tsp pure vanilla extract
1/3 cup filtered water
1 Tbsp Rawmio cacao butter or coconut oil
2 cups toasted pecans
Mousse Filling:
1 15 oz can coconut cream or full fat coconut milk that is thick (you want at least 3/4 of the can to be cream or this recipe will not work)
1/4 cup cacao powder
1/3 cup maple syrup
1 tsp vanilla
pinch sea salt
3/4 cup melted Rawmio cacao butter or Raw Guru coconut butter
Topping:
Directions:
Preheat oven to 375F degrees.
To make the crust, in a large bowl, mix together flour, sugar, and sea salt. Cut in coconut oil with a pastry blender or 2 knives until it is in pea sized pieces. Mix in  just enough water to create a smooth dough that holds together but isn't too sticky. Add more water if needed, and knead slightly until a smooth dough is created. Roll out into a 10 inch circle using floured parchment underneath and floured rolling pin. Transfer dough to an 9 or 9 1/2 inch pie pan (don't worry if it tears, just patch it up and nobody will know).  Flute the edges, or crimp them.  Set aside in the refrigerator.
To make filling, combine all ingredients in a high speed blender or food processor except the pecans. Process until smooth, then scrape into a bowl and stir in the pecans. Spread the filling over the crust, spreading it out evenly, and place in the oven.
Bake for about 30-35 minutes until the crust is starting to brown lightly. Remove from oven and let cool completely.
To make the mousse filling, combine all ingredients in a high speed blender and blend until smooth, then pour into a bowl and place in the freezer, stirring every so often until it thickens slightly, about 1/2 an hour to 45 minutes depending on the temperature it was.
Pour the mousse over the pecan layer, and place in the freezer until set, at least 1 hour.
To make the coconut whipped cream topping, combine all ingredients in a high speed blender until smooth, then place in the freezer until it thickens to the consistency of whipped cream, about 45 minutes to 1 hour.
Spread the cream over the top of the pie, sprinkle with pecans and dark chocolate and enjoy!
(Visited 1,571 times, 1 visits today)