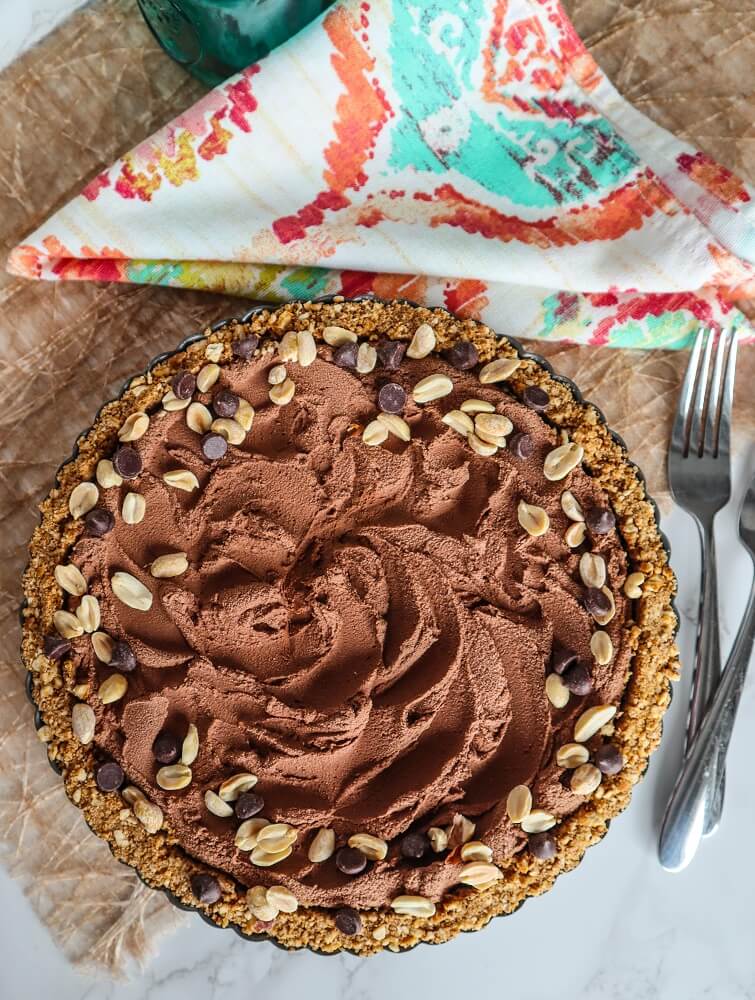 Vegan Chocolate Peanut Butter Mousse Tart with Pretzel Crust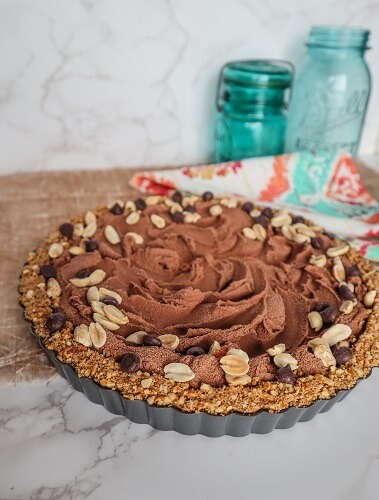 Back in the day I used to make a simple chocolate mousse that was just two ingredients.  Whipped cream and chocolate.  You whipped the cream to soft peaks then folded in melted dark chocolate.  It was one of the most delicious things ever, so simple but so good.  A few bites were satisfying but I always finished off my whole glass of it because it was also hard to stop eating. It was also something that you could easily add flavors to, and one of my favorites was peanut butter.  Luckily this mousse is easily made vegan by just using whipped full fat coconut milk or cream!  And it makes a wonderful tart or pie filling so when I was craving the mousse last weekend I decided to make a Vegan Chocolate Peanut Butter Mousse Tart with Pretzel Crust!
I have been wanting to make a pretzel crust for a while now, and I had a bag of pretzels sitting in my pantry so I decided to go for it!  I thought the salty pretzels would be a perfect match with the dark chocolate and peanut butter!  I also love that they are fairly easy to make like a graham cracker crust would be, just mix in the food processor and press into the pan! I used a tart pan this time for easy removal.  That is what I love about removable bottom tart pans!  This crust just had 3 ingredients, the pretzels, coconut sugar and melted vegan butter!  If you wanted to use regular granulated sugar if you do not have coconut sugar you can do that as well. And if you prefer to use coconut oil in place of the butter that would work too.  I just happened to have a stick of vegan butter on hand.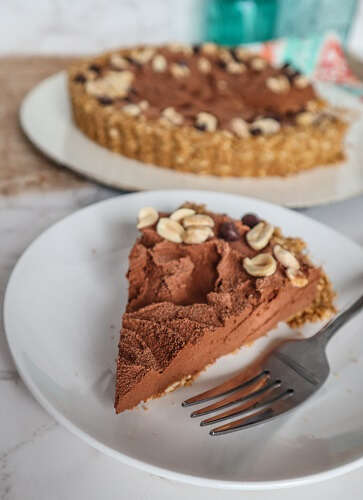 Like I mentioned before, this filling is really easy to make!  You just buzz coconut milk, peanut butter, a little vanilla extract until smooth, then pour in melted dark chocolate with the motor running on the food processor just until blended.  One thing to remember though, is sometimes this filling starts to firm up so it is important to work quickly.  If that happens, just re-blend it and it should be ok, it will just take a little longer to set if it gets warmer.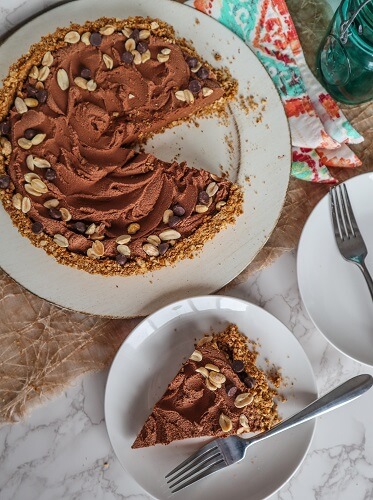 Let me tell you, the filling was hard to stop eating, I was scraping every last bit of it from the food processor to enjoy!  The finished product was even better though!  The crunchy salty crust was such a nice contrast to the smooth, rich sweet chocolate peanut butter filling!  I topped it off with more peanuts and chocolate chips to make it pretty!  If you are a dark chocolate fan, definitely give this Vegan Chocolate Peanut Butter Mousse Tart with Pretzel Crust a try!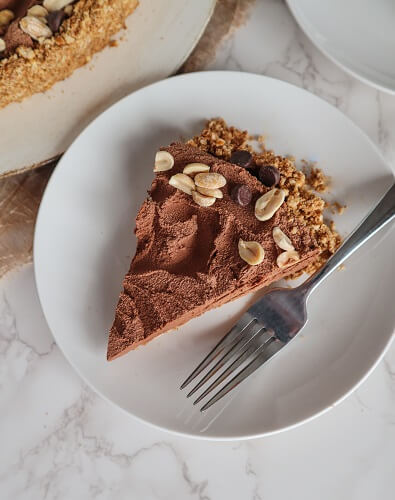 Vegan Chocolate Peanut Butter Mousse Tart with Pretzel Crust
Make one 9 inch tart
Crust:
2 3/4 cups crushed pretzels
8 oz melted Earth Balance Vegan Butter
1/3 cup coconut sugar
Filling:
1 1 15 oz can full fat organic coconut milk, chilled in the refrigerator for a few hours
2 cups vegan dark chocolate chips
3 Tbsp peanut butter
1 tsp pure vanilla extract
Garnish:
roasted peanuts
vegan dark chocolate chips
  Instructions:
For the crust, in a food processor, combine the pretzels and sugar and pulse until they are sand like pieces. 
Add the butter and pulse until they are holding together.
Press this mixture into the bottom of a 9 inch removable bottom tart pan and press evenly into the bottom and up the sides. 
Place the crust on a sheet pan, then bake in a 350F degree oven and bake for 15 minutes.  Remove from oven and let cool completely.
For the filling, melt the chocolate in the top of a double boiler, then pour into a glass measuring cup with a spout.
Place the coconut milk, peanut butter and vanilla in a food processor and blend until smooth.
Turn the food processor on, and with the motor running, slowly pour the chocolate into it and blend until uniform in color.
Immediately pour the filling over the crust and spread evenly (if you don't do it immediately it may start to firm up, if that happens just re-blend until smooth and spreadable).  Place in the refrigerator to firm up (about an hour).
Garnish with peanuts and chocolate chips before serving!
(Visited 421 times, 1 visits today)