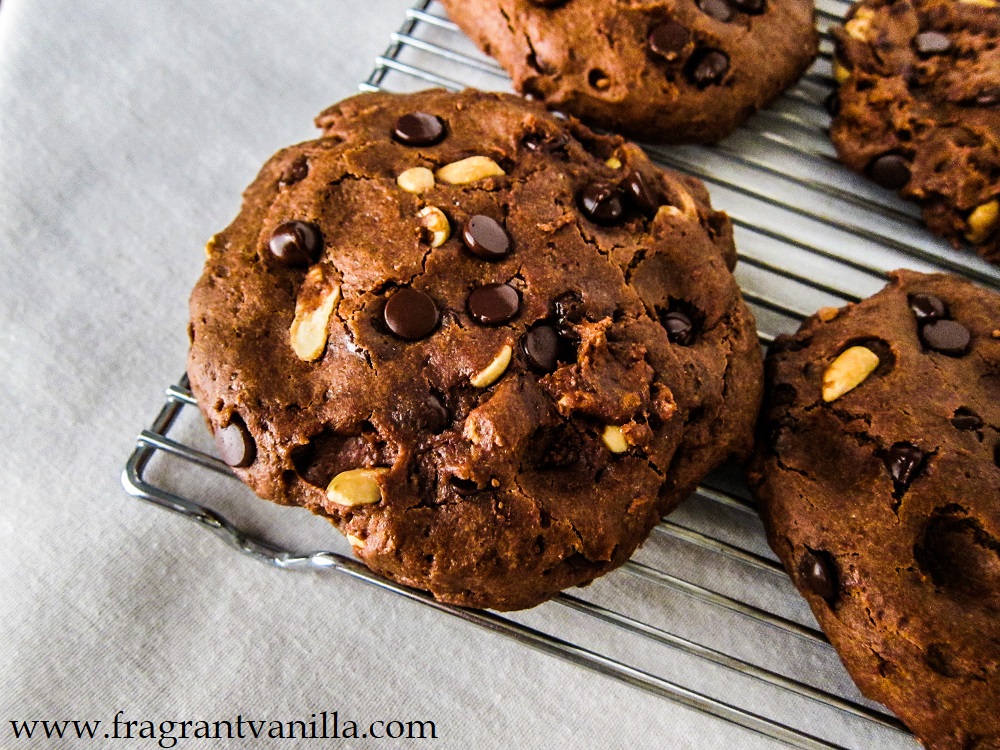 Vegan Chocolate Peanut Butter Banana Cookies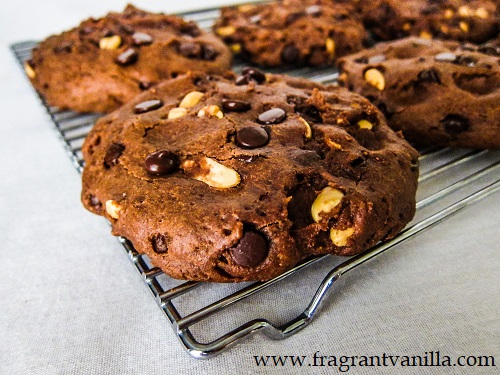 I think cookies are the perfect way to end a long weekend.  Don't you think?  I had a 3 day weekend because I took Saturday off (my normal day to work) for Twin Cities Veg Fest.  Which I visited with Eric, because last year I enjoyed it so much and he had never been.  There were way more people there than I expected!  It is so awesome to see so many vegans, or people interested in veganism.  We sadly didn't get to buy any food though because the lines were pretty long but it smelled and looked amazing.  Maybe next year.  It was still fun to see the other products that they had there though and spend time with fellow vegans.  Sunday, after my long run and baking an apple pie,  I visited my Grandpa and helped him pick tomatoes in the garden.  That is where my never ending supply comes from in the Summer and I am so grateful that he enjoys growing them and sharing with me.  Afterwards my Mom and I went to dinner at the French Meadow, one of my favorite local restaurants (because it has lots of vegan options).  So Monday, after a weekend of being busy with fun things, I decided to make some cookies while I watched the Vikings game!  Baking is one of my favorite relaxing activities.  And, I admit I was craving some cookie dough.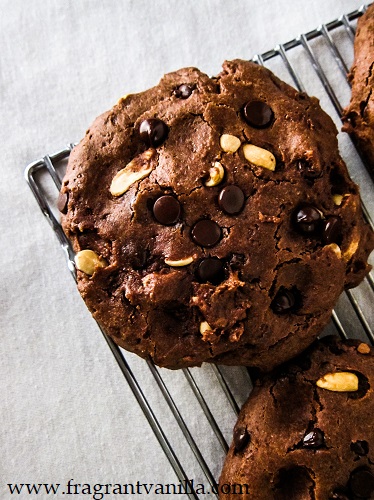 I am one of those people who eats more dough than actual baked cookies.  And a close second is the warm cookies with gooey chocolate chips.  Mmmm.  I learned this when I used to bake cookies with my Grandma as a small child.  I was always stealing dough when she wasn't looking.  When there was no more dough, I moved on to the warm cookies.  Still like that as an adult!  I wanted to try making a new cookie, so I decided to make some soft chocolate peanut butter banana cookies because I had all of the ingredients on hand.  That is important to me, being able to make something and not have to buy extra stuff for it.  Peanut butter, chocolate and bananas are things I always have on hand, not to mention a crave worthy combo!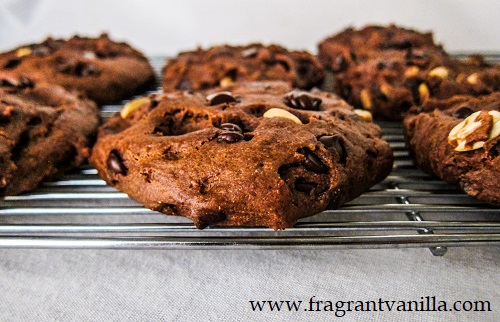 The thing I love about cookies is they are pretty straight forward and easy to make.  If you make them, I have to warn you the dough is hard to stop eating.  So delicious!  They baked up beautifully, soft and sweet, studded with gooey chocolate chips and crunchy peanuts with the light flavor of banana.  They are sort of like brownie cookies, if you are a fan of the texture of brownies.  If you are sick of banana bread by the way, this is a good use for a couple ripe bananas.  The weather is cooling down now, and it is the perfect time to do some baking!  So give these sweet delicious cookies a try!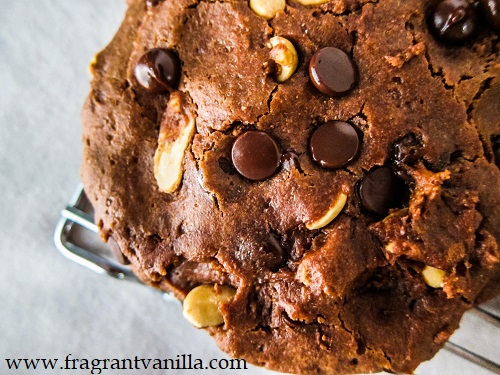 Vegan Chocolate Peanut Butter Banana Cookies
Makes 1 dozen
Ingredients:
Cookies:
1 cup coconut sugar
1/3 cup peanut butter
1/4 cup coconut oil, warmed to liquid
2 medium well mashed very ripe organic bananas
2 tsp pure vanilla extract
1/2 cup maple syrup
2 1/2 cups Bob's Red Mill all purpose gluten free flour
1/3 cup unsweetened cocoa powder
1 Tbsp baking powder
1 tsp sea salt
1 cup vegan chocolate chips
1 cup toasted peanuts
Instructions:
To make the cookies, in a large bowl, combine the oil and peanut butter with sugar, bananas, vanilla extract, and maple syrup until well combined.
In a smaller bowl, whisk together flour, cocoa powder, salt, baking powder, then add to the large bowl, and mix until well combined.
Mix in the chocolate, and peanuts and place in the fridge to chill until somewhat firm, about 30-45 minutes.
To bake, Preheat your oven to 375 degrees. Line 2 large baking sheets with parchment paper.
Roll dough into balls about 2 inch balls, and place on prepared cookie sheets a couple inches apart.
Place in the oven and bake for about 15 minutes, until puffed and just starting to brown slightly.
Remove from the oven and let cool on the pan a few minutes, then remove to a wire rack to cool slightly before enjoying!
(Visited 136 times, 1 visits today)