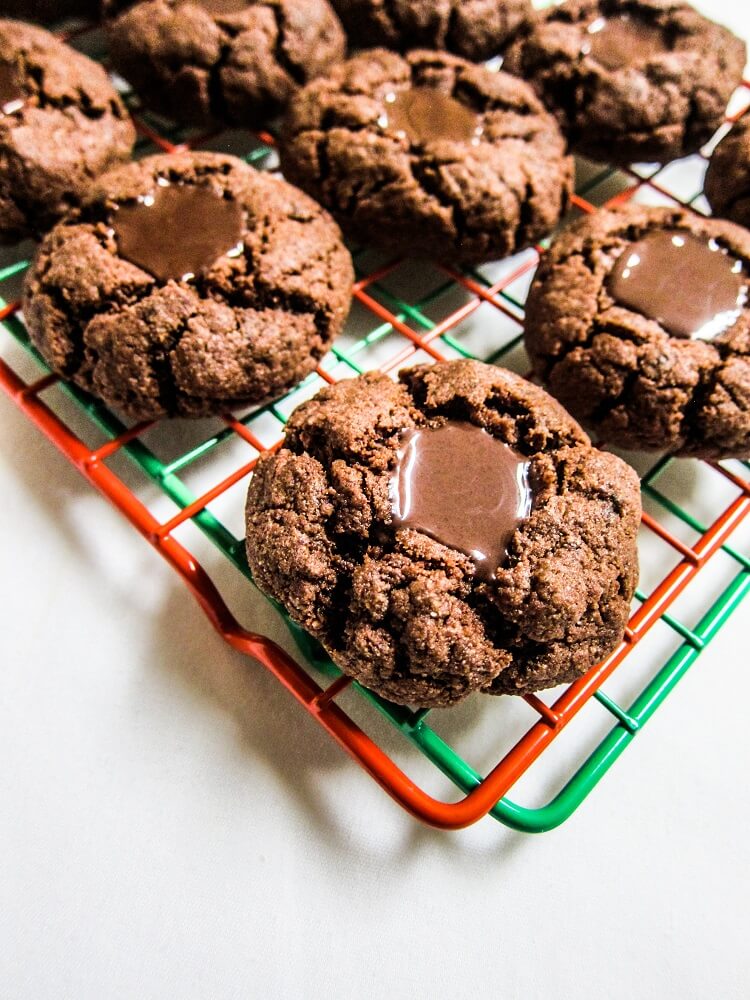 Vegan Chocolate Mint Hazelnut Thumb Print Cookies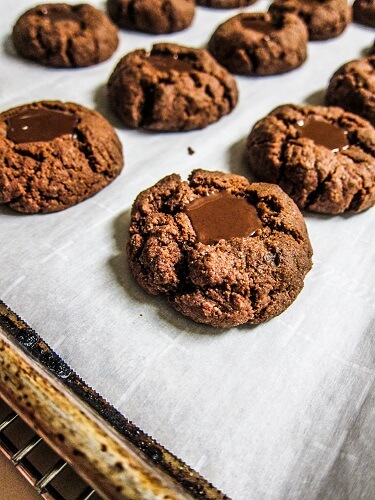 I love making Christmas cookies.  When I was little, my Mom and I would always pick out many different kinds then spend the day in the kitchen listening to Christmas music making them and afterwards we would put them all in a big container to enjoy for the Holidays and to give away.  We would always make the classics, like pecan tassies, frosted vanilla sugar cookies, gingerbread cookies and pfeffernüsse (German "pepper nut" cookies, or spiced cookies rolled in powdered sugar), but we would also pick some new ones every year to try.  That was the most exciting part for me.  We used to get cook books at the library and page through them looking for new recipes.  I like to keep that tradition going.  Make a few favorites and whip up some new ones.  The only difference is that I usually come up with my own new recipes instead of finding them in cook books.  I still share them with my Mom though, she loves having cookies on hand to enjoy with her coffee mid-morning.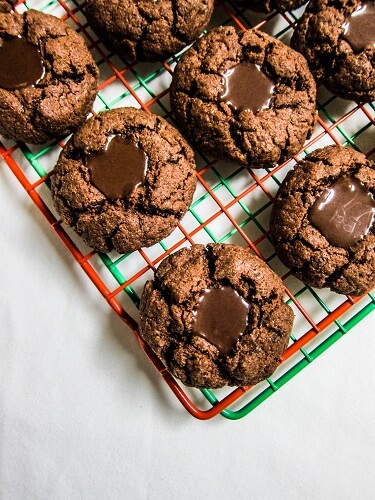 Raw Guru recently sent me some goodies including some Rawmio Chocolate Mint Hazelnut Spread and I thought it would be just the thing to use in some Christmas cookies. I mean, mint kind of screams holidays.  Plus I love nut butter in cookies, it makes them rich, chewy and delicious!  What I ended up making were some delicious thumb print cookies.  I haven't made any in a few years and in the past I have filled them with jam, but I thought the chocolate mint spread would be perfect as a filling!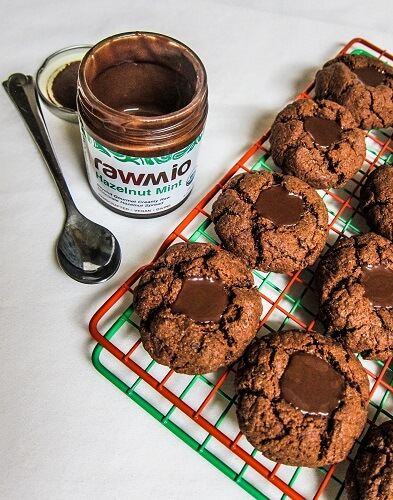 For the cookie dough, I modified the dough I use for my peanut blossom cookies swapping some hazelnut butter for the usual peanut butter and adding in cacao powder to make them chocolaty rich and delicious!  It was some bomb tasting dough too!  I always taste my cookie dough.  Not just because I love it and it is the best part of baking cookies, but to make sure I am not missing any ingredients.  Funny story, last week I was making some cookies and I was somewhat distracted and I ended up forgetting to add the sugar. It was a good thing I tasted the dough because I prevented having to throw away the batch of cookies!  Luckily I was still able to add it.  I make mistakes too sometimes so don't feel bad if you ever have an off day in the kitchen!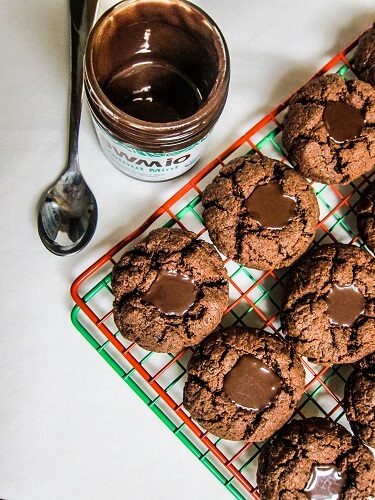 Back to the cookies though, they smelled amazing while baking!  As soon as they came out of the oven, I filled them with the Rawmio Chocolate Mint Hazelnut Spread and I could not wait to try them!  They looked so good!  I admit I did try one while they were warm and the filling was all oozy and gooey and it was amazing!  But if you want them to look nice I recommend waiting until they cook and the centers solidify completely.  They are soft, chewy, rich and chocolaty, and minty fresh!  These make perfect Christmas cookies!  If you are a chocolate fan definitely give these a try!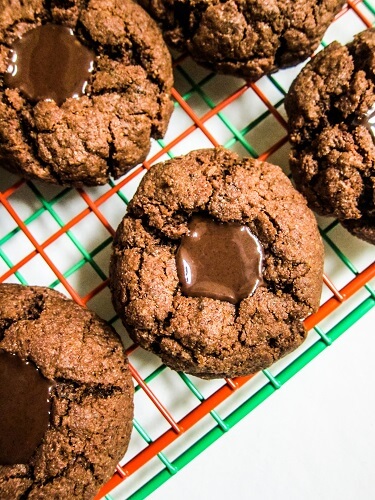 Vegan Chocolate Mint Hazelnut Thumb Print Cookies 
Makes about 14 cookies
3/4 cups maple sugar or coconut sugar
3/4 cups Dastony hazelnut butter
1/4 cup coconut oil, melted
1 Tbsp ground flax seed, and 3 Tbsp filtered water mixed together and allowed to sit for 15 minutes before using in the recipe
1/2 tsp peppermint extract
1 1/4 cups Bob's Red Mill all purpose gluten free baking flour*
1/4 cup Raw Guru cacao powder or unsweetened cocoa powder
3/4 tsp baking soda
1/2 tsp baking powder
Rawmio chocolate mint hazelnut spread (warmed to liquid if solid)*
Instructions:
Preheat the oven to 375F degrees. In a large bowl, whisk together the sugar, hazelnut butter, and coconut oil until well combined.  Add the flax mixture, peppermint extract, and whisk until smooth.
Stir in all the remaining ingredients with a spoon, except for the hazelnut spread until smooth. The dough will be thick and soft.
Form into 1 1/2 inch balls, and place on lined baking sheets a few inches apart.
Place in the oven and bake for about 12 minutes until set.
Remove from the oven and immediately press your thumb or the bottom of a small 1/2 tsp measuring spoon into the center of each to create an indentation (before they cool otherwise it won't work).
Spoon or pipe a little of the chocolate mint hazelnut spread into the center of each.  Allow to cool completely.
*If you can not get the Rawmio spreads where you live, you can substitute 1/4 cup melted vegan dark chocolate whisked together with 2 Tbsp hazelnut butter, and 1/4 tsp peppermint extract until smooth.
Notes:
If you don't like hazelnuts or can't get hazelnut butter or make it, then you could use your favorite nut or seed butter, like almond butter for this recipe where the hazelnut is required.
If you are not gluten free, you may use the same amount of whole wheat pastry flour in place of the GF flour.
(Visited 312 times, 1 visits today)