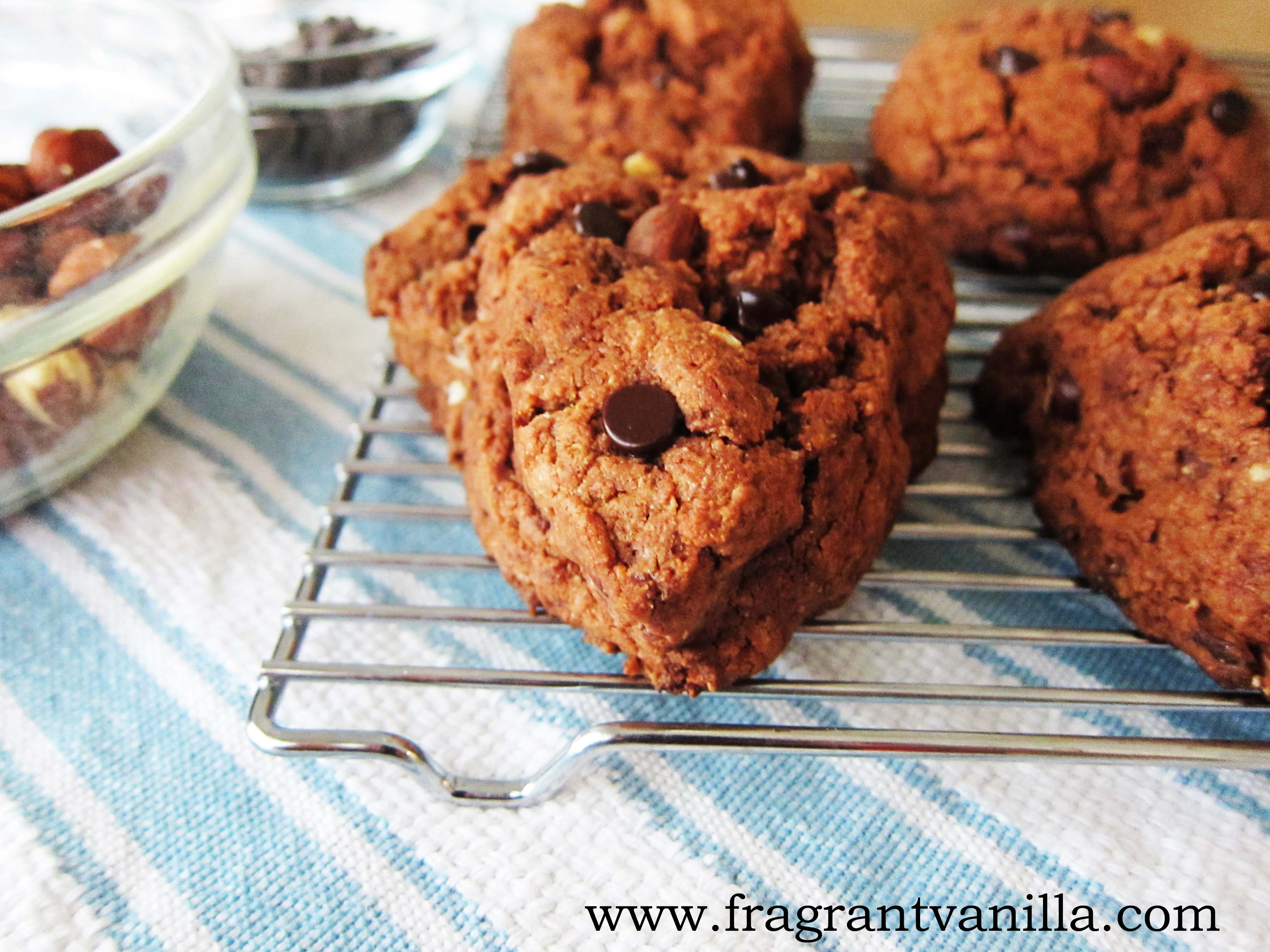 Vegan Chocolate Hazelnut Scones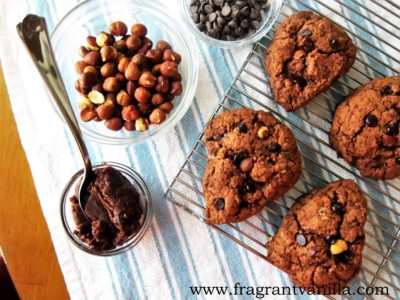 I made some home made Nutella last week, and it got me wanting to make more hazelnut stuff.  It was just so good, so addictive.  Like you can't have just one spoonful.  That is the problem with me and nut butter.  Anyways, I decided to make chocolate hazelnut scones.  I see my coworker making scones all the time at work and it makes me hungry for them.  So often times, I will make my own at home.  That way I can make whatever flavor I am craving as well, and of course know the scone is completely vegan.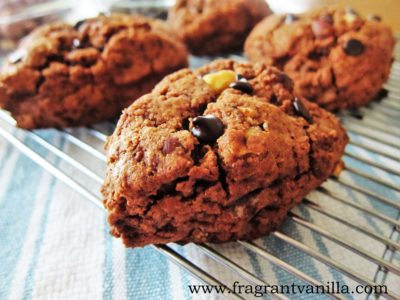 Anyways, back to these scones.  They were triple chocolate double hazelnut.  Because I used cacao powder in the dough as well as chocolate hazelnut butter, and chocolate chips.  They also had crunchy chopped hazelnuts.  This was such delicious dough, you have no idea.  I ALWAYS taste my dough or batter, no matter if I am making cookies, scones, or cake.  It has prevented me from forgetting to add sugar before, and not only that it is the home baker's privilege to taste that deliciousness.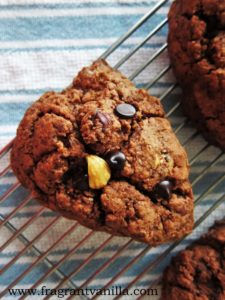 I kind of left clumps of the chocolate hazelnut butter in them so it would create pockets of goodness in them once baked.  They baked up beautifully and smelled amazing when I pulled them from the oven.  They were tender and flaky as scones should be.  I would feed these to anyone skeptical that vegan baking is as good as traditional baking.  Sooo good.  These would make the perfect Saturday morning treat, baking them in your pjs and enjoying them while relaxing sounds perfect.  But of course you can make them right now too if you can't wait.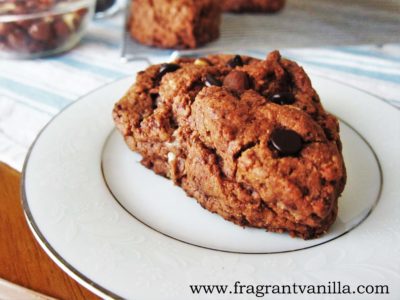 Vegan Chocolate Hazelnut Scones
Makes 8
2 3/4 cups all purpose gluten free flour
1/4 cup raw cacao powder
1/2 cup coconut sugar
2 1/2 tsp baking powder
1/4 tsp salt
1/2 cup virgin coconut oil, cut into chunks
1/4 cup chocolate hazelnut butter or hazelnut butter
1 cup cold full fat organic canned coconut milk (whisked until smooth if chunky)
1 Tbsp pure vanilla extract
1/4 cup coconut sugar
coconut milk for topping
coconut sugar for sprinkling
1 cup chopped, toasted hazelnuts
1 cup vegan chocolate chips
Preheat oven to 425F with the rack set at the middle position. Line a baking sheet with parchment.
To a large bowl, add the flour, sugar, baking powder, and salt. Cut in the coconut oil with a pastry blender or 2 knives until the mixture starts to clump into pea sized pieces. In a small bowl, stir the vanilla into the coconut milk. Add the coconut milk to the dough, as well as the hazelnut butter, hazelnuts and chocolate chip, and stir a few times, but do not overmix. The dough should hold together when squeezed, but still be clumpy (you want pieces of coconut oil and hazelnut butter).
Place dough on a piece of parchment, and shape (by patting and pushing together) into a circle. Cut into 8 wedges, and place on a parchment lined baking tray. Brush the tops lightly with the coconut milk (only if they seem dry, you want the sugar to stick), and sprinkle with coconut sugar. Bake for about 20 minutes or until golden brown. Cool on a wire rack.
(Visited 164 times, 1 visits today)