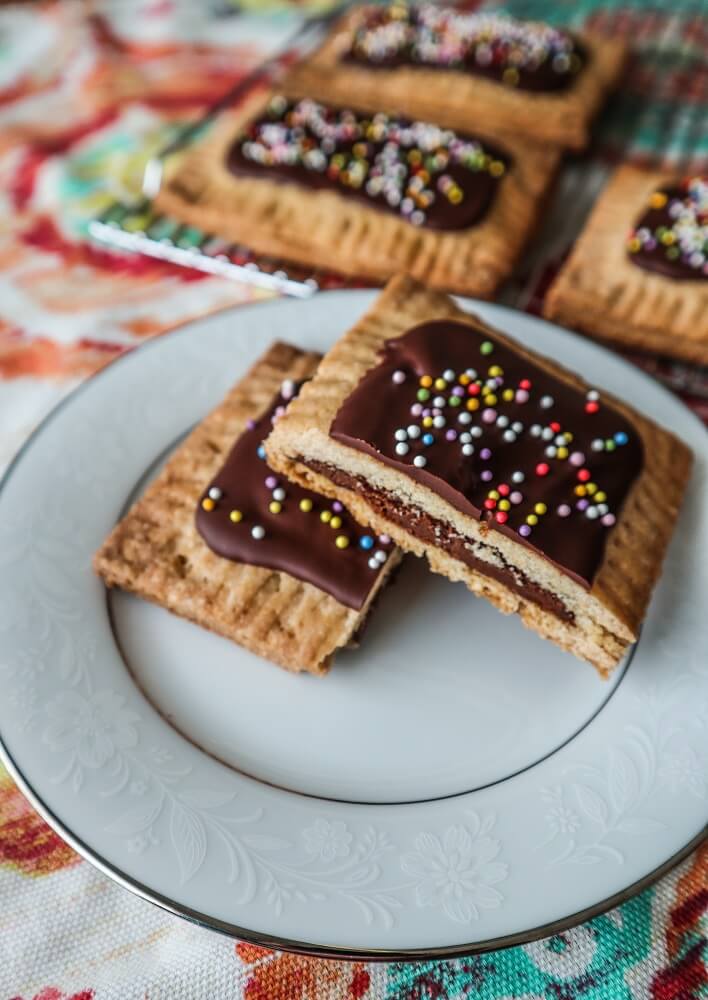 Vegan Chocolate Hazelnut Pop Tarts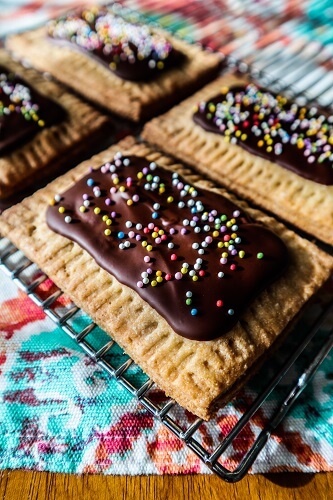 I loved Nutella as a kid.  I remember thinking it was pretty awesome that I could have chocolate on toast for breakfast (because it pretty much just tasted like chocolate with not much nut flavor since it is so sugary).  It is pretty much dessert after all.  My Mom wouldn't let me eat it all the time for that reason, and so it felt like a treat.  I still love the chocolate hazelnut combination and even make my own nutella sometimes, but it is definitely a healthier version with hazelnuts as the first ingredient and not sugar.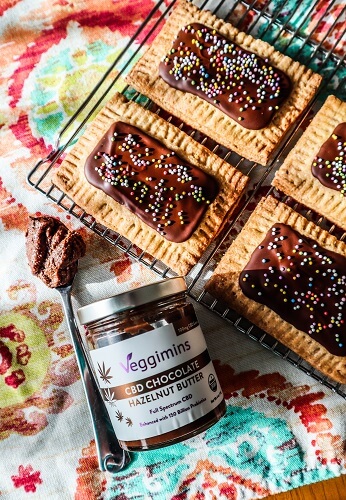 There are a few vegan nutella brands that I like too, like the Rawmio Chocolate Hazelnut Spread and CBD Chocolate Hazelnut Butter from Raw Guru.   They are delicious just with a spoon or in recipes.  They recently sent me some of the CBD Chocolate Hazelnut Butter and I decided to make some pop tarts with it.  Pop tarts were another thing I loved growing up, and I enjoy making home made ones.  They are way better than the store bought versions ever were, more like mini hand pies because the crust actually tastes good. I thought nutella ones would be heavenly!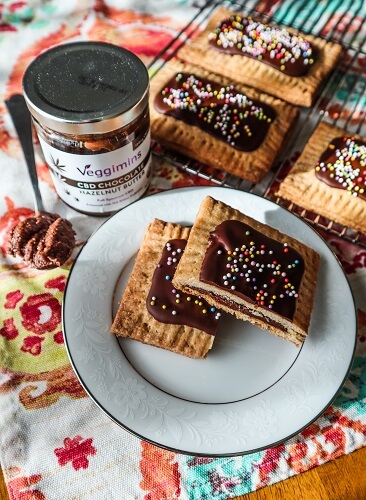 So I made my classic flakey coconut oil pie crust for the outside, and used that hazelnut butter for the filling.  They actually were pretty quick and easy to make, since I already had the hazelnut butter.  But if you would rather make your own instead of using store bought I have included instructions at the bottom for that as well.  Don't have hazelnut butter?  Use your favorite nut butter, it will still be amazing!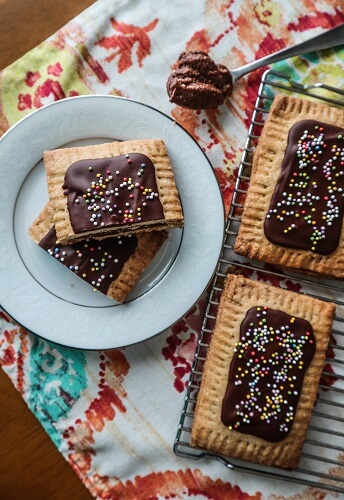 These smelled amazing while baking.  Like chocolate pie! I could not wait to try them!  But I let them cool down first, and then added a dark chocolate glaze.  Since pop tarts are just so much better with a glaze.  They were totally heavenly!  My 8 year old self would have loved them!  If you are a nutella fan, give these a try!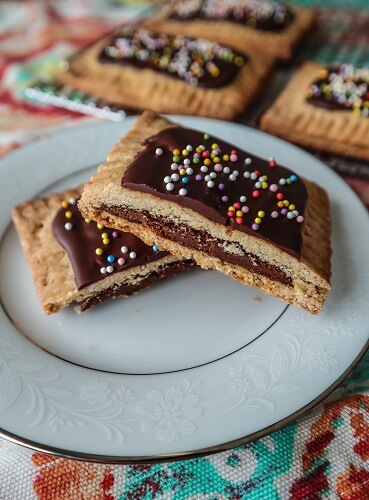 Vegan Chocolate Hazelnut Pop Tarts
Makes 8
Crust:
2 1/2 cups organic whole wheat pastry flour
1/4 cup coconut sugar
1/2 tsp sea salt
3/4 cup coconut oil in its solid state
about 6-7 Tbsp cold water (or as needed)
Filling:
Glaze:
1/2 cup dark chocolate chips
Instructions:
To make the crust, in a large bowl, mix together flour, sugar, and sea salt. Cut in coconut oil with a pastry blender or 2 knives until it is in pea sized pieces. Mix in just enough water to create a smooth dough that holds together but isn't too sticky. Add more water if needed, and knead slightly until a smooth dough is created.
Roll out into a large rectangle and cut into 16 identical rectangles.  Chill if too soft before assembling.  You want the dough a little pliable, but not so warm that it will break. Preheat oven to 375F degrees. Put the dough in the refrigerator for a few minutes if it seems too soft. 
To assemble the pop tarts, spread about 2 Tbsp of the hazelnut butter on half of the dough rectangles (leaving a boarder so you can attach the dough at the sides). Cover with the remaining pieces of dough (I used a small spatula to carefully move them), pressing the edges and crimping with a fork or the edge of something with a flat edge, like a spatula. Bake for about 30 minutes until the crusts are starting to brown lightly. Remove from oven and let cool on a wire rack until warm.
Melt the dark chocolate for the glaze in the top of a double boiler. Spoon some of the dark chocolate over each pop tart, and smooth it out to cover the top. Let harden before serving.
*If you would prefer to make your own filling, you can mix together 1 cup hazelnut butter with 1/4 cup unsweetened cocoa powder and 1/4 cup maple syrup (or to taste) and 1/4 tsp sea salt.
(Visited 1,024 times, 1 visits today)