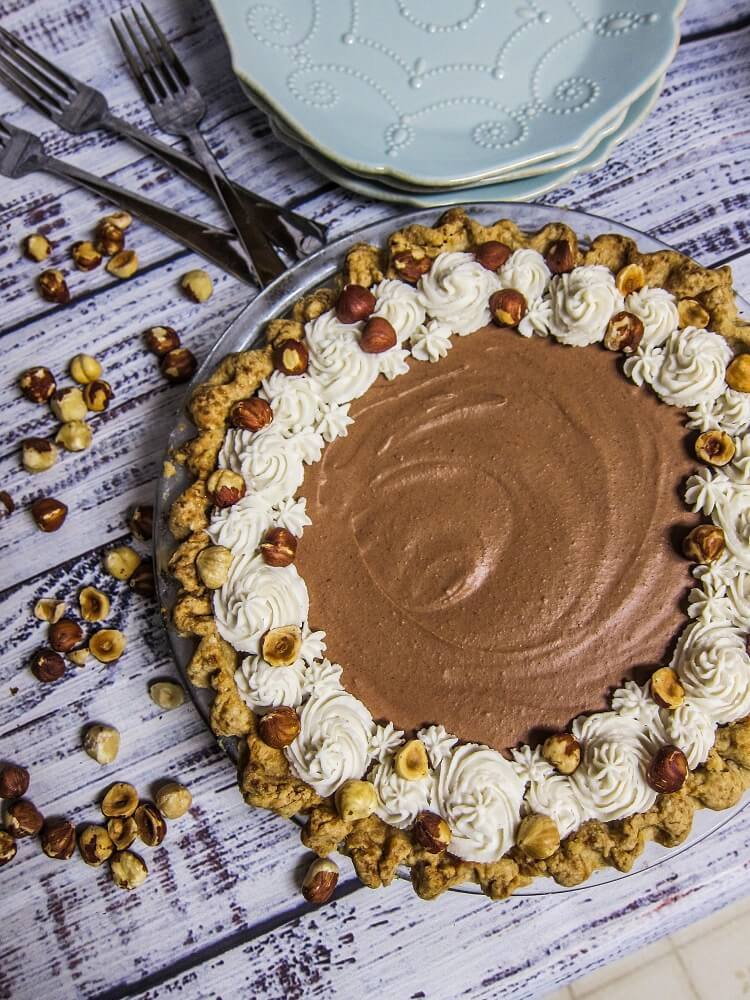 Vegan Chocolate Hazelnut Silk Pie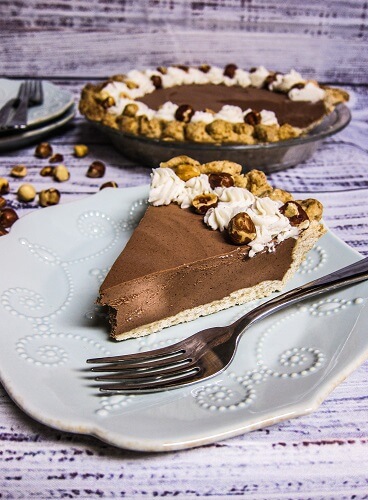 Pumpkin, pecan and apple were always staples at Thanksgiving growing up, and I made pumpkin and apple pies before Thanksgiving this year earlier in the season, but this year I decided to make a chocolate hazelnut pie specifically for Thanksgiving.  I was thinking something similar to French silk pie but with hazelnut because chocolate sounded so good to me at the time, and Raw Guru had sent me some of their Dastony Hazelnut Butter.  My family liked the idea too so I went for it!  I have a confession to make, I have decided I am not making much in the way of food for Thanksgiving this year, since we are going out to dinner the following weekend, but I am making dessert!  I get a little bit burnt out on making Thanksgiving food since I work in a deli and it is really busy this time of the year making all of the Thanksgiving dishes.  So I like a break on the actual holiday sometimes.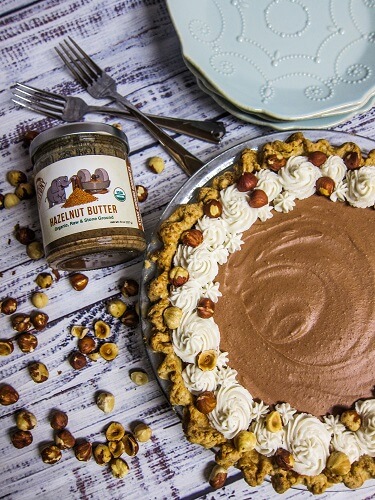 But back to the pie which is the important part of this post!  I wanted it similar to French silk, so a classic buttery tasting pie crust.  For that, I used my classic coconut oil pie crust.  It has just 5 ingredients, whole wheat pastry flour, coconut oil, coconut sugar, and sea salt plus cold water.  It always tastes nice and rich, and bakes up nicely.  If you wanted to make it gluten free, you could swap Bob's Red Mill gluten free all purpose baking flour for the whole wheat pastry.  I have tried it before with good results (but I have not tested other brands so I can't say the same for how they would turn out).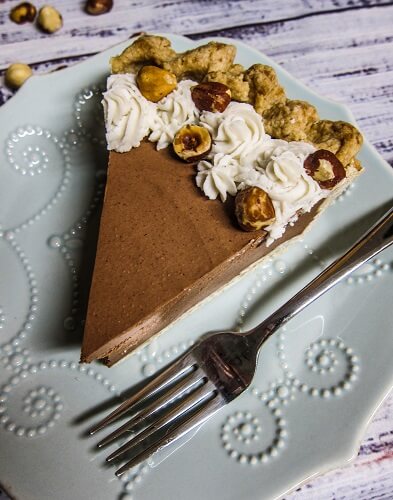 For the filling, it needed to be rich and delicious almost like a chocolate mousse with hazelnut so I used a combination of full fat coconut milk (mostly cream) combined with the Dastony Hazelnut butter, and coconut butter for a crave worthy concoction.  Once I added the maple syrup and cacao powder it was heavenly!  I could not stop tasting it!  It is really easy to make though, you just buzz everything in the blender and pour it into the crust and chill.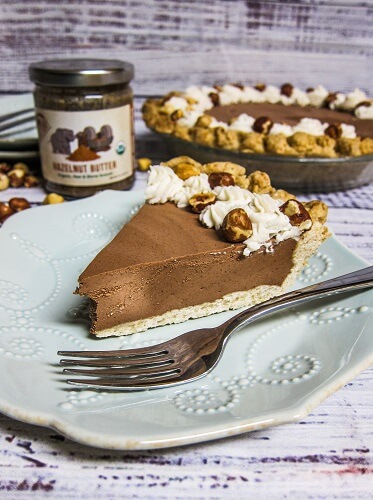 Lastly, I wanted to top it off with some coconut whipped cream and hazelnuts to make it pretty.  I could not wait to try it!  I had to wait until the next day for it to chill but it was well worth the wait.  It was crave worthy!  Rich, smooth chocolate hazelnut filling (way better than any Nutella I ate growing up), a buttery tasting crust and vanilla whipped coconut cream and crunchy hazelnuts!  Just the sort of thing you want to go back for a second slice of!  If you are in the mood for something rich and chocolaty, definitely give this a try!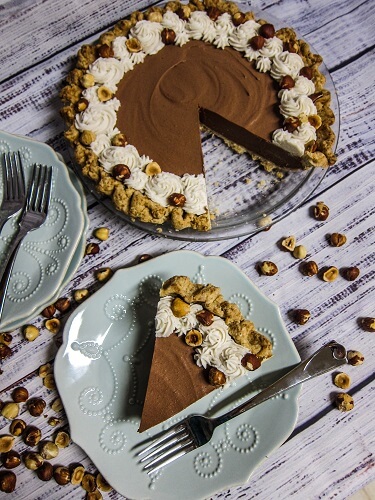 Vegan Chocolate Hazelnut Silk Pie
makes one 8 inch pie
Crust:
1 1/4 cups organic whole wheat pastry flour*
3 Tbsp maple sugar or coconut sugar
1/4 tsp sea salt
1/4 cup plus 2 Tbsp coconut oil in its solid state
about 3-6 Tbsp cold water
Filling:
Cream Topping:
Garnish:
Instructions:
To make the crust, in a large bowl, mix together flour, sugar, sea salt, and spices. Cut in coconut oil with a pastry blender or 2 knives until it is in pea sized pieces. Mix in  just enough water to create a smooth dough that holds together but isn't too sticky. Add more water if needed, and knead slightly until a smooth dough is created. Roll out into a 10 inch circle on a sheet of parchment paper, then use the paper to help you transfer it to an 8 inch pie dish.  Flute the edges, and set aside in the refrigerator until solid.
Pre-heat the oven to 350F degrees. Place foil inside the pie crust, and weight down with pie weights or dried beans.  Place the pie in the oven and bake for 30 minutes, then remove the weights and foil and bake 10-15 minutes more or until lightly browned. When it is done baking, let cool completely.
For the filling, combine all ingredients in a high speed blender and blend until smooth. Pour into the crust.
Place in the freezer until set, about 2 hours.
Meanwhile, for the cream topping, combine all ingredients in a blender and blend until completely smooth. Pour into a bowl and place in the freezer until it is thick like whipped cream (whisking every so often), about 20-30 minutes.
Once the cream is ready, place it in a pastry bag and pipe around the sides of the pie (and serve with the extra if desired) or just spread it over the top in the center.  Garnish with hazelnuts, enjoy!
Pie keeps up to 1 week in the refrigerator, covered or in a container.
*If you wanted to make the crust gluten free, you could swap Bob's Red Mill gluten free all purpose baking flour for the whole wheat pastry. I have tried this brand and know it will turn out well.
*For the coconut milk, you want the kind that is 3/4 full of cream in the can, or it will not work and turn out runny, I used Thai Kitchen full fat milk, but their unsweetened canned coconut cream would work as well.
(Visited 2,954 times, 1 visits today)