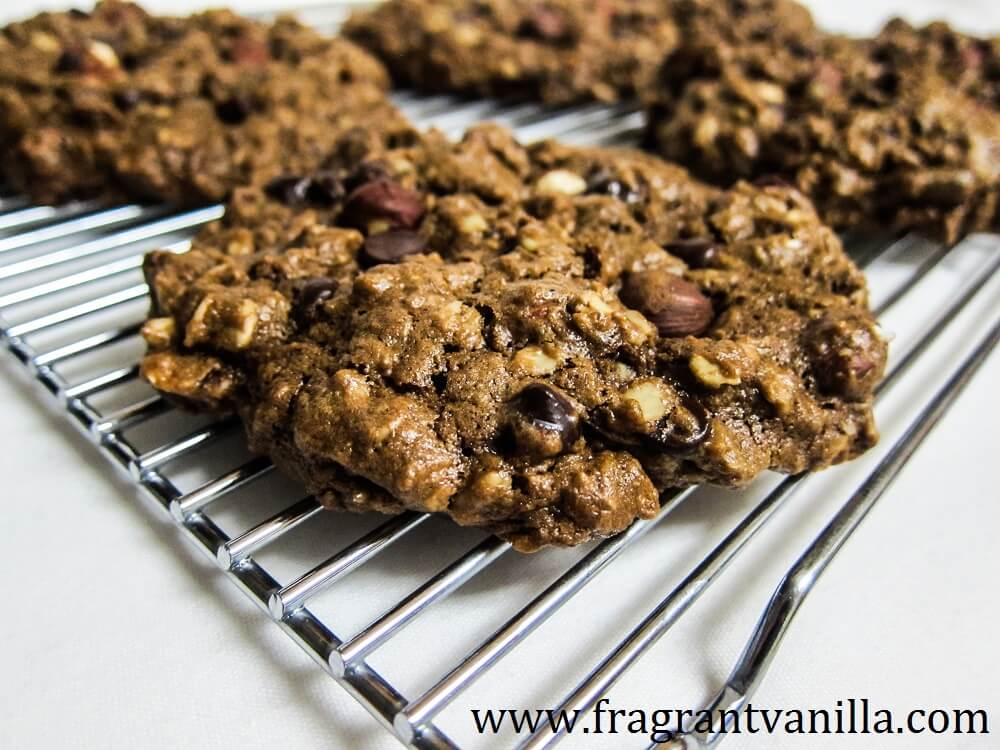 Vegan Chocolate Hazelnut Oatmeal Cookies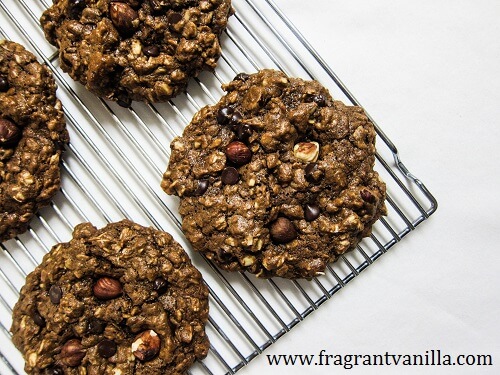 Wednesday started off lovely here in Minnesota.  I went for a run in the morning, and it was cool and refreshing outside, not a hint of moisture.  I was looking forward to going for a walk after work outside to enjoy some more fresh air, but by the time I got off work it was pouring.  I didn't really feel like getting wet, so I decided to stay inside and bake cookies instead.  My Mom has been asking me to make oatmeal cookies for a couple of weeks now, and it was the perfect time to do it.  I didn't want to make something I had made before though.  I tend to like to bake new things all the time, especially when I am in need of some excitement.  So, I decided to make chocolate oatmeal cookies.  Sure, vanilla is classic, but I had never had a chocolate one so I was going to make some.  I talked to my Mom and she loved the idea.  Not just plain chocolate though, chocolate with dark chocolate chips and crunchy hazelnuts too.  What a heavenly combination.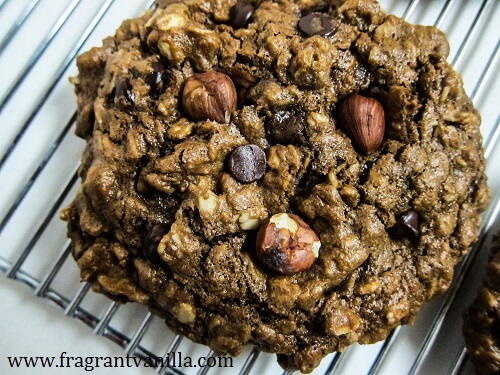 I made my classic oatmeal cookie dough with coconut sugar to give it a hint of caramel, and added in some cocoa powder to make it rich and chocolaty.  It was super delicious!  I think that good dough is just as important as good cookies.  I am a huge cookie dough eater...that is why I love making cookies!  They baked up beautifully as well, filling my kitchen with a heavenly aroma!  Warm cookies are my second favorite next to cookie dough, and these were wonderful with the chocolate chips still gooey and warm.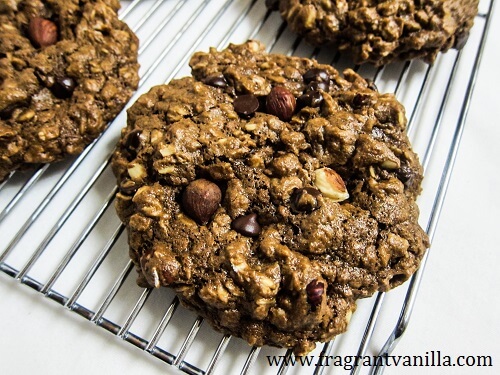 I think baking anything in a warm kitchen makes a rainy day better.  Gloomy days aren't so bad when you are inside looking out at them and just listening to the rain drops.  A few weekends back, Eric and I visited a local brewery after a walk, and they had the large garage type door open and it had just started raining as we got there so we just sat and enjoyed listening to the calm of the rain as we enjoyed our beer.  It was one of the highlights of my weekend.  Cookies work too though, and these turned out even better than I imagined.  I saved some for my Mom of course and she loved them as well.  If you are an oatmeal cookie fan, put these on your to make list!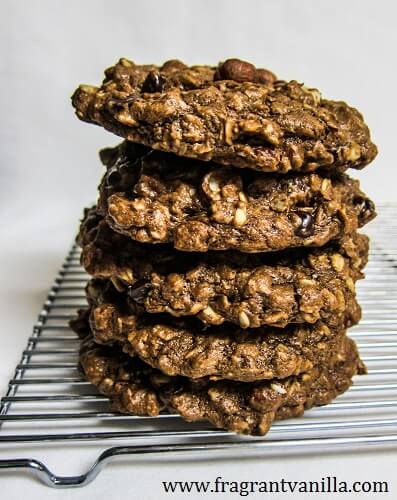 Vegan Chocolate Hazelnut Oatmeal Cookies
Makes 1 dozen large cookies
Ingredients:
3/4 cup virgin coconut oil, warmed to liquid
1 1/2 cups coconut sugar
2 flax eggs*
1 Tbsp pure vanilla extract
1 1/4 cups gluten free oat flour
1/4 cup unsweetened cocoa powder
1 tsp baking soda
1/4 tsp sea salt
3 cups gluten free old fashioned rolled oats
1 cup toasted hazelnuts
1 cup vegan chocolate chips
Directions:
In a large mixing bowl, mix together the coconut oil, and sugar until well blended. Add flax eggs, vanilla, and beat until well combined (the mixture will become very thick).
Mix in the flour, cocoa powder, soda, and sea salt until well blended. Mix in the oats until well combined, then add hazelnuts and chocolate chips and mix until evenly distributed throughout the dough.
Heat the oven to 350 degrees with the rack set at the middle position. Line 2 baking sheets with parchment paper.
Roll the dough into 12 large balls, and spread them out on the 2 cookie sheets with plenty of room in between. Bake for 13-15 minutes or until golden, but not over baked. Let cool on sheet a few minutes, then remove to a wire rack lined with parchment to cool.
*Whisk together 2 Tbsp ground flax seed, 1/4 cup and 2 Tbsp water in a small bowl.  Allow to sit in the fridge for 15 minutes until the mixture has set up (or become kind of thick).
(Visited 215 times, 1 visits today)