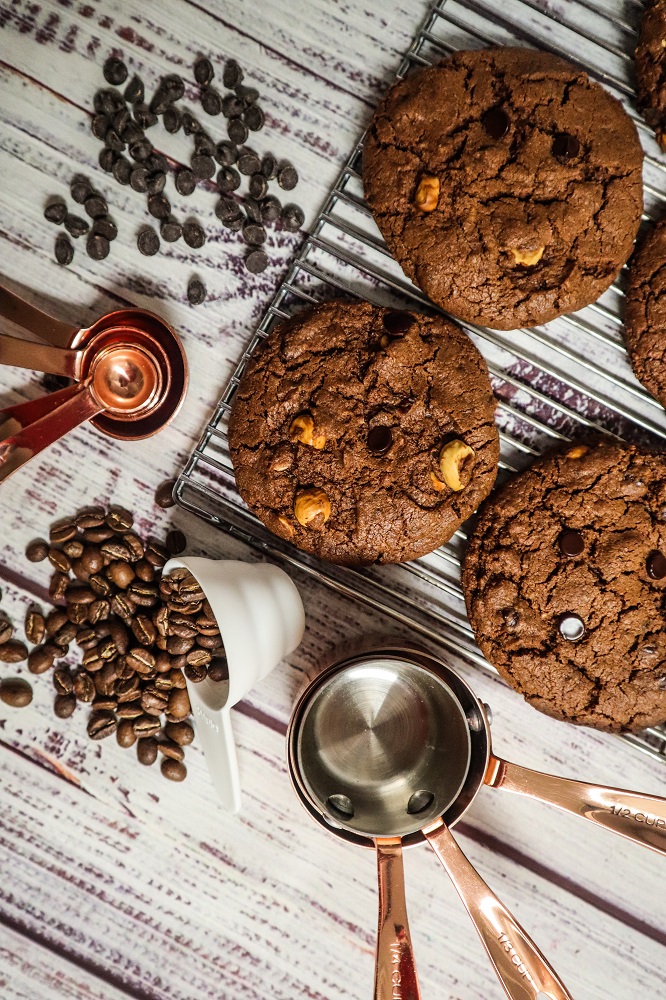 Vegan Chocolate Hazelnut Latte Cookies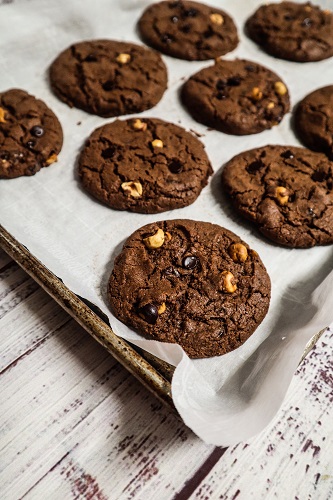 I have been really into coffee flavored things lately.  I do love my oat milk lattes, but coffee is so amazing in desserts as well!  Even when I was a kid, and I hated actual coffee I loved tiramisu and chocolates that were flavored with a little coffee. So I was excited when Raw Guru sent me some Rawmio Hazelnut Latte Spread.  It is like really good vegan nutella with a hint of coffee.  I love their nut butters!  So I decided it would be delicious in some cookies.  Well, I was hinted at by one of my family members who wanted me to make cookies actually and I loved that idea!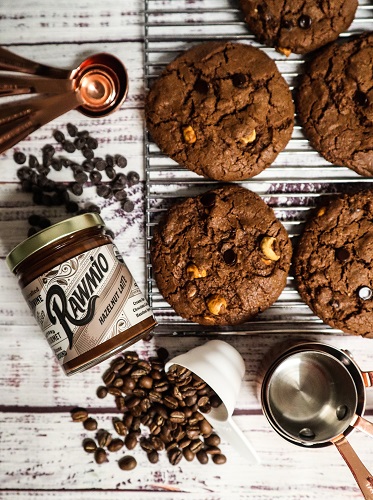 Nut butter cookies are one of my favorite things, peanut butter cookies, almond butter cookies and hazelnut butter cookies.  These ones are just taken up a notch with the chocolate and a bit of coffee!  I love that they are one of the easiest cookies to make, no fancy mixing or chilling required!  I used the hazelnut latte spread in them, along with some cacao powder and espresso powder to give them even more of a coffee flavor.  If you can't get the spread no worries, I have included directions on how to make it with plain hazelnut butter or another nut butter.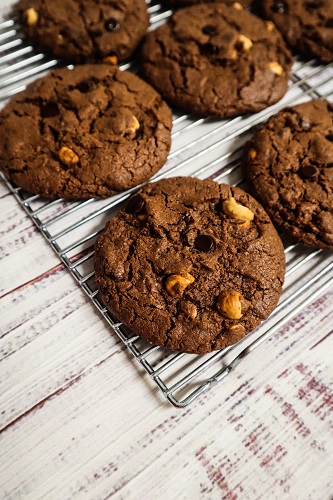 I also mixed toasted hazelnuts and dark chocolate chips into the dough to make it extra good.  And it was so delicious that I had a hard time not eating too much of it before it was made into cookies. That is my favorite part of making cookies though, eating the dough.  It has to be sampled right?!  They smelled amazing while baking!  I could not wait to try them!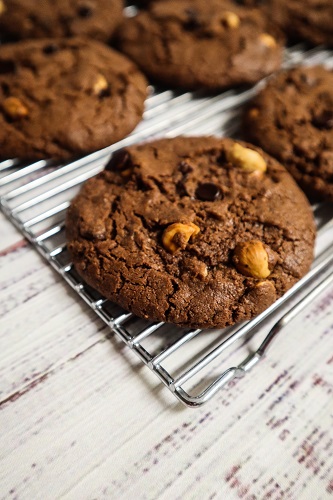 I did not have to wait long for them to cool. These are the perfect type of cookie to eat while the chocolate chips are still warm and gooey!  They are rich and decadent tasting packed with chocolate flavor, a hint of coffee and crunchy hazelnuts!  They would be amazing with a hot cup of coffee for dunking!  I am totally going to try that tomorrow!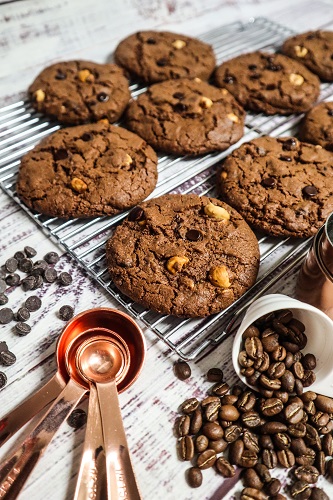 Vegan Chocolate Hazelnut Latte Cookies
Makes 12 cookies
Ingredients:
1 Tbsp ground flax seed
3 Tbsp filtered water
1 cup Raw Guru coconut sugar
3/4 cup Rawmio hazelnut latte spread (or hazelnut butter)*
1/2 cup coconut oil, warmed to liquid
1 cup whole wheat pastry flour
3 Tbsp cacao powder
1 Tbsp espresso powder
¾ tsp baking soda
½ tsp baking powder
½ tsp sea salt
¾ cup vegan dark chocolate chunks or chips
3/4 cup chopped toasted hazelnuts 
Instructions:
In a small bowl, whisk together the flax seeds and water. Set aside for 15 minutes.
Preheat the oven to 350F degrees, and line a sheet pan with parchment.
In a large bowl, with a wooden spoon, mix together the coconut sugar, hazelnut latte spread (or hazelnut butter), coconut oil, vanilla and the flax seed mixture until smooth.
Mix in the flour, cacao powder, baking soda, baking powder, and sea salt and stir until completely combined.
Mix in chocolate chips and hazelnuts
Shape the cookie dough into 12 balls, and spread out evenly on the pan. Flatten them slightly with your hand.
Place in the oven and bake for about 15 minutes until they are starting to brown slightly and are just set.
When they are done baking, remove the pan from the oven and let cool on a rack.
Enjoy!
  *If you don't have the hazelnut spread and are using hazelnut butter, then add 1 tsp espresso powder, and an additional Tbsp cacao powder to the recipe. Also, if you would rather use almond butter or another type of nut butter if you can't find hazelnut you can use that as well.
(Visited 917 times, 1 visits today)