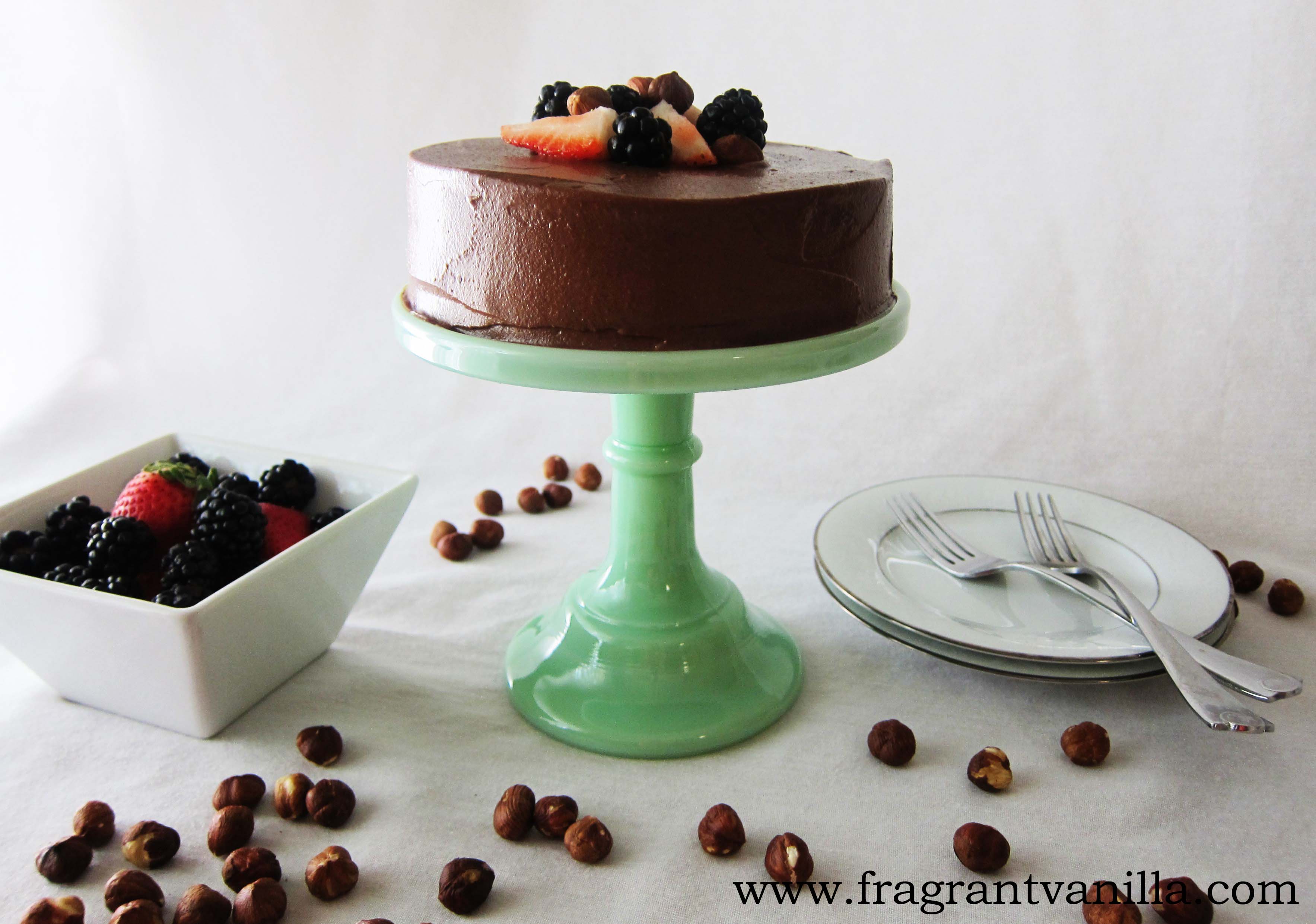 Vegan Chocolate Hazelnut Berry Cake
The best things in life are free.  Going for a run and taking in the fresh air.  Smelling the lilacs. The sunshine. Taking in the beauty of nature God has created.  I have been appreciating all of this lately.  Work can be busy and stressful, bills can get expensive, and things don't always go as planned in your life, but the little free things that make me happy are always there.  I am not picky, and it doesn't take a lot to keep me happy and content.  You know what else makes me happy?  Cake. It isn't always free, because it costs money to make it but it is still happiness on a plate, and more fun to make yourself.  I was hard core craving chocolate cake last weekend, so I made one.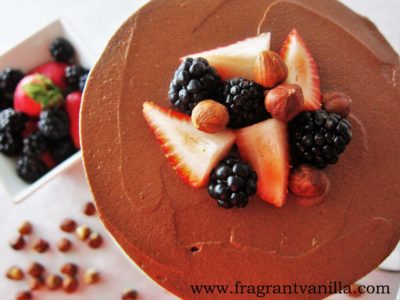 A chocolate hazelnut cake with berries.  Because I had berries on hand, and home made Nutella sounded fabulous.  I made decadent chocolate cake layers, which were actually oil free since I used hazelnut butter instead of the oil which gave the cake a nutty flavor.  For the frosting, just a simple mixture of dates, hazelnut butter, cacao powder, water and sea salt.  The most delicious chocolate frosting that tastes just like Nutella and works perfect for spreading smoothly over your cake.  That is if it all makes it onto the cake, you may be tempted to just eat it with a spoon.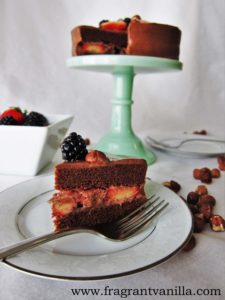 I filled the cake with fresh strawberries and blackberries, and OMG, was the combination ever heavenly.  It was the perfect Sunday night treat.  This was the chocolate cake I had been dreaming of for a week.  Happiness on a plate.  You will be in your happy place if you eat this cake.  Feel free to use whatever berries you have on hand if you make it, raspberries would be awesome in this as well.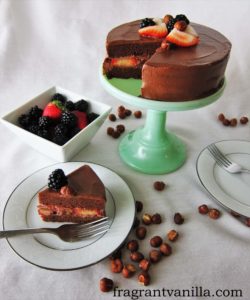 Vegan Chocolate Hazelnut Berry Cake
Makes 1 6 inch 2 layer cake
2 6 inch cake pans
Cake:
1 1/2 cups quinoa flour (or all purpose gluten free flour works also)
1/4 cup cacao powder or unsweetened cocoa powder
1 1/2 tsp baking soda
1 tsp baking powder
1/2 tsp sea salt
1 cup packed soft medjool dates, pitted, soaked in water for 30 minutes and 1/2 cup of the water reserved
1/4 cup raw hazelnut butter (smooth)
1 Tbsp pure vanilla extract
1 cup filtered water
2 Tbsp apple cider vinegar
Frosting
3/4 cup pitted medjool dates, soaked in water for 30 minutes, and 3/4 cup of the water reserved
1 cup raw hazelnut butter (smooth)
1/2 Tbsp cacao powder
pinch sea salt
Filling:
3/4 cup organic blackberries and strawberries (strawberries quartered)
Preheat the oven to 375F degrees and position rack in center of oven. Line the bottoms of two six-inch-diameter cake pans with 2-inch-high sides with parchment paper. Coat parchment paper and pan sides lightly with coconut oil so that the cake doesn't stick. Whisk flour, cacao powder, baking powder, baking soda, sea salt in a large bowl to blend well. Place dates, reserved water, hazelnut butter, water, and vanilla extract into a blender, and blend until smooth, then whisk this blended mixture into the flour mixture until well blended. Whisk in the cider vinegar until bubbles form. Transfer cake batter to prepared pans and bake cakes until tester inserted into center comes out clean, about 30 minutes. Cool cakes completely in pan on rack, about 1 hour. Cut around sides of pan to loosen. Turn cakes out onto platter; peel off parchment paper.
Meanwhile, to make the frosting, combine all ingredients in a high speed blender or food processor and blend until smooth (since hazelnut butters and dates can vary, if the frosting is too thin, add a little more cacao powder, too thick, add a little more water).
To assemble, place one cake layer on a plate, and spread about 3/4 cup of the chocolate chip frosting over it. Place the strawberries and blackberries on top of it. Place the other cake layer over that, and spread the rest of the frosting over the top and down the sides of the cake. Decorate the top of the cake with more berries if desired, and serve!
(Visited 142 times, 1 visits today)