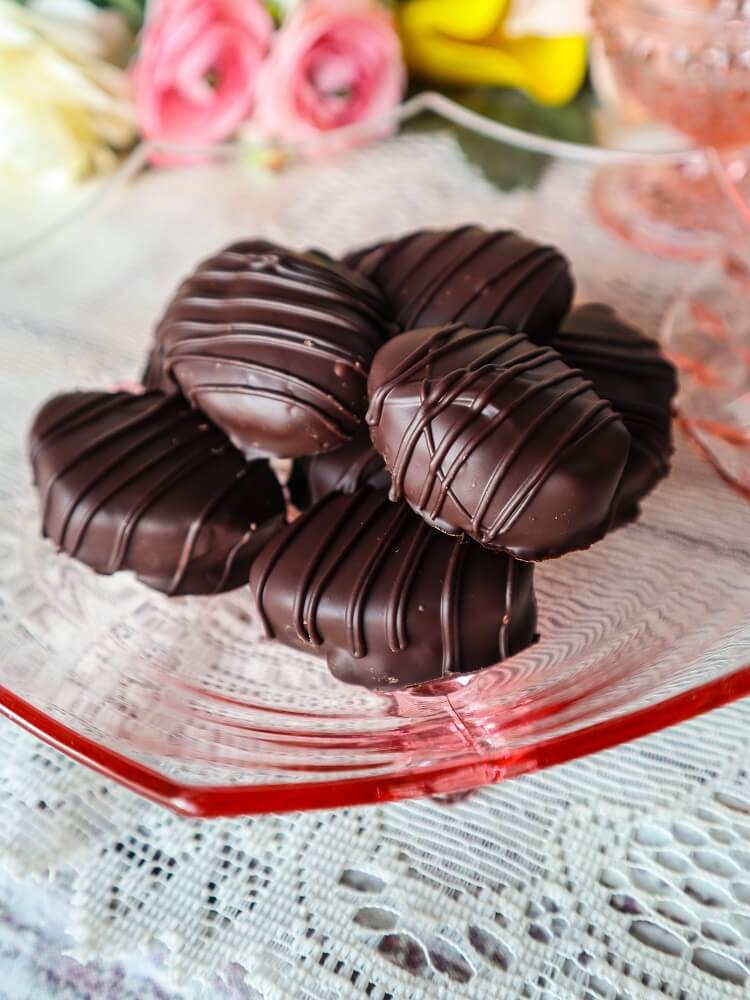 Vegan Chocolate Halva Eggs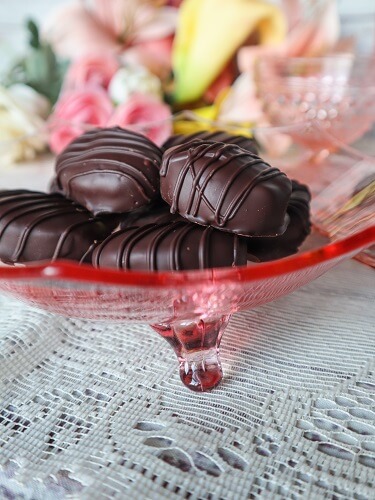 I can't believe Easter is already next weekend!  Time has flown by this spring!  The weather has finally been nicer, so last weekend I spent a lot of time outside, but I also made time to make some Easter goodies including these Vegan Chocolate Halva Eggs!  I usually make some truffle eggs or peanut butter eggs for Easter, both of which I love, but I have really come to enjoy halva the last few years, so I thought some halva would make a delicious egg filling!  I had some tahini on hand, because I had planned on making halva so it was perfect!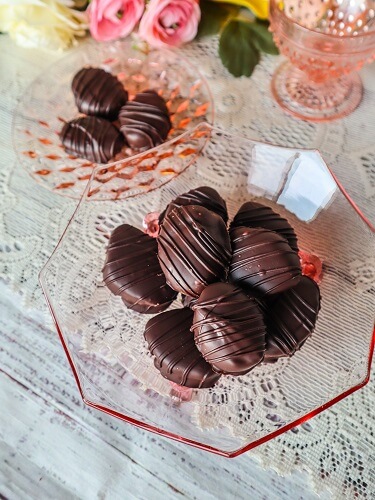 I understand why halva is intimidating to some people, since you have to use a candy thermometer and stir it just right but once you get the hang of it, the process is really pretty simple and easy.  Much easier than other candy making in my opinion.  I admit, the first time I made halva it wasn't perfect, it turned out crumbly because I didn't use a thermometer and mixed it too much, but with the candy thermometer and mixing it just right it comes out perfect!  The key is to get the sugar syrup to 250F degrees, then stir it in quickly in a stream until it is just combined (you want the swirls of sugar in the halva to give it that nice texture).  This is why I don't use a mixture and instead use a wooden spoon.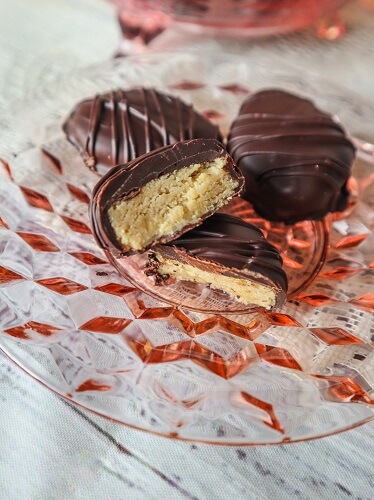 I just made classic halva for this recipe, and added in vanilla and almond to keep it simple, since I was going to be dipping it in chocolate. I made the halva I usually do in a lined pan, then cut it into egg shapes with a small cookie cutter.  I then chilled it and dipped it in vegan dark chocolate.  Use whichever vegan dark chocolate is your favorite for this!  I like it pretty dark and not really sweet so I usually go for a really high cacao content chocolate. If you don't feel like cutting the halva into shapes, you could just cut it into squares and dip it in chocolate too if you are not making it for Easter, it will still be just as delicious.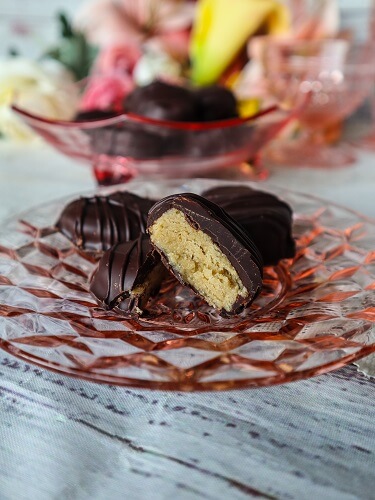 These turned out so good!  The sweet halva filling with the scents of almond and vanilla was perfect with the rich dark chocolate!  These would make the perfect addition to your Easter basket, I know I would have loved them in mine as a kid.  I hope you try these Vegan Chocolate Halva Eggs, and I hope you all have a wonderful week!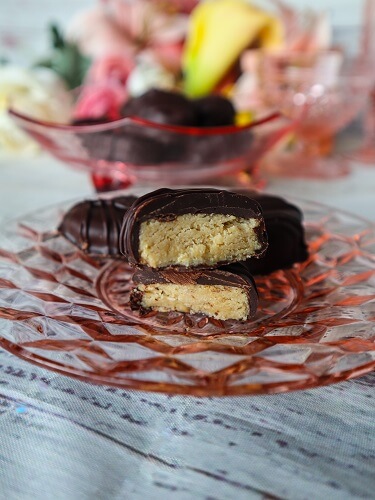 Vegan Chocolate Halva Eggs

Makes 1 lb
Ingredients:
1 1/2 cups tahini, stirred well, at room temperature
1/4 tsp sea salt
1/2 tsp pure vanilla extract
1/2 tsp almond extract (optional)
1 cup granulated sugar
1/4 cup filtered water
2 cups chopped vegan dark chocolate
Instructions:
Line an 8x8 inch square pan with parchment (letting it go up the sides as well).
In a medium sized bowl, combine the tahini, sea salt, vanilla, almond extract, and mix until well blended.  Set aside.
In a small saucepan with a candy thermometer in it, combine the sugar and water over medium high heat, and stir to dissolve the sugar.  Bring to a boil, and allow to cook while stirring occasionally so it does not burn, until it turns golden brown and reaches 250F degrees.
When it reaches the proper temperature, pour into the halva mixture in a thin stream while stirring constantly until it is just blended (you don't want to over-mix or it will become crumbly).
Dump the halva into the prepared pan, and press it out evenly.
Place the halva in the refrigerator and allow to chill and set for a couple hours until it is firm.
Cut the halva into small egg shapes using a small 2 inch cookie cutter (you can use other shapes too if you want).
Place the cut pieces on a tray in the freezer while you melt the chocolate (you can eat the scraps).
Melt the dark chocolate in the top of a double boiler until smooth.
When the chocolate is melted, dip each cut piece of halva into it to coat it, letting the excess drain off (I just used a fork, and a knife to slide if off), then place it on a piece of parchment paper or foil with a cutting board underneath (to make moving them easier). When they are all dipped, place them in the freezer until the chocolate is completely set (about 15 minutes), then you can remove them from the pan and enjoy!
Keeps for 1 month in the refrigerator in an airtight container.
(Visited 811 times, 1 visits today)