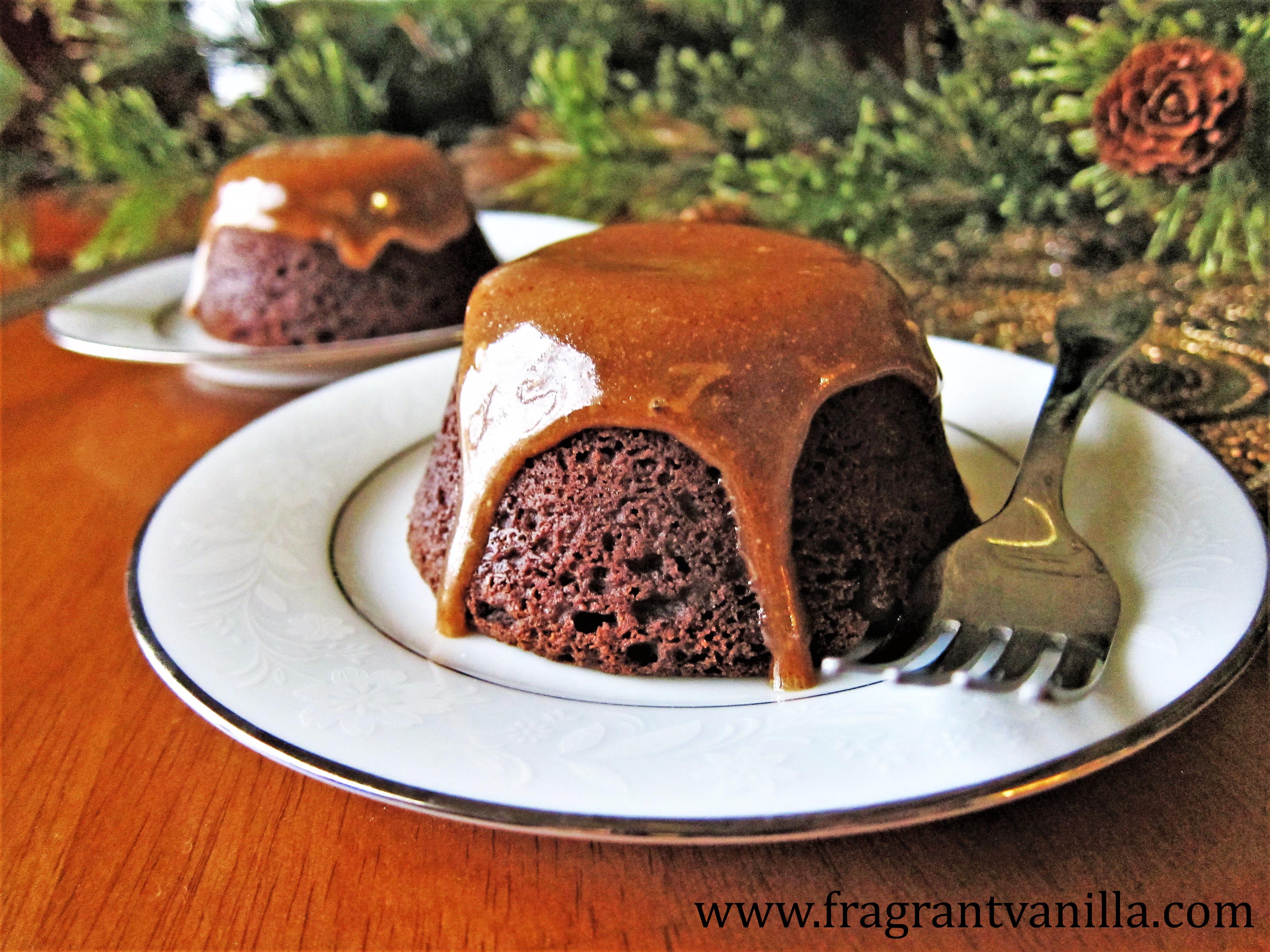 Vegan Chocolate Gingerbread Caramel Lava Cakes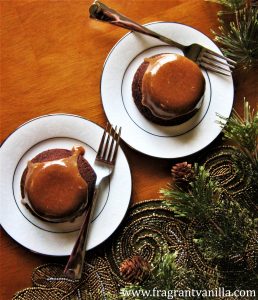 Everywhere you go now you hear Christmas music, there is a chill in the air (at least where I live), and people are wearing their cozy sweaters and hats.  Tis the season for all things gingerbread!  Also, all things warm, because I don't know about you, but I need all of the warmth I can get this time of the year.  So, I decided that some warm cake would be lovely!  I decided to combine two delicious desserts, molten chocolate cake and gingerbread.  Bonus, the filling was a caramel!  Because all of those things are so delicious together!  I was in the mood for a quick recipe too, and this fit the bill.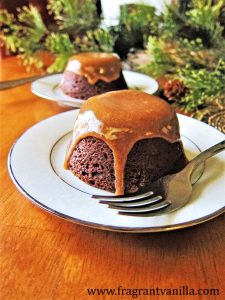 I used my usual date sweetened chocolate cake recipe along with the flavors of gingerbread, molassess and spice and upon tasting the cake batter, and discovering it was super delicious I knew these would bake up well!  These are actually oil free, because I am enjoying nut butter in my cakes in place of oil lately.  For the caramel filling I made a quick nut butter caramel with my pecan butter because it has an almost caramel like flavor when mixed with maple syrup.  Lastly, I added some chocolate chips to the cake too, because gooey little bits of chocolate in warm cake are always welcome.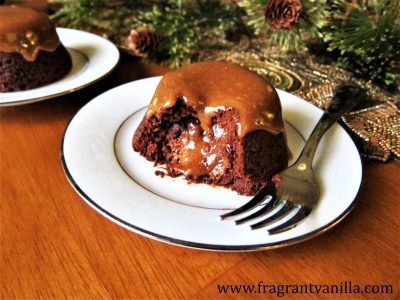 These baked up quick, and from start to finish, they were done in under 45 minutes plus the 10 minute cooling time which is always awesome!  Because then you get to enjoy them faster!  These smelled amazing as I pulled them from the oven! Once cool enough to unmold, I topped them off with a little more of the caramel, and they were so delicious!  Rich, gooey, chocolaty, fudgy, caramelly, gingery and everything I imagined they would be!  Give these a try next time you want a quick comfort food winter dessert!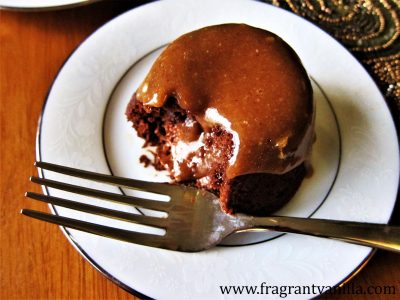 Vegan Chocolate Gingerbread Caramel Lava Cakes
Makes  four 1 cup cakes
Ingredients:
4 1 cup custard dishes
Cake:
3/4 cups quinoa flour (or all purpose gluten free flour)
2 Tbsp cacao powder or unsweetened cocoa powder
3/4 tsp baking soda
1/2 tsp baking powder
1/4 tsp sea salt
1 tsp ginger
1 tsp cinnamon
1/8 tsp nutmeg
1/8 tsp cloves
1/2 cup packed soft medjool dates, pitted, soaked in water for 30 minutes and 1/2 cup of the water reserved
2 Tbsp raw pecan butter (or almond butter)
1 Tbsp molassess
1 tsp pure vanilla extract
1/2  cup filtered water
1 Tbsp apple cider vinegar
Caramel Filling:
1/2 cup raw pecan butter (or almond butter)
1 Tbsp maple syrup
2 Tbsp filtered water (or more if needed)
pinch sea salt
1 tsp pure vanilla extract
1/4 cup vegan dark chocolate chips or chunks
Directions:
Preheat the oven to 375F degrees and position rack in center of oven.
Oil four 1 cup custard dishes or ramakins with coconut oil.
Whisk flour, baking powder, baking soda, sea salt in a large bowl to blend well.
Place dates, reserved water, pecan butter, molasses, water, and vanilla extract into a blender, and blend until smooth, then whisk this blended mixture into the flour mixture until well blended. Whisk in the cider vinegar until bubbles form.
Whisk together the caramel ingredients until smooth (adding more water if you think it is too thick).
Transfer half of the cake batter to prepared pans filling them half full, then sprinkle some chocolate chips over each one, and drop 1 Tbsp of the pecan butter caramel mixture into each in the center. Sprinkle more chocolate chips over that.  Spoon the remaining batter over each one, place on a tray, and place in the oven.
Bake cakes until they are set, but not overbaked about 15-18 minutes.  Remove from oven, let cool for about 10 minutes, then unmold, drizzle with more of the caramel, and enjoy warm.
(Visited 284 times, 1 visits today)