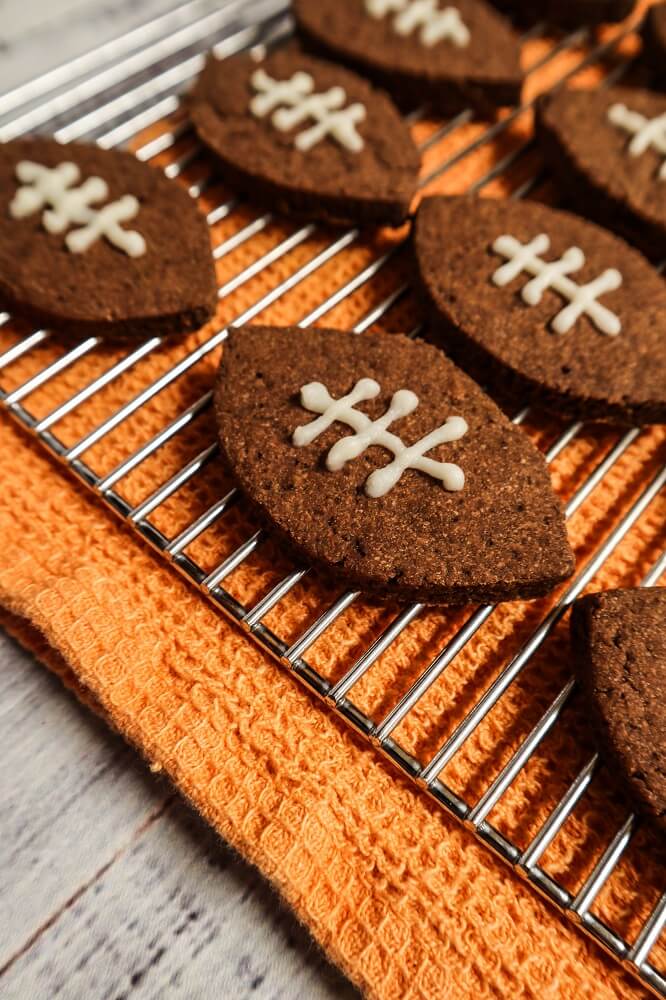 Vegan Chocolate Football Cookies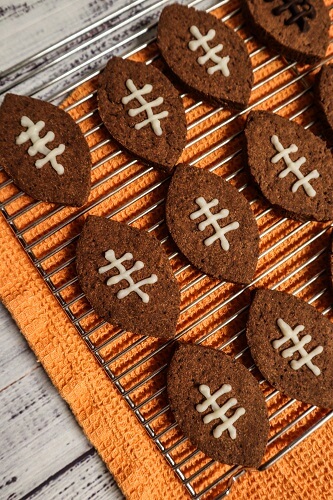 My favorite football team the Minnesota Vikings were eliminated a few weeks ago from the Superbowl running, but I will still be watching because it is tradition, and I do love Superbowl food like nachos and cauliflower wings plus watching all of the interesting commercials!  Also I decided to make some cute football cookies.  Because why not?!  I usually just focus on the savory things at this occasion but cookies sounded good too. I decided on chocolate cut out cookies, because they are already the color of footballs and I am in chocolate sort of mood.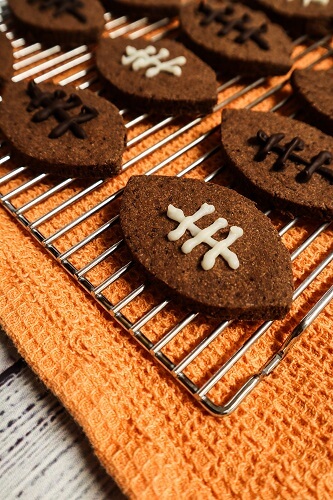 These are actually pretty easy to make, minus the time it takes to roll them out and cut them, but I always find that part of the process kind of fun, like a kid playing with play dough. Didn't you ever take play dough, roll it out like cookies and pretend they were cookies (not actually eating them but pretending to)?  Well, I did because even back then I liked to play pretend kitchen and "make" food a lot.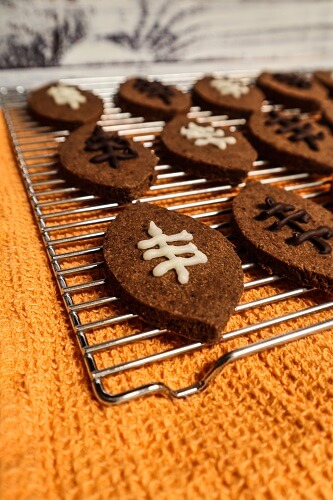 For the base I used whole wheat pastry flour because it is what I have on hand, plus cacao powder to make them chocolaty and a bit of maple sugar to sweeten.  You could use coconut sugar or just granulated sugar if those are your preferred sweeteners as well.  I used coconut oil combined with avocado oil simply because I feel like coconut oil on its own gets too hard at room temperature (or cooler) with baked goods, so the avocado oil makes them a touch softer like cookies with real butter would be.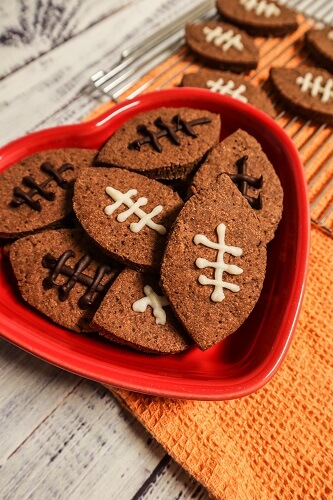 They smelled wonderful while baking!  I could not wait to try them but first, I had to decorate the tops or they wouldn't be footballs. I decorated half with melted dark chocolate and half with some white icing, but you could do one or the other if you prefer.  They turned out super delicious!  I prefer the ones topped with chocolate myself, because one can never have too much chocolate.  But my Mom, who I shared some with since she loves cookies, enjoyed the white icing the most.  If you are celebrating the Superbowl, why not make some cookies to go along with your spread?!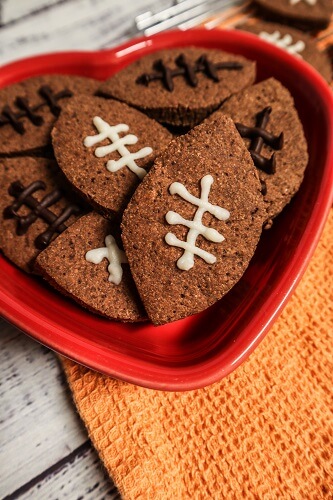 Vegan Chocolate Football Cookies 
Makes about 28
Ingredients:
1 3/4 cups organic whole wheat pastry flour*
1/4 cup cacao powder or unsweetened cocoa powder
1/2 cup maple sugar
1/4 tsp sea salt
1/4 cup melted coconut oil
1/4 cup avocado oil (or other neutral oil liquid at cool temperatures)
1/4 cup plus 2 Tbsp filtered water
1 tsp pure vanilla extract
  Icing:
2 Tbsp coconut butter
2 Tbsp filtered water
2 tsp maple syrup
  Dark Chocolate:
1/2 cup chopped vegan dark chocolate
Instructions:
Preheat the oven to 350F degrees, and line three baking sheets with parchment.
To make the dough, mix all ingredients together in a bowl until combined and smooth (it may be slightly crumbly, and that is ok, just squeeze it back together), then place on a piece of parchment paper and roll out 1/4 inch thick.  Cut into football shapes with a medium sized cookie cutter (or make a stencil and cut with a knife carefully) and place them onto two of the prepared pans. Re-roll any scraps squeezing them back together and rolling them out, and cutting into more shapes until all of the dough is used.
Place the pans in the oven and bake for 10 minutes or until set and just barely beginning to brown at the edges.
Remove the pans from the oven and let cool completely on wire racks.
When the cookies have cooled completely, to make the icing, whisk together all ingredients until smooth, then place in a ziplock bag with the corner cut off or a small pastry bag and pipe lacing on the football cookies.
Or, if you want to make the chocolate lacing, melt the vegan dark chocolate in the top of a double boiler, and then place in a ziplock bag with the corner cut off or a small pastry bag and pipe lacing on the football cookies.
Put the cookies in the freezer on their tray until the icing or chocolate has hardened, then enjoy!
*Cookies keep in an airtight container at room temperature for up to 1 week, refrigerated for 2 weeks or frozen for up to 4 months.
(Visited 265 times, 1 visits today)