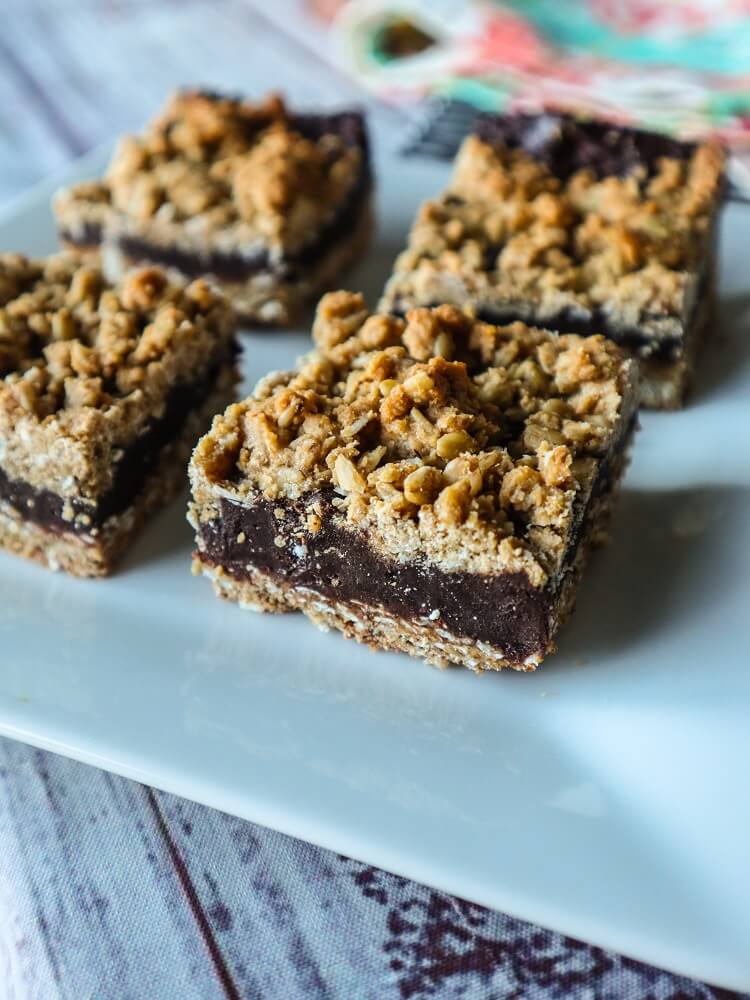 Vegan Chocolate Filler Bars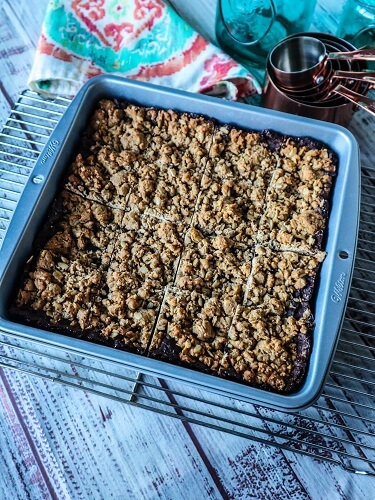 When I was little, I thought chocolate filler bars were awesome!  I mean, what could be better than gooey fudgy chocolate sandwiched in between crumbly buttery cookie dough?!  I think I first had them at my Mom's friend's house and we got the recipe from her, but I remember them being one of my favorite bar recipes. My Mom made a lot of bars, and I guess I can't blame her, they are easier to make than cookies after all!  I decided to make some Vegan Chocolate Filler Bars last weekend, because I don't think I have had one since I was in high school and they just sounded good.  Plus I had just picked up some vegan sweetened condensed milk to use in them, which is a main ingredient in the filling.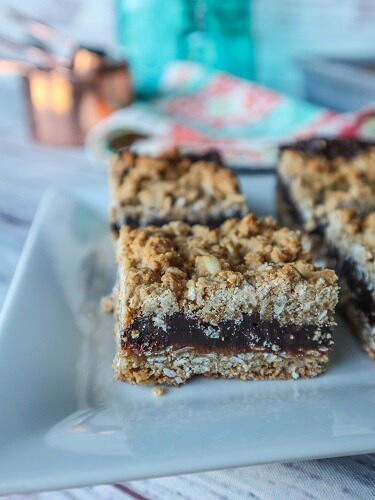 The bars I remember enjoying had a buttery oatmeal cookie like crust with crunchy walnuts, but I decided to skip the walnuts and just make it a sort of buttery oatmeal streusel.  Streusel is one of my all time favorite things, on pie or muffins, and of course bars like this where the crust becomes the streusel.  This recipe usually contains egg, but I replaced that with a flax egg, and I replaced the butter with melted coconut oil and it came out perfect!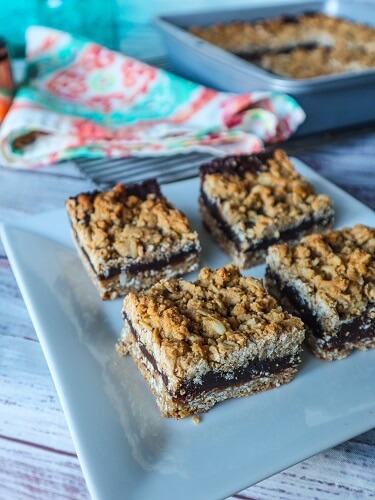 If you wanted to make these gluten free, you could use gluten free all purpose flour instead of the flour, or gluten free oat flour.  Also, I used maple sugar for these, but you could use brown if that is what you preferred/had on hand.  Either way they will still be delicious!  For the filling, I used Nature's Charm vegan sweetened condensed milk, melted together with vegan dark chocolate and it was perfect!  Honestly I could not stop sampling the filling, it was so good!  But I needed to put most of it into the bars so that was motivation to not eat too much.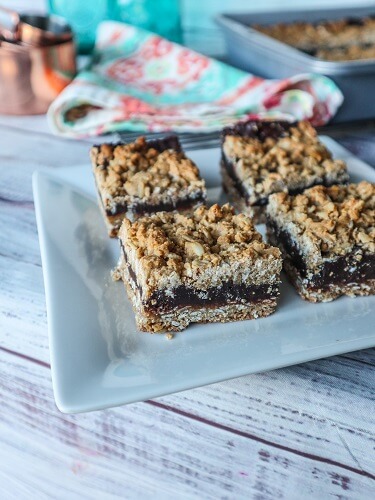 They baked up beautifully, and I could not wait to taste them!  But since I was making them after work, I had to wait until the next day to cut them.  They were so heavenly!  Just as good as the ones I remember enjoying, with  fudgy gooey chocolate filling, and buttery oat crunchy topping.  If you are looking for something to bring to a potluck, these always are a hit, or of course just a delicious treat to have on hand at home.  If you are a chocolate fan, definitely give these Vegan Chocolate Filler Bars a try!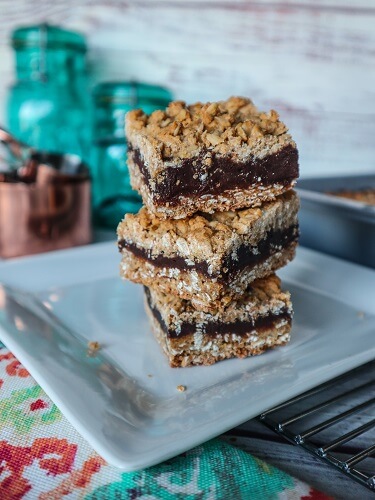 Vegan Chocolate Filler Bars
Makes 16
Ingredients:
1 1/2 cups rolled oats
1 1/4 cups vegan whole wheat pastry flour
1/2 tsp baking soda
1/2 tsp sea salt
1/2 cup melted coconut oil
1 cup maple sugar or brown sugar
1 Tbsp ground flax seed mixed with 3 Tbsp filtered water
1 tsp pure vanilla extract
1 11 oz can Nature's Charm vegan sweetened condensed coconut milk
1 1/2 cups vegan dark chocolate chips or chunks
1/4 tsp sea salt
1 tsp pure vanilla extract
Instructions:
Preheat the oven to 350F, and line a 9x9 pan with parchment.
In a large bowl, combine the oats, flour, baking soda, sea salt, and set aside.
In another bowl, mix together the coconut oil, maple sugar, flax mixture and vanilla, then mix into the oat mixture until well combined. Set aside.
In a saucepan, combine the coconut milk, dark chocolate, sea salt and vanilla and heat over medium until melted and smooth, stirring often.
Press 2/3 of the oat mixture into the 9x9 inch pan evenly, then pour the chocolate over it. Sprinkle with the remaining oat mixture and place in the oven.
Bake for 30 minutes, then remove from the oven and let cool completely before cutting into 16 bars.
(Visited 807 times, 1 visits today)