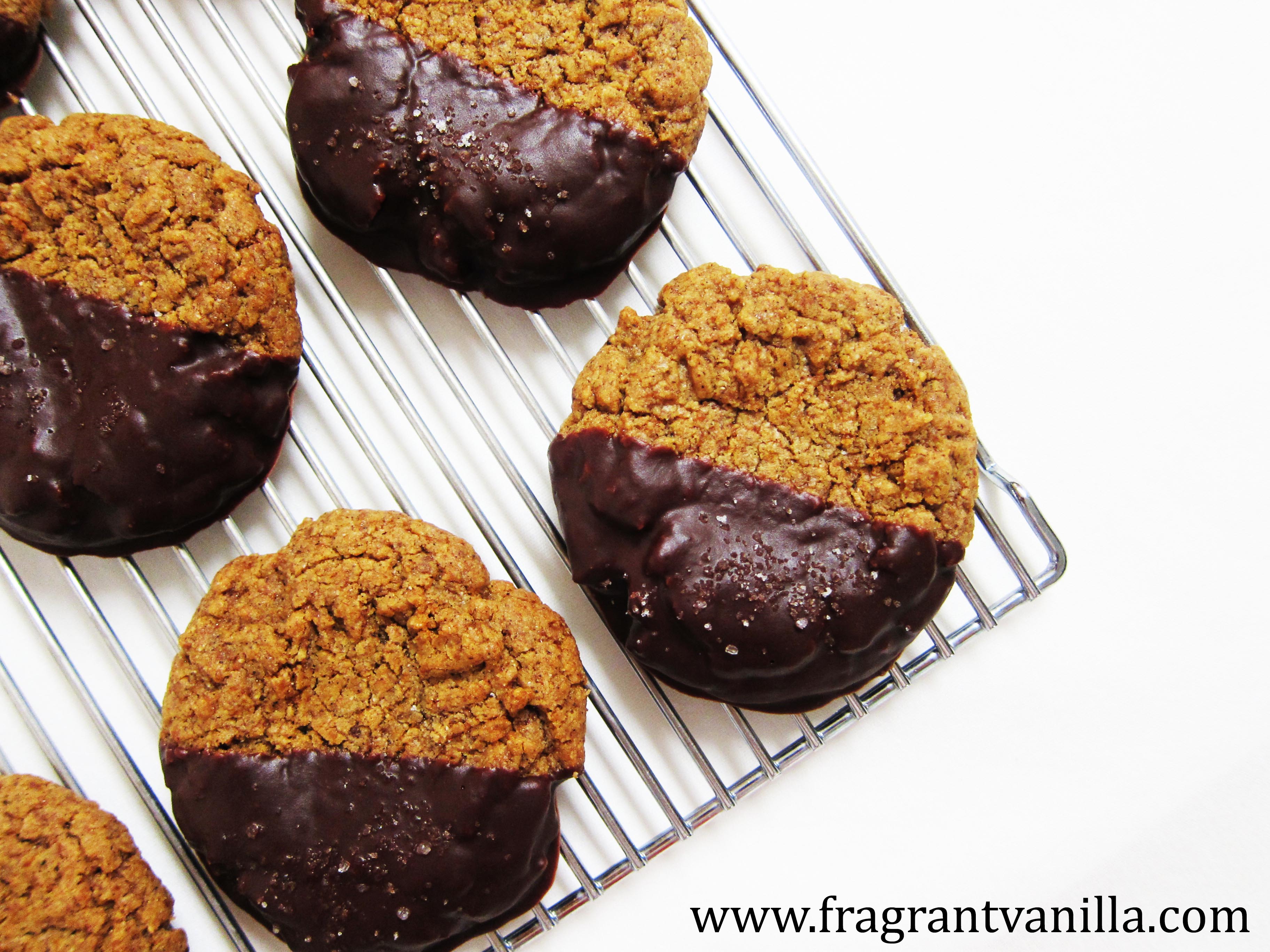 Vegan Chocolate Dipped Salted Almond Butter Cookies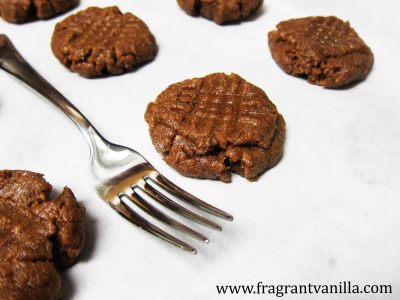 When I was little, my Mom and I would bake many different types of Christmas cookies, then keep them all in a big container in the freezer to either share with others or enjoy later.  There were the favorite cookies, like the pfeffernusse, classic sugar cookies, and pecan tassies.  But we would always try a few new recipes as well.  We would get cookbooks from the library, because this was before we had the internet at home to look up recipes (although I prefer to page though books still) and we would pick a few to make that caught our eye.  I still enjoy making cookies around this time of the year, warming up the kitchen and filling the house with a heavenly aroma.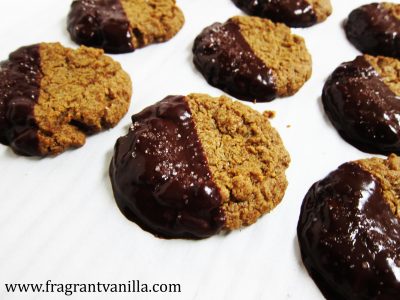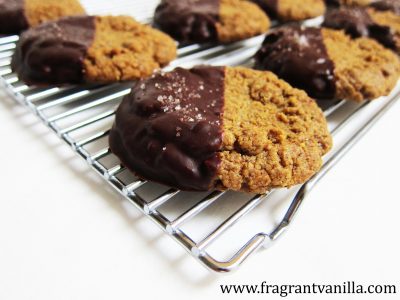 My Mom was showing me some cookie recipes that she thought I could maybe veganize, because now she just asks me to make the cookies that sound good to her since I love baking. One of them was a salted cashew shortbread.  We both thought a salted nut butter cookie sounded good, but I like my nut butter cookies soft like peanut butter cookies, so I decided to make a salted nut butter cookie in peanut butter cookie fashion (soft and chewy).  I did not use cashew butter or peanut butter though, I used almond, because it is Mom's favorite and it sounded good to me too.  We both have a thing for roasted almond butter.  I make my own at home, and I go through about a jar a week.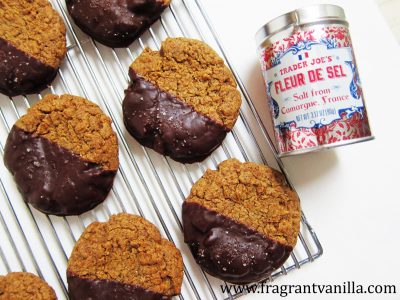 The dough for these cookies tasted fabulous, and I am sure I would end up with a couple more cookies if I did not eat so much (don't worry, the yield amount for the recipe is correct, since I based this off my PB cookie recipe).  But enough of them made it into the oven to share!  Once they were baked and cooled, I dipped them in dark chocolate and sprinkled them with some fleur de sel.  OMG were they ever good!  My Mom much approved as well, as they had some of her favorite ingredients in them.  Add these babies to your Holiday baking to make list!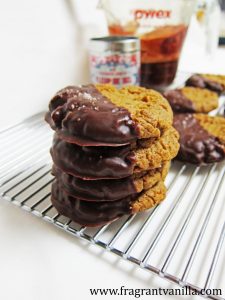 Vegan Chocolate Dipped Salted Almond Butter Cookies 
Makes 12 cookies
Ingredients:
Cookies:
1 Tbsp ground flaxseed
3 Tbsp filtered water
1 cup coconut sugar
3/4 cup organic almond butter
1/4 cup coconut oil, warmed to liquid
1 tsp pure vanilla extract
1 1/4 cups gluten free all purpose flour
3/4 tsp baking soda
1/2 tsp baking powder
1/2 tsp sea salt
For dipping:
1/2 cup chopped vegan dark chocolate
fleur de sel for sprinkling
Instructions:
In a small bowl, whisk together the flax seed and water.  Place the bowl in the fridge for 15 minutes, this is your flax egg.
In a large bowl, with a wooden spoon, mix together the sugar, almond butter, coconut oil, vanilla and flax egg, until smooth.  Then mix in the flour, soda, baking powder, and sea salt in until the mixture is smooth.
Preheat the oven to 375F degrees.  Line a sheet pan with parchment.
Shape the cookie dough into 2 inch balls, place on your baking sheet a few inches apart and flatten with a fork, like you would with peanut butter cookies.
Place in the oven and bake at 375 for 12 minutes or so, until lightly browned and set.  Allow to cool completely on a rack.
Melt the chocolate in the top of a double boiler (or your preferred method), and dip half of each of the cookies into the chocolate allowing the excess to drain off, then sprinkle with the fleur de sel.  Set on a parchment lined tray to set the chocolate (it will set faster if you pop them in the freezer for about 5 minutes). Enjoy!
(Visited 86 times, 1 visits today)