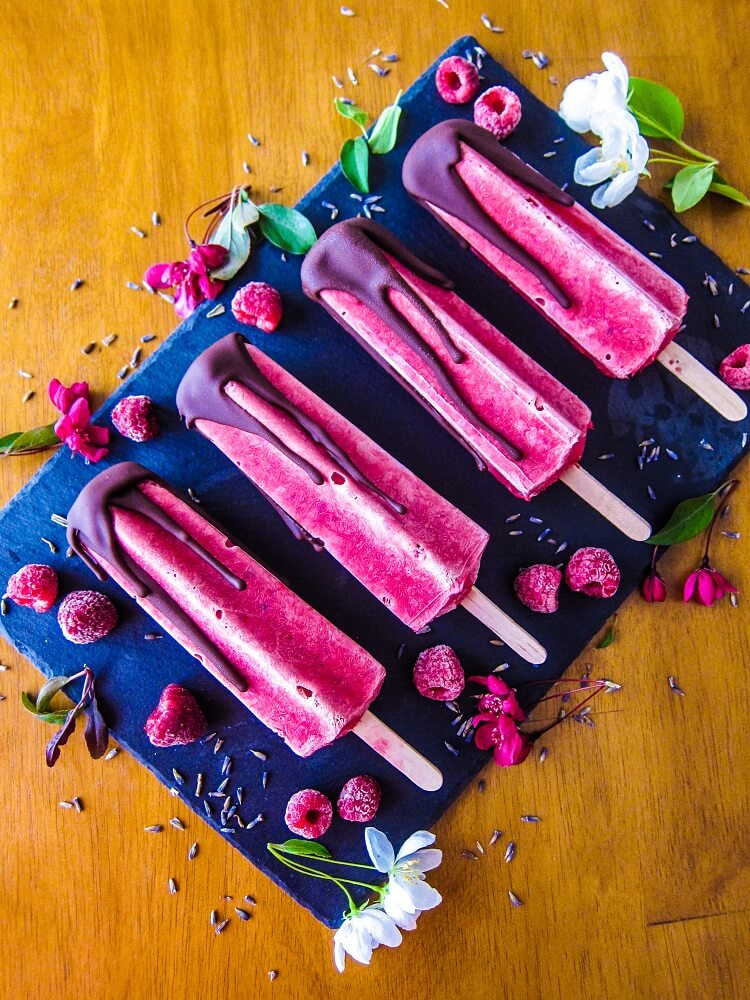 Vegan Chocolate Dipped Raspberry Lavender Ice Cream Pops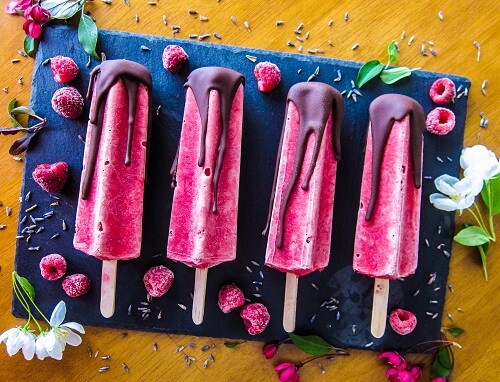 Warmer weather is approaching and they said it was supposed to be nice last weekend so I figured I would make some ice cream. Not the scoop-able kind though, some ice cream popsicles! I love that they are portable, and easily shareable and it is always nice to be able to take them along on a walk outside when it is warm. I made some chocolate dipped cherry ones a few years back and they were pretty bomb, so I decided to make some raspberry lavender ice cream ones dipped in chocolate this time.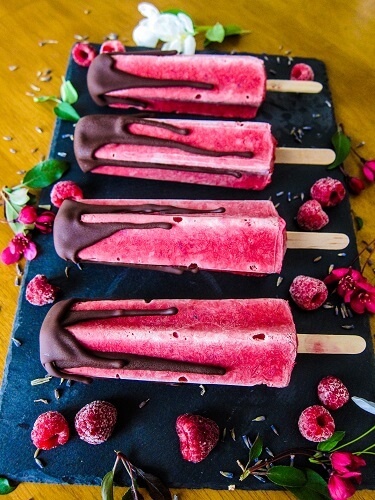 Raspberries have always been my favorite fruit. We always had raspberry jam at my Mom's house when I was little, and my Mom used to make these really good cheesecake tart things topped with raspberries, and I feel like we bought them the most often just to snack on. I think what I love about them is the balance of tart and sweet that they have. It is perfect for my tastes. In the Summer here, there are woods close to where I live where you can pick wild black raspberries and they are amazing! We are not quite to that season yet, but I am still craving them! Hence using them in the popsicles.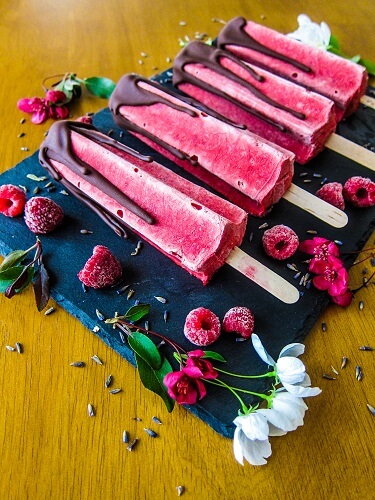 I decided to add the lavender because I am also loving that lately in desserts and drinks. It is so calming and heavenly. Also it pairs perfect with berries. The base for this ice cream was pretty simple, but tasted so good. Just coconut milk, maple syrup, vanilla, a touch of bright lemon, fragrant lavender and of course the sweet berries. I could not wait to try it in its finished form.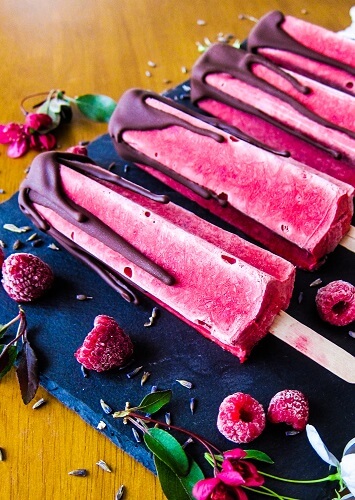 Unfortunately I had to wait overnight because I was making these after work, but it was so worth the wait. I dipped them in good quality vegan dark chocolate, and they were so heavenly! They were rich and creamy thanks to the coconut milk, and the sweet raspberries and fragrant lavender were so good together! The dark chocolate put them over the top to crave worthy status! You can't go wrong with berries, chocolate and ice cream. If you are looking for a cooling treat to make when the warm weather hits, give these a try!
Vegan Chocolate Dipped Raspberry Lavender Ice Cream Pops
Makes 8
Ingredients:
2 cups full fat coconut milk
1/4 cup maple syrup
1 tsp pure vanilla extract
pinch sea salt
2 Tbsp lemon juice
2 tsp dried lavender flowers
2 cups organic raspberries
3/4 cup chopped vegan dark chocolate
Instructions:
Combine the full fat coconut milk, syrup, vanilla, sea salt, lemon juice lavender, and berries in a blender and blend until smooth.
Pour into popsicle molds (I got 8 popsicles, but you may get more or less depending on the size of your molds.
Place sticks into the molds, leaving about 1 inch at the top, then place in the freezer until completely hard, about 4-6 hours (or overnight).
Remove from the molds then place back in the freezer on a parchment lined tray until completely hard (you don't want them melty when you put the chocolate on).
Meanwhile, melt the chocolate in the top of a double boiler, then quickly dip each popsicle into it, then place back onto the tray and put back in the freezer until hard.

Enjoy! Store any leftover pops in a sealed container in the freezer.
(Visited 340 times, 1 visits today)