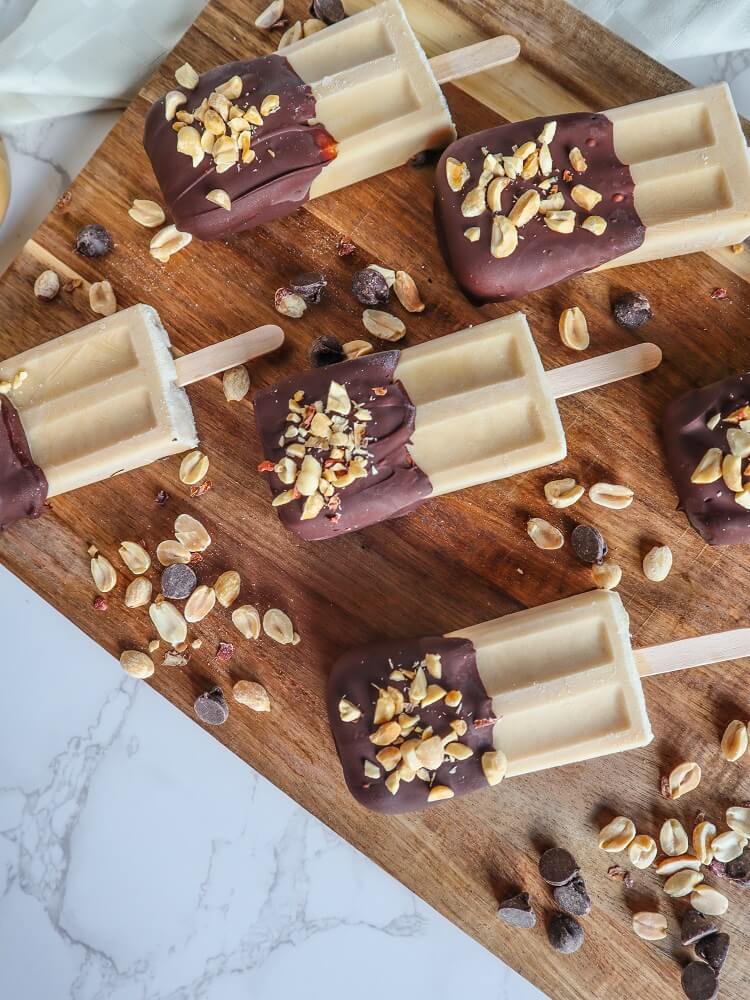 Vegan Chocolate Dipped Maple Peanut Butter Ice Cream Pops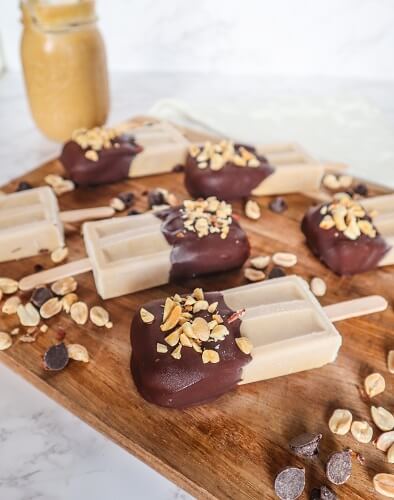 We have been all about the ice cream lately.  Why not, since it is the peak of summer!  I have been enjoying mostly the scoopable variety of ice cream.  But Eric bought some chocolate dipped peanut butter ice cream popsicles at the store, and they sounded so good that I decided to make my own, but upgraded! So I made some Vegan Chocolate Dipped Maple Peanut Butter Ice Cream Pops!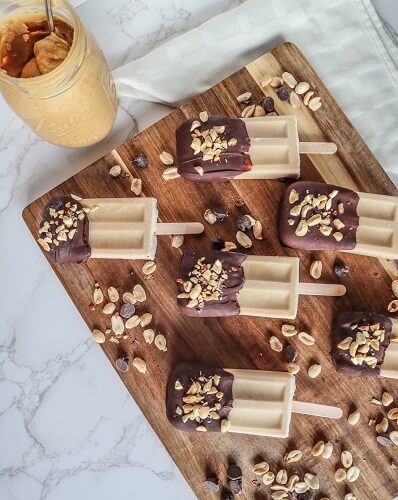 First, I made a peanut butter ice cream base.  I used oat milk as the base this time, which is a variation from what I normally use, which is coconut milk.  But I did not have any coconut milk on hand at the moment.  What I did have was full fat oatmilk and it worked perfect for these!  I find that sometimes in ice cream pops the coconut milk makes them a little soft and hard to get out of the molds but these were just right.  I sweetened them with maple syrup and added a touch of maple extract and vanilla and they were perfect!  I also added a good amount of home made peanut butter, since they are peanut butter pops after all!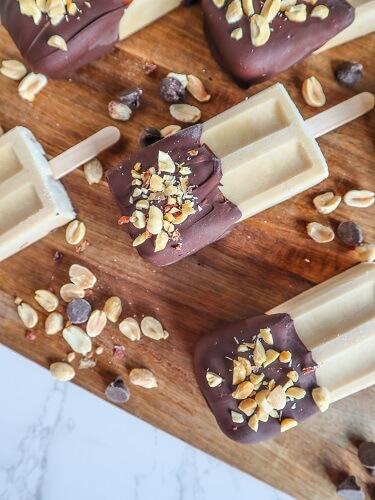 Lastly once they were frozen, I dipped them in vegan dark chocolate, and sprinkled them with crunchy peanuts for a nice texture contrast.  These turned out super delicious and they were pretty easy to make!  The peanut butter ice cream was just the right amount of sweetness, and so heavenly with the vanilla and maple!  The dark chocolate was the perfect addition to it and the nice crunch of the peanuts made these so satisfying! If you are looking for a cool summer treat, definitely give these Vegan Chocolate Dipped Maple Peanut Butter Ice Cream Pops a try!  This is the sort of thing I will be enjoying to cool off the rest of the warm season!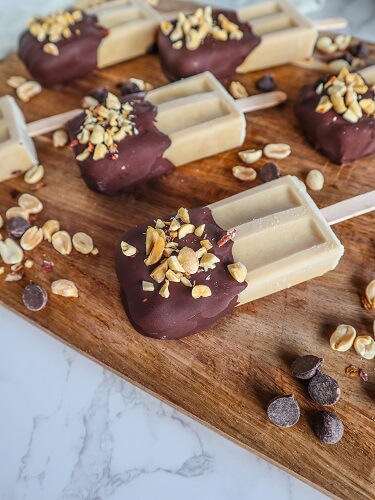 Vegan Chocolate Dipped Maple Peanut Butter Ice Cream Pops
Makes 8
Ingredients:
2 cups full fat oat milk
3/4 cup unsweetened peanut butter
1/2 cup maple syrup
1 tsp pure vanilla extract
1 tsp maple extract
1/4 tsp sea salt
2 cups vegan chocolate, chopped or chocolate chips
1/4 cup chopped roasted peanuts
Instructions:
Combine the milk, peanut butter, maple syrup, vanilla and sea salt in a blender and blend until smooth.
Pour into a popsicle mold, my mold made about 8 pops, but yours may make more or less depending on the size.  Stick sticks into them and place in the freezer.
When popsicles have frozen, melt the chocolate in the top of a double boiler until smooth.
Line a sheet pan with parchment.
Quickly dip each pop into the melted chocolate, then place on the tray and sprinkle with a little of the chopped peanuts. Repeat with remaining pops.
Place in the freezer until completely frozen. Enjoy!
These keep for up to 2 months in an air tight container in the freezer.
(Visited 186 times, 1 visits today)