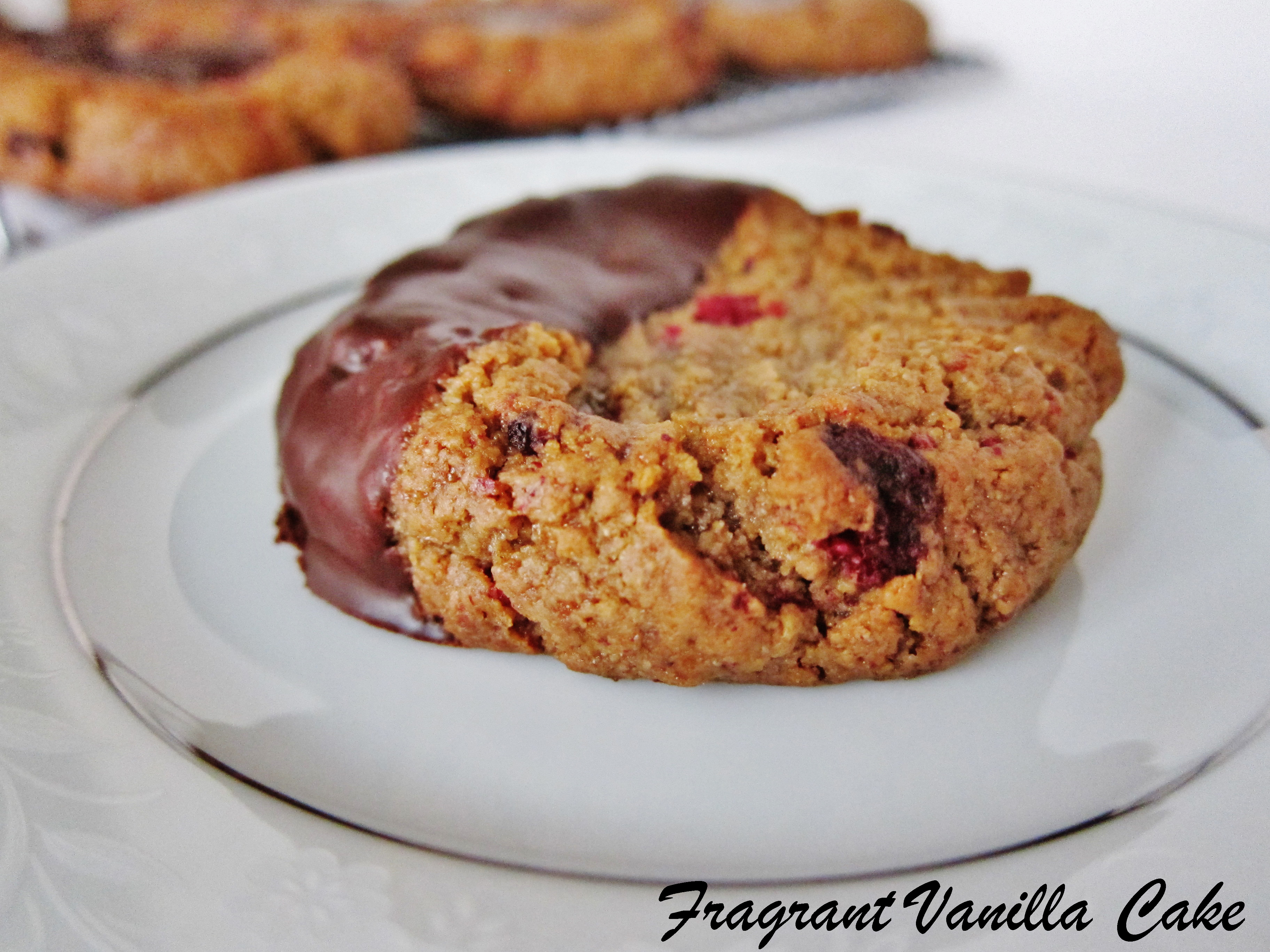 Vegan Chocolate Dipped Hazelnut Butter Cookies with Raspberries and a Giveaway!
Windy City Organics was kind enough to send me some Dastony Nut Butters to create recipes with, and I could not have been more excited.  In case you haven't noticed before I am in love with all things nut butter.  I have at least 6 types in my pantry at all times.  One of the nut butters they sent me was Raw Hazelnut Butter.  Let me tell you, it was the silkiest smoothest hazelnut butter I have ever tried.  It is delicious to enjoy by the spoonful on its own, or swirled into your morning porridge, or added to a smoothie to make it silky, but I wanted to make some cookies out of it.
I love peanut butter cookies, so I thought I would make some hazelnut butter cookies.  Sounds upscale doesn't it.  Well it is kind of special, at least in my mind since hazelnut butter is more unusual than peanut butter.  I made a dough the way I would with peanut butter, but it was extra sweet and delicious thanks to the hazelnut butter.  I decided to add in some dried raspberries for a sort of PB and J effect, and it made it even better.  The tart berries contrasting the sweet cookie dough perfectly.  They smelled amazing while baking.
Once they were cooled I could not leave well enough alone, and I decided to dip them in dark chocolate.  OMG...were these ever good!  This is a heavenly combination, and I shared a few with my family who insisted I not share them with anyone else but them.  Trust me, you need to try making these gems.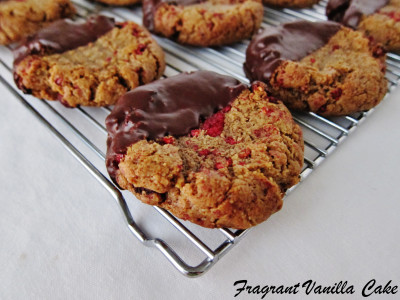 If this hazelnut butter is sounding pretty good to you right now, I totally understand, and I have the solution.  You can either buy yourself some over at the Raw Guru Store, where they have 15% off all Dastony nut butter flavors if you use the special promo code: davanillacake15 and it is good from now until Monday 7/13!  So you can get a deal on any of the Dastony Nut butters, including the Hazelnut Butter! Not only that, I am giving away a prize pack including one Dastony Sesame Tahini and one Dastony Hazelnut Butter courtesy of Windy City Organics. Just scroll down below the recipe to enter my giveaway! (Open to the USA only, sorry.)
1 cup dried raspberries
1/2 cup chopped vegan dark chocolate
In a small bowl, whisk together the flax seed and water.  Place the bowl in the fridge for 15 minutes, this is your flax egg.
In a large bowl, with a wooden spoon, mix together the sugar, hazelnut butter, coconut oil, vanilla and flax egg, until smooth.  Then mix in the flour, soda, baking powder, and sea salt in until the mixture is smooth.  Stir in the dried raspberries.
Preheat the oven to 375F degrees.  Line a sheet pan with parchment.
Shape the cookie dough into 2 inch balls, place on your baking sheet a few inches apart and flatten with a fork, like you would with peanut butter cookies.
Place in the oven and bake at 375 for 12 minutes or so, until lightly browned and set.  Allow to cool completely on a rack.
Melt the chocolate in the top of a double boiler (or your preferred method), and dip half of each of the cookies into the chocolate allowing the excess to drain off.  Set on a parchment lined tray to set the chocolate (it will set faster if you pop them in the freezer for about 5 minutes).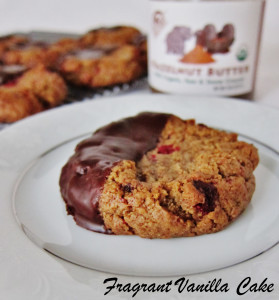 (Visited 62 times, 1 visits today)