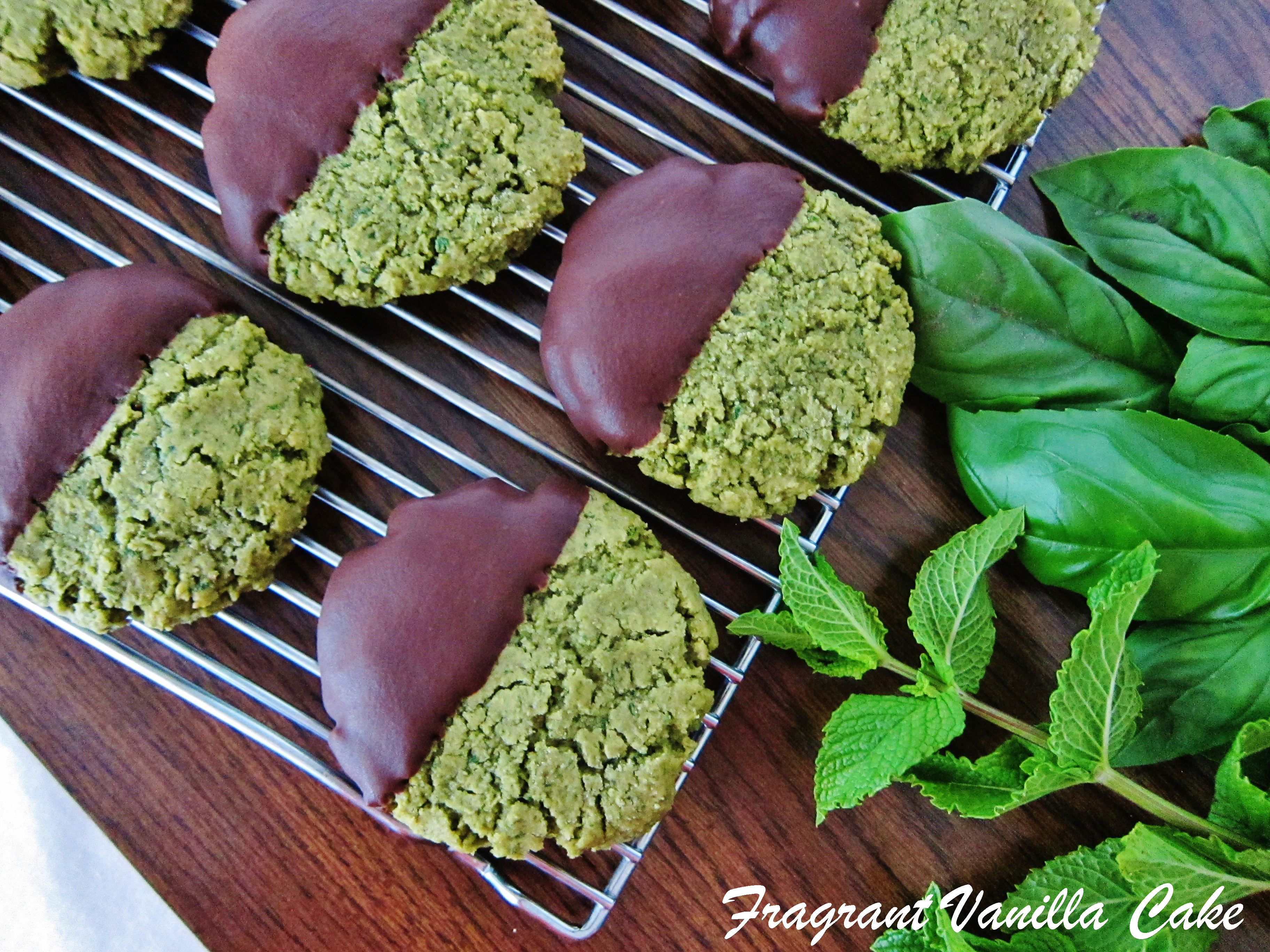 Vegan Chocolate Dipped Basil Mint Sugar Cookies (gluten free)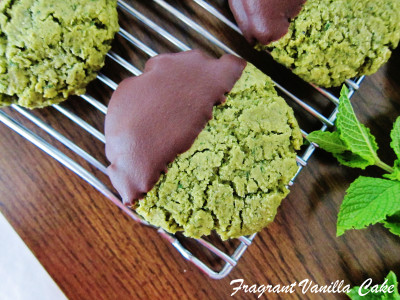 I had lots of beautiful basil and mint from my CSA box, and I wanted to make something delicious with it. Sure, some of it made its way into salads, but I wanted something sweet as well. I couldn't get my mind off of sugar cookies.  Eric and I had spent most of the day at the Minnesota Landscape Arboretum walking and it was really hot and humid, so you would think the last thing I would want to do was heat up an oven...but it sounded relaxing.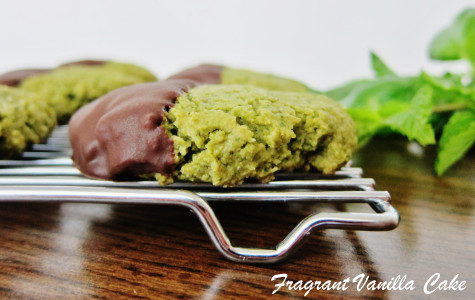 I decided to just go for it with the sugar cookies, and include the basil and mint.  I have seen mint cookies before which were a beautiful green, but unfortunately it was artificial.  So, I wanted to create a version of my own with real mint and add in some basil as well as my own twist.  I used xylitol in these in place of my usual coconut sugar in order to insure that they stayed green.  I did not know if they would or not, since I have baked things with natural color ingredients and they faded...so I had my fingers crossed on this one.  The dough was sooo good!  And luckily, they baked up beautiful!  The color stayed in tact!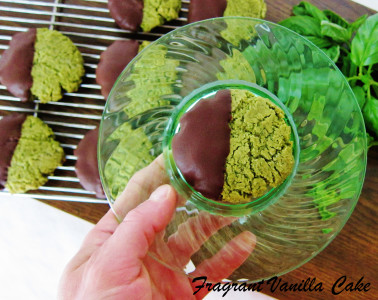 I decided to dip them in chocolate to make them even more delicious than they already were.  These were pretty fragrant cookies, and even better tasting with the refreshing mint and aromatic basil.  If you are apprehensive about the use of basil in cookies, trust me on this one, it is amazing.  Maybe you have an over abundance of these herbs in your garden and are looking for uses.  In that case, I envy you and you need to try these out!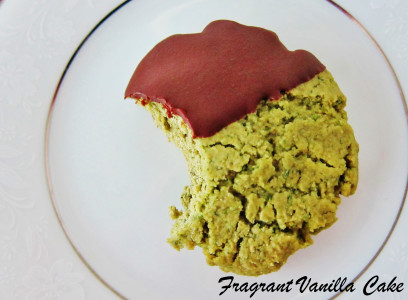 Vegan Chocolate Dipped Basil Mint Sugar Cookies (gluten free)
Makes 16 large cookies
2 Tbsp ground flax seed
1/4 cup plus 2 Tbsp filtered water
1 cup virgin coconut oil, warmed to liquid
1 cup fresh mint leaves
1 cup fresh basil leaves
1 1/2 cups xylitol (coconut sugar may be used but keep in mind the cookies will not be the same pretty green color)
1 teaspoon vanilla extract
1 teaspoon baking soda
1/2 teaspoon sea salt
3 1/2 cups all purpose gluten free flour
In a small bowl, whisk together the flax seed and filtered water.  Set aside in the refrigerator for 15 minutes.
Meanwhile, Combine the xylitol, mint and basil in a food processor and process until uniform in color and the herbs have blended into the xylitol. In a large bowl, coconut oil with xylitol and mix until well combined.
Mix in the vanilla extract and flax mixture until well combined.
Add the baking soda and salt then the flour, a cup at a time, mixing between each addition, until well combined.
To bake, Preheat your oven to 350 degrees. Line 2 large baking sheets with parchment paper. Roll balls into about 2 inch balls, and place on prepared cookie sheets a couple inches apart. Bake for about 10-12 minutes, until puffed and just starting to brown slightly.  Remove from the oven and let cool on the pan a few minutes, then remove to a wire rack to cool.  Repeat with remaining cookies and let cool completely.
Melt the chocolate in the top of a double boiler (or your preferred method), and dip half of each of the cookies into the chocolate allowing the excess to drain off.  Set on a parchment lined tray to set the chocolate (it will set faster if you pop them in the freezer for about 5 minutes).
(Visited 226 times, 1 visits today)