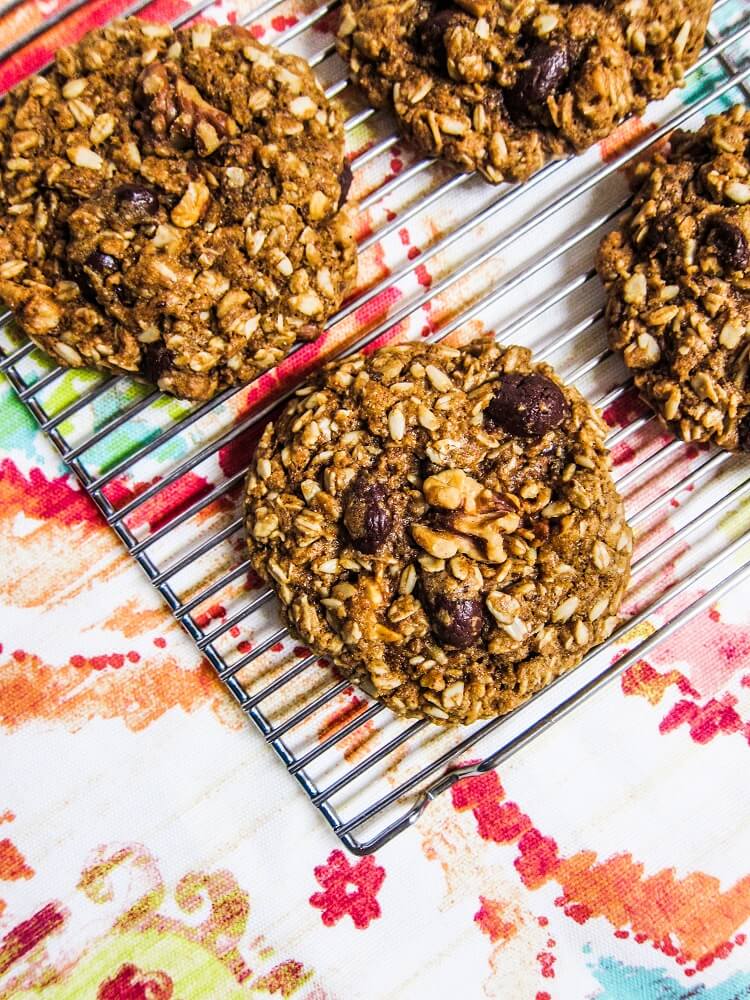 Vegan Chocolate Covered Raisin Oatmeal Cookies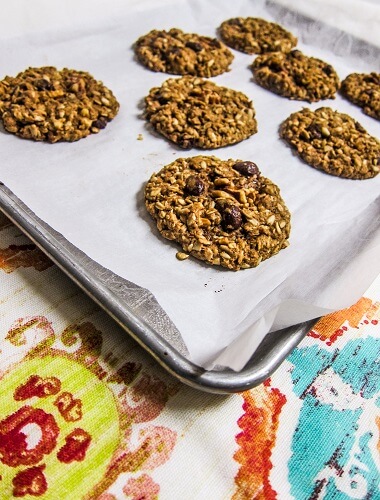 There is always the age old debate when it comes to classic oatmeal cookies.  You have the chocolate chip side and the raisin side.  I find that most people hate one but love the other.  The deli I work in makes both, and I find that the oatmeal chocolate chip tend to go faster than the raisin. I understand that, chocolate is after all delicious, but there is something nostalgic about raisins in oatmeal cookies that I kind of love.  Funny because I am not the type of person who would eat raisins alone as a snack.  Not until I tried the Rawmio chocolate covered golden raisins from Raw Guru.  These are not the Raisinetes you grew up eating (which I was not a fan of because they were milk chocolate and had some sort of weird coating on them). These are organic golden raisins covered in good quality rich vegan dark chocolate!  I would be happy to eat a bag of them.  But I  decided that they would be perfect in oatmeal cookies.  Why not make everyone happy and include both raisins AND dark chocolate?!
Any excuse to bake cookies and eat cookie dough, I am in. These are really quick and easy to make too.  I always love making cookies that are not fussy as opposed to ones that take a lot of extra time and TLC.  You can be enjoying these babies in under an hour!  Back when I was in college, I would always bake cookies to share with my cross country team for every meet.  So I developed a pretty good recipe back then that I veganized later and it is always a hit.  Especially with my Mom, because they are her favorite cookie so I always have to share with her.  She always said that they were healthier than other cookies because they have fiber, and I have to agree!  I like to include a little cinnamon and nutmeg in my oatmeal cookies also to give them that something extra.  The dough was super delicious with those chocolate covered raisins stirred in!  I also added some crunchy walnuts, because I love them in oatmeal cookies.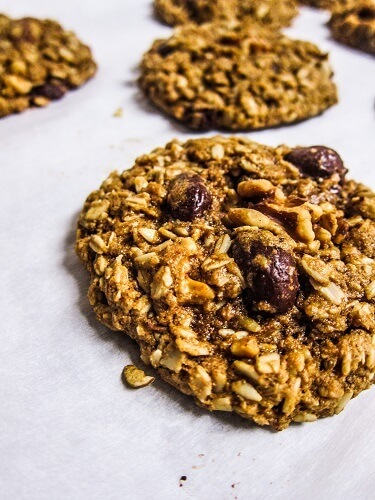 They baked up beautifully and I couldn't wait to try them!  They made my kitchen smell amazing.  They were so good warm with the chocolate a little gooey still!  Soft and chewy in the center and crispy at the edges just how oatmeal cookies should be with the sweet chocolate raisins and crunchy walnuts it was perfection!  You can have the best of both worlds with these no need to pick between raisins and chocolate chips in your oatmeal cookies!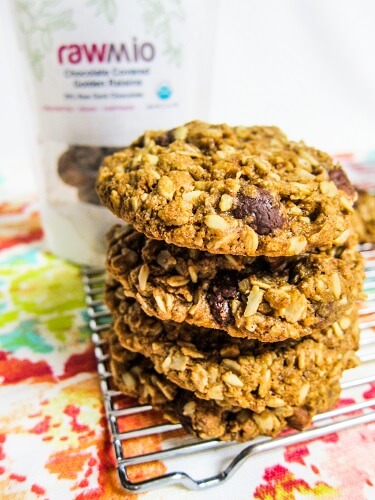 Vegan Chocolate Covered Raisin Oatmeal Cookies
Makes 1 dozen large cookies
Ingredients:
3/4 cup virgin coconut oil, warmed to liquid
1 1/2 cups Raw Guru coconut sugar
2 flax eggs*
1 Tbsp pure vanilla extract
1 1/2 cups gluten free oat flour
1 tsp baking soda
1/4 tsp nutmeg
1/2 tsp cinnamon
3/4 tsp sea salt
3/4 cup toasted walnuts
Directions:
In a large mixing bowl, mix together the coconut oil, and sugar until well blended. Add flax eggs, vanilla, and beat until well combined (the mixture will become very thick).
Mix in the flour, soda, cinnamon, nutmeg, and sea salt until well blended. Mix in the oats until well combined, then add walnuts and chocolate covered raisins and mix until evenly distributed throughout the dough.
Heat the oven to 350F degrees with the rack set at the middle position. Line 2 baking sheets with parchment paper.
Roll the dough into 12 large balls, and spread them out on the 2 cookie sheets with plenty of room in between, and flatten them out slightly. Bake for 13-15 minutes or until golden, but not over baked. Let cool on sheet a few minutes, then remove to a wire rack lined with parchment to cool.
*Whisk together 2 Tbsp ground flax seed, 1/4 cup and 2 Tbsp water in a small bowl.  Allow to sit in the fridge for 15 minutes until the mixture has set up (or become kind of thick).
(Visited 115 times, 1 visits today)