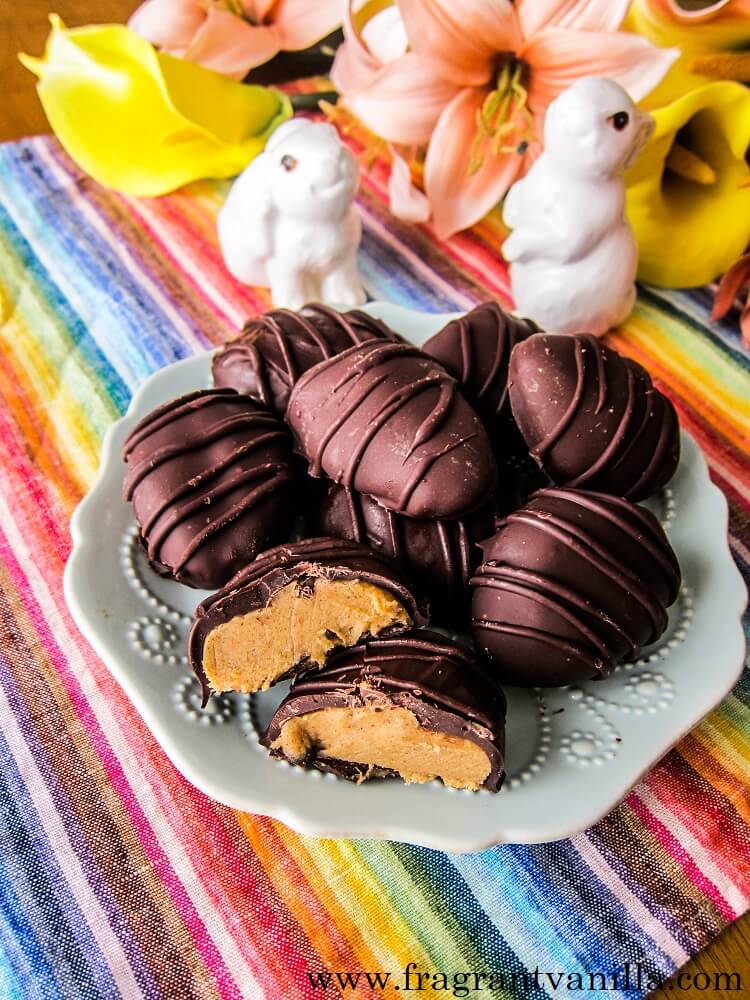 Vegan Chocolate Covered Caramel Eggs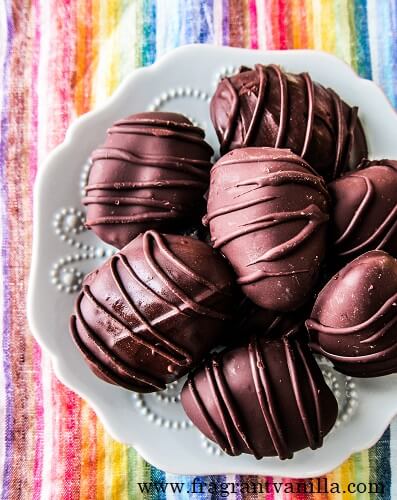 When I was little, caramel was one of my all time favorite things in the world.  When I would get a box of chocolates from my Grandma on holidays, I would always seek out the little square caramels first, because I knew they would always be sweet and delicious, whereas the other ones were hit and miss.  Whenever I had an ice cream sundae, it always had to have gooey caramel on it too.  When I decided to give up refined sugars, and when I went vegan, I thought that I would never be able to enjoy gooey delicious caramel again, because I thought that the best caramel had to have heavy cream in it.  But I was totally wrong, because I then discovered the wonders of date caramel.  Dates are nature's caramel after all on their own, so if you turn them into an actual caramel it tastes just as good as the bad for you refined sugar caramel, or non-vegan caramel. Even better if you ask me, because I still feel good after eating it. I love it blended into a caramel sauce for pouring over things, but I also like chocolate covered caramel candies.  They sounded really good to me a few days back, so I made an excuse to make some.  Easter is in less than two weeks, so I decided to make some cute little caramel eggs!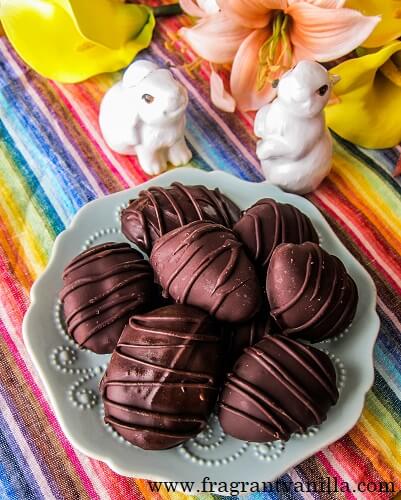 Filled eggs with a chocolate shell have always been my favorite Easter candy. But surprisingly I have never made caramel ones. I had mini caramel eggs when I was little that were amazing, so I knew home made ones would be even better.  The filling in these is completely date sweetened!  I love naturally sweetened desserts, and dates are about as natural as you can get when it comes to sweeteners.  I like to buy mine in the bulk section at the health food store because they are cheaper that way. Anyways, this filling is easy to make if you have a high speed blender.  You just buzz dates, almond butter, coconut butter, vanilla and sea salt in the blender and you get the most delicious sweet caramel!  It has to set up a little while before you can shape it, but trust me it is worth the wait.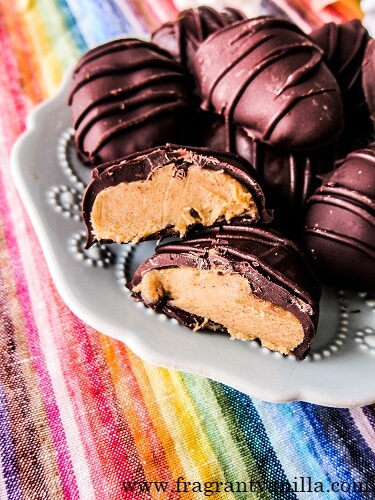 I dipped them in a delicious dark chocolate, just my favorite dark chocolate chips melted down, so super simple.  They were lovely!  I couldn't wait to try one with the chocolate.  Not that I hadn't been sampling the filling earlier (it was hard to put it down after I did so), but I knew it would be even better with the chocolate.  They were so much better than any Easter candy I had as a kid!  They are just as sweet and delicious, but these are larger, so more caramel to enjoy!  If you are a caramel fan, and looking for something special to make for Easter, give these a try!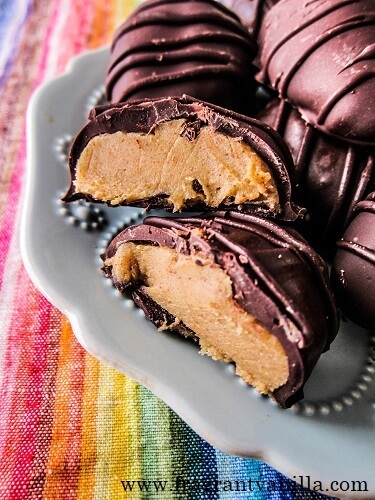 Vegan Chocolate Covered Caramel Eggs
Makes 16
Ingredients:
2 cups soft pitted medjool dates soaked in water 30 minutes until soft and drain well before using in recipe
1/2 cup almond butter
1/3 cup filtered water
1 cup coconut butter, warmed to liquid
1 tsp pure vanilla extract
1/4 tsp sea salt
2 cups chopped vegan dark chocolate or dark chocolate chips
Instructions:
To make the caramel filling, combine the dates, almond butter, water, coconut butter, vanilla, and sea salt in a high speed blender and blend until smooth.
Drop it onto a parchment lined tray by the mounded tablespoon, you should have about 10 mounds.  Place in the freezer until they are more firm (about 20 minutes), and you can shape them into eggs.  Shape them into eggs with your hands (like you would with play dough.  Put them back on the tray and freeze until hard, about 1 hour to 1-2 hours.
When the centers are almost ready, melt the chocolate in the top of a double boiler until smooth.
Dip each caramel egg into the chocolate, coating it completely and allowing the excess to drain off (I like to set mine on a fork to do so), and place back onto the tray.  When they are all done, put them back into the freezer to harden the chocolate if it isn't set yet.
Store caramels in the refrigerator for up to a month in an airtight container with a lid.
(Visited 266 times, 1 visits today)