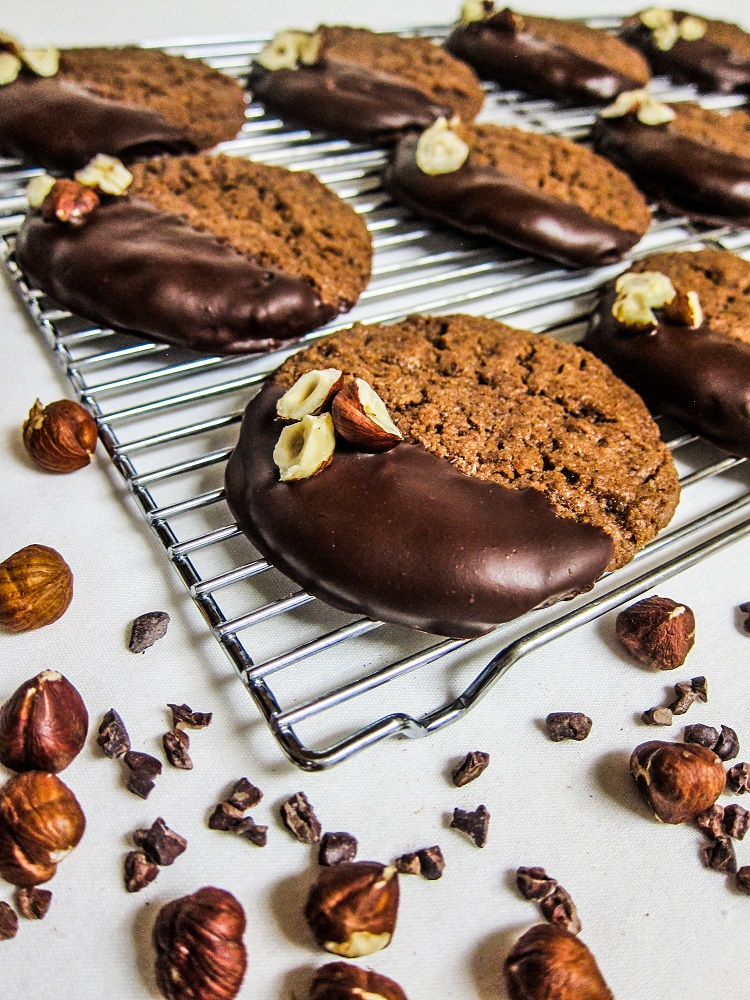 Vegan Chocolate Coffee Hazelnut Butter Cookies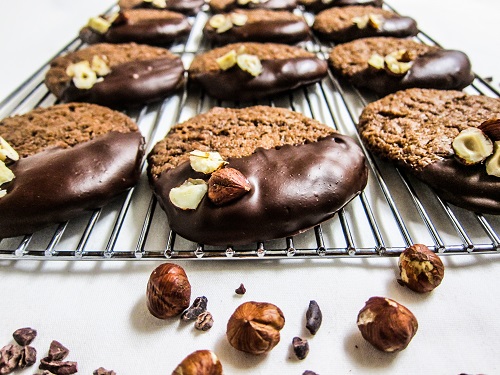 When I was little I loved Nutella.  I mostly just spread it on toast and thought I was having dessert for breakfast.  I mean how else could I get away with just eating chocolate for breakfast?!  When I took a trip to Europe in high school, when we were in France I ate Nutella on croissants or baguettes every day at the hotels we stayed in.  So healthy, I know but I didn't really care about the nutritional value of the foods I ate back then.  It was funny though, I loved Nutella but didn't even know what a real hazelnut should taste like.  I gave up eating things with refined sugars so the Nutella went by the wayside, and I forgot about it for a while, thinking I wouldn't enjoy it again.  But years later I finally made my own home made nutella with plenty of real hazelnuts and it was so different from the stuff I ate as a kid, so much better.  Real hazelnuts as the main ingredient is key to good chocolate hazelnut spread!  Although I like making my own, Rawmio has some that are seriously amazing and 100 times better than the original Nutella too for if you don't fee like making it yourself.  They are like little jars of heaven and you could honestly just eat them with a spoon.  One of the flavors that reminds me of Nutella is their Hazelnut Coffee chocolate spread. It is epic.  The texture is like a really rich chocolate frosting with a hint of coffee. Raw Guru recently sent me some, and I decided it would be awesome in cookies.
So I got to work baking some!  I was craving some buttery, rich cookies with plenty of nut butter in them.  For these ones I used a combination of the hazelnut coffee spread and hazelnut butter for extra hazelnut flavor.  The dough was super delicious.  Cookie dough is the best part of making cookies as far as I am concerned (second is the warm ones), so I had to sample plenty of it!  They smelled amazing while baking!  Nutty hazelnut and sweet chocolate heaven!  I could have just left them as they were but I decided to add a little more chocolate in the mix.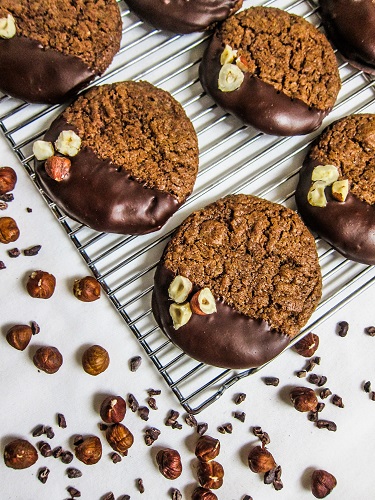 I dipped them in vegan dark chocolate.  I am in a chocolate eating sort of mood lately.  These cookies were sooo good!  They were buttery and rich with the flavors of hazelnuts, a hint of coffee and dark chocolate! These would be the perfect thing to enjoy with your coffee come to think of it!  I hope you are all having a wonderful start to your October!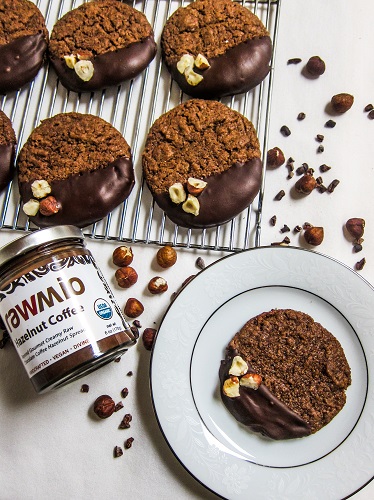 Vegan Chocolate Coffee Hazelnut Butter Cookies 
Makes 18 cookies
Ingredients:
Cookies:
For dipping:
Instructions:
In a small bowl, whisk together the flax seed and water.  Place the bowl in the fridge for 15 minutes, this is your flax egg.
In a large bowl, with a wooden spoon, mix together the sugar, chocolate hazelnut spread, hazelnut butter, coconut oil, and flax egg, until smooth.  Then mix in the flour, soda, baking powder, and sea salt in until the mixture is smooth.
Preheat the oven to 350F degrees.  Line a sheet pan with parchment.
Shape the cookie dough into 1 1/2 inch balls, place on your baking sheet a few inches apart press down slightly.
Place in the oven and bake at 350F for 12 minutes or so, until lightly browned and set.  Allow to cool completely on a rack.
Melt the chocolate in the top of a double boiler (or your preferred method), and dip half of each of the cookies into the chocolate allowing the excess to drain off.  Set on a parchment lined tray to set the chocolate (it will set faster if you pop them in the freezer for about 5 minutes). Enjoy!
*If you can not get the Rawmio spread or want to just use your own hazelnut butter, just mix 3 Tbsp cacao powder, 1 Tbsp coconut sugar and 1 Tbsp finely ground coffee into 3/4 cup hazelnut butter.
(Visited 1,107 times, 1 visits today)