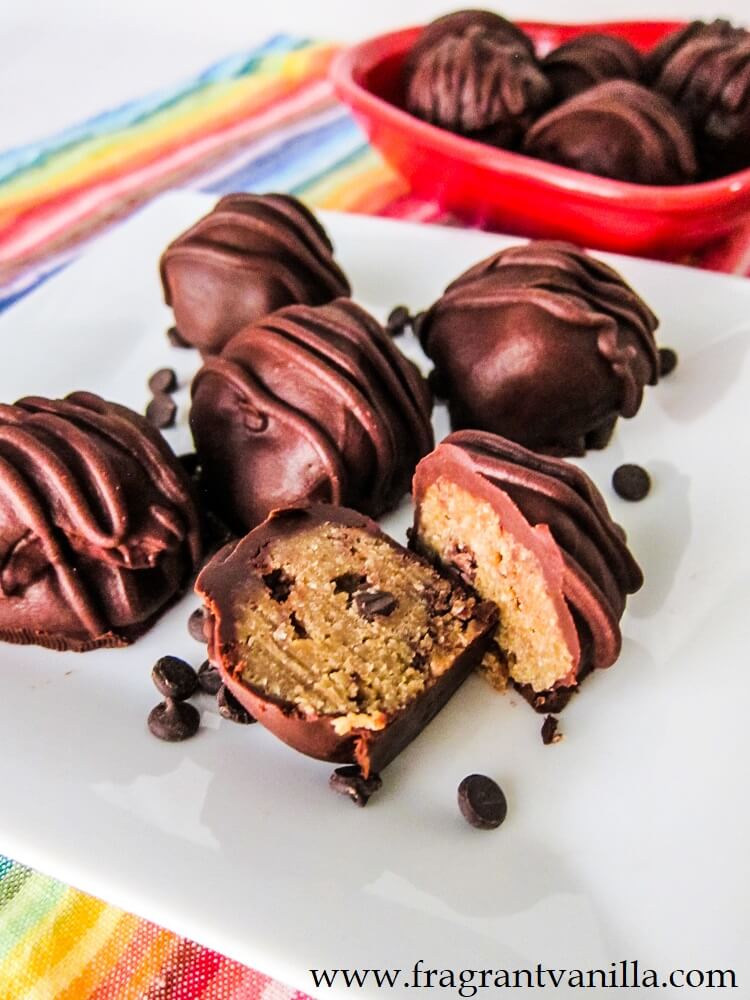 Vegan Chocolate Chip Cookie Dough Truffles with Fleur de Sel
I don't know about all of you, but I enjoy eating cookie dough just as much as baked cookies.  I always ignored the warnings about raw eggs, as I secretly swiped spoonfuls of dough from my Grandmother's cookie dough bowl when her back was turned as a child in her kitchen.  Good thing I never got sick, and I admit that I haven't made a batch of cookies myself as an adult without "sampling" well, more like indulging in the dough.  Good thing all of the cookie dough I make now is vegan, and contains no eggs, and therefore no risk of contamination.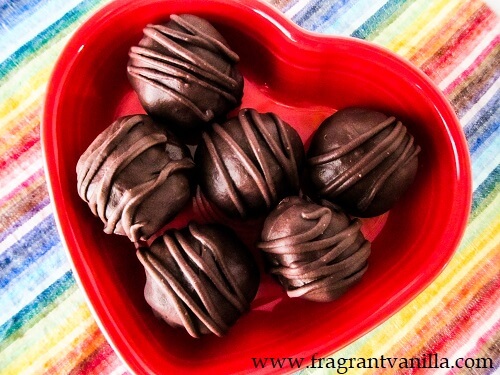 As I was enjoying some cookie dough last weekend for a batch of cookies, I was thinking how wonderful it would be if I made some just for enjoying in that form.  However, dough balls themselves are a bit messy, and would stick together once stored...so I thought dipping them in chocolate and having them be "truffle" style would be perfect!  Now, I know these probably don't qualify as truffles but who says I can't call them that on my own recipe. I was just about drooling at the thought of them.  But, what would make them even better in my mind was a little fleur de sel.  Salty and sweet is just an irresistible combination to me especially with dark chocolate! So I made a simple recipe for vegan chocolate chip cookie dough, omitting the rising ingredients, since they wouldn't be needed and went to work!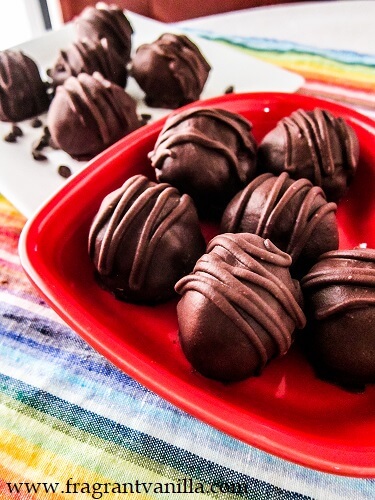 I will admit I ate quite a few of the dough balls before they were dipped in the chocolate because I just couldn't wait, and of course I needed to be sure they were up to my standards! Once finished they were even better though, with the extra chocolate shell!  Who knew cookie dough could be even better than it already was.  If you are like me and you cannot resist cookie dough, you must try this.  Never deprive yourself of good cookie dough, enjoy!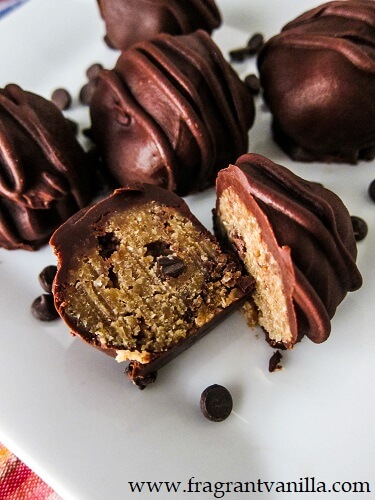 Vegan Chocolate Chip Cookie Dough Truffles with Fleur de Sel
Makes
Ingredients:
1 cup rolled oats
3/4 cup almond butter
1 cup pitted soft dates (if they are not soft, soak them in filtered water before using in the recipe and drain well)
1/4 cup filtered water
2 Tbsp coconut butter or oil
3/4 tsp fleur de sel or 1/2 tsp sea salt
1 tsp pure vanilla extract
1 3/4 cups vegan chocolate chips, divided
Instructions:
In a food processor or blender, blend the oats until a fine flour.  Remove and set aside.
In the food processor or blender, combine the almond butter, dates, filtered water, coconut butter, sea salt, and vanilla and blend until smooth.
Add the oats and blend until smooth.
Stir in 3/4 cup of the chocolate chips.
Roll the cookie dough into 1 1/2 inch balls, and place on a parchment lined tray.  Set in the freezer until firm, about 30 minutes.
Melt the remaining vegan chocolate chips in the top of a double boiler.
Dip each cookie dough ball into the chocolate (I like to set it on a fork), and allow excess to drip off.  Set back on the tray.  Repeat with the remaining truffles, and then place them all in the freezer until the chocolate has hardened.
Store truffles in an airtight container in the refrigerator.
(Visited 221 times, 1 visits today)