Vegan Chocolate Chip Cookie Dough Cake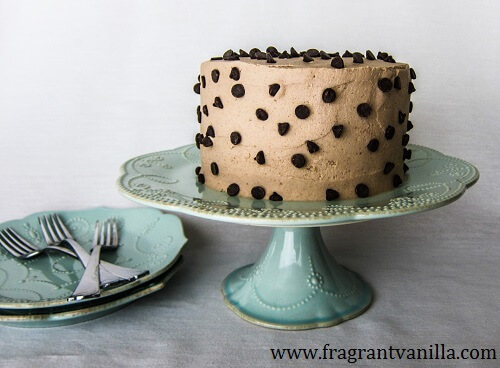 I am obsessed with anything chocolate chip cookies dough.  This all stems from when I was little, in the kitchen with my Grandma when she was making chocolate chip cookies.  I would always steal the dough when she wasn't looking.  But she knew, and always warned me not to eat too much because I didn't want to get a tummy ache.  But I never did.  Sure, baked cookies warm out of the oven are good, but the cookie dough is even better in my opinion.  I think it is a texture thing.  It is more creamy and satisfying.  So, now as an adult, I like to incorporate cookie dough into anything I can.  I decided last weekend that I needed a chocolate chip cookie dough cake.  I have made a cookie dough frosting before and it was amazing, but I wanted the cake to have the flavors of cookies too.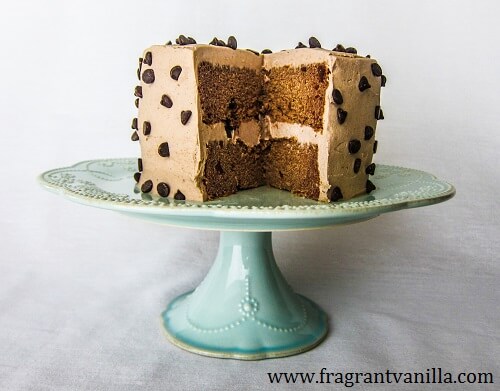 So basically, cookie flavored cake, and cookie dough frosting.  Sounded good to me! For the cake, I used my usual date sweetened recipe, because dates give a sort of caramel flavor much like you would get from brown sugar in cookies.  Not only that, I love to sweeten things with dates!  They add moisture to baked goods, and they are about as natural as you can get when it comes to sweeteners.  The cake batter tasted wonderful, and even better once the chocolate chips were stirred in.  My house actually smelled like chocolate chip cookies while it was baking!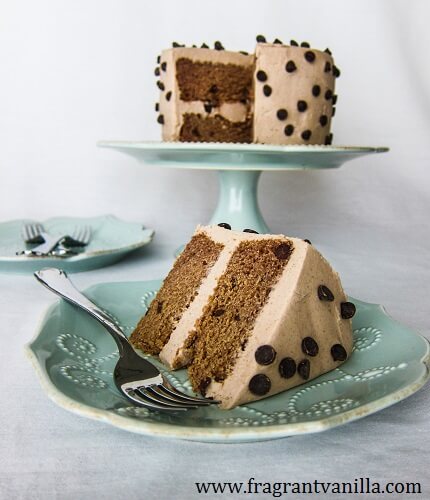 For the frosting, I used a coconut milk base made rich with cashew butter and pecan butter for a thicker more creamy texture. I sweetened this with dates as well to give it that caramel brown sugar sort of flavor.  This stuff was crave worthy!  And, even more so when it was added to the cake!   This cake is a chocolate chip cookie/cookie dough lover's dream!  Soft, sweet cookie flavored cake, studded with dark chocolate chips and luscious creamy frosting reminiscent of cookie dough, chips included as well!  This was sooo good!  If you love chocolate chip cookie dough as much as I do, put this cake on your to make list!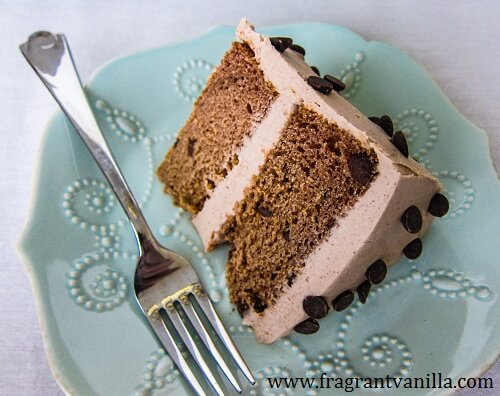 Vegan Chocolate Chip Cookie Dough Cake
Makes 1 6 inch 2 layer cake
2 6 inch cake pans
Cake:
1 1/2 cups Bob's Red Mill gluten free all purpose flour
1 1/2 tsp baking soda
1 tsp baking powder
1/2 tsp sea salt
1 1/2 cups packed soft medjool dates, pitted, soaked in water for 30 minutes and 3/4 cup of the water reserved
1/4 cup raw pecan butter (or raw almond butter)
1 Tbsp pure vanilla extract
1 cup filtered water
2 Tbsp apple cider vinegar
1/2 cup vegan chocolate chips
Frosting:
1 15 oz can organic full fat coconut milk*
1/2 cup raw cashew butter (or raw almond butter)
1/4 cup raw pecan butter
1/2 cup pitted medjool dates
1/4 tsp sea salt
2 tsp pure vanilla extract
3/4 cups coconut butter (NOT OIL), warmed to liquid
1 cup vegan chopped chocolate or chocolate chips plus more for serving
Instructions:
Preheat the oven to 375F degrees and position rack in center of oven. Line the bottoms of two six-inch-diameter cake pans with 2-inch-high sides with parchment paper. Coat parchment paper and pan sides lightly with oil so that the cake doesn't stick.
Whisk flour, baking powder, baking soda, sea salt in a large bowl to blend well. Place dates, reserved water, pecan butter, water, and vanilla extract into a blender, and blend until smooth, then whisk this blended mixture into the flour mixture until well blended. Whisk in the cider vinegar until bubbles form, and fold in chocolate chips.
Transfer cake batter to prepared pans and bake cakes until tester inserted into center comes out clean, about 25-30 minutes until set and a toothpick inserted into the center comes out almost clean with a few moist crumbs attached.  You don't want to over-bake.
Cool cakes completely in pan on rack, about 1 hour. Cut around sides of pan to loosen. Turn cakes out onto platter; peel off parchment paper.
Meanwhile, to make the frosting, combine all ingredients in a high speed blender or food processor and blend until completely smooth (there should be no chunks, if there are continue to blend until it warms up and the coconut butter is lump free).
Pour the frosting into a bowl and let sit in the freezer until the consistency of whipped cream, whisking every 15 minutes (this may take anywhere from 15 minutes to hour to an hour depending on how warm it has gotten and which appliance you used). Remove 3/4 cup of the frosting and stir in the chocolate chips. Keep the other frosting plain.
To assemble, place one cake layer on a plate, and spread the chocolate chip frosting over it. Place the other cake layer over that, and spread the rest of the plain frosting over the top and down the sides of the cake. Sprinkle more chocolate chips over the cake, and serve!
*For the coconut milk, be sure to use a brand that is plenty thick, not one that is mostly water, or you will not get the same results with the consistency.  Thai Kitchen Organic  and So Delicious Original Culinary always turn out good in my recipes. If using the So delicious for this recipe, just use 15 oz (since it does not come in cans).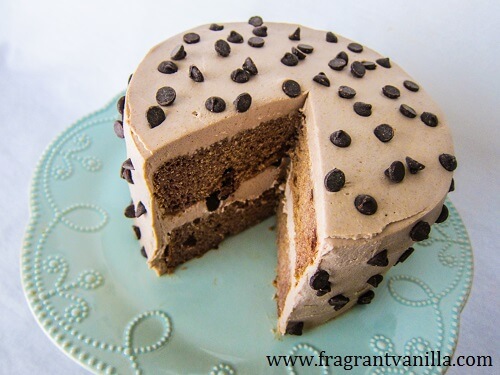 (Visited 857 times, 1 visits today)