Vegan Chocolate Chip Bundt Cake For One
I have had many people in my life tell me no.  As in no, you can't do that, you will not be good at it, you were not built for it etc. When I was in high school, I had a trainer tell me I would never be good at running because I have flat feet. I showed him.  I got me a pair of orthotics and burned up the track.  When I was setting records in my 20s at road races I was thinking to myself, what if I had listened to him and gave up at that point?  I would have missed out on opportunities. At other points in my life as well I have been told I would not succeed.  Blogging is a waste of time I was told once.  You will never get that many readers.  Ha!  How wrong they were.  I am enjoying sharing with you all now and I am glad I am a stubborn person and nobody can tell me what I am meant to be but myself.  If someone tells you that you are not talented enough, not pretty enough, not built right for that sport...don't listen.  You do your thing and keep doing what you do that makes you happy.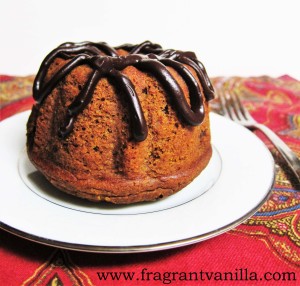 On another note, do you ever just want to enjoy cake all to yourself?  Well, you can now.  I made a recipe for Vegan Chocolate Chip Bundt Cake just for you to enjoy.  I was craving some chocolate chip cake, but I wanted to just make a small one to enjoy that night.  It is the perfect thing to snuggle up in your pjs with while watching a good movie.  Which is exactly what I did.  Don't get me wrong, I like to share too but sometimes I want it all to myself.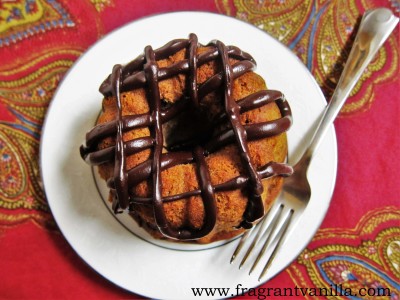 This cake is fruit sweetened, since I used dates instead of sugar, and it tastes like caramel.  Actually more accurately it tastes like a big chocolate chip cookie in cake form.  Delicious right?! You don't have a mini bundt cake pan?  Not to worry, this can be made as a mug cake too, and you dirty less dishes that way.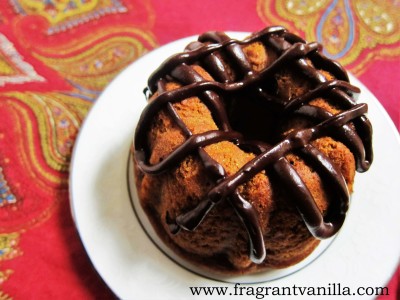 Vegan Chocolate Chip Bundt Cake For One
1 mini bundt pan
Cake:
1/4 cup plus 2 Tbsp quinoa flour (or all purpose gluten free flour)
1/4 tsp plus 1/8 tsp baking soda
1/4 tsp baking powder
1/8 tsp sea salt
1/4 cup packed soft medjool dates, pitted, soaked in water for 30 minutes and 1/4 cup of the water reserved
1 Tbsp avocado oil or olive oil
1 tsp pure vanilla extract
1/4 cup filtered water
1/2 Tbsp apple cider vinegar
1/2 cup chopped vegan dark chocolate
melted vegan dark chocolate for serving if desired
Preheat the oven to 375F degrees and position rack in center of oven. Oil a mini bundt pan so that the cake doesn't stick. Whisk flour, baking powder, baking soda, sea salt, in a large bowl to blend well. Place dates, reserved water, oil, water, and vanilla extract into a blender, and blend until smooth, then whisk this blended mixture into the flour mixture until well blended. Whisk in the cider vinegar until bubbles form. Transfer cake batter to prepared pan and bake cake until tester inserted into center comes out clean, about 25-30 minutes. Cool cake completely in pan on rack, about 1 hour. Turn cake out onto a plate.
Drizzle with melted dark chocolate if desired.
*If you do not have a mini bundt pan, feel free to make this a mug cake and bake it in a mug instead.
(Visited 106 times, 1 visits today)