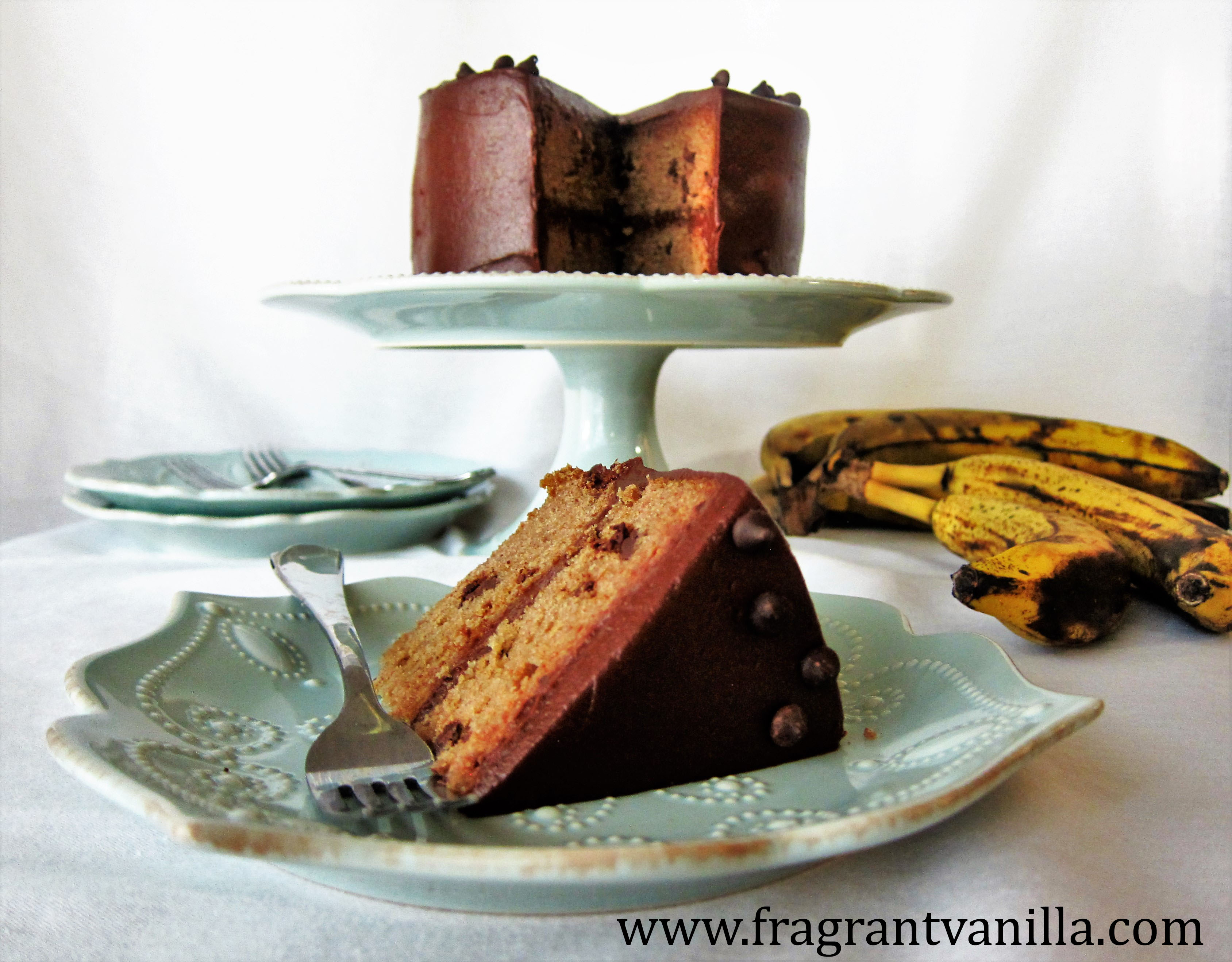 Vegan Chocolate Chip Banana Cake with Peanut Butter Fudge Frosting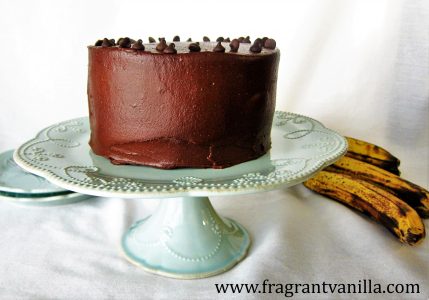 One time I found out Eric threw out some over ripe bananas.  "What were you thinking?!" I asked.  "You should have given them to me!" I said.  I mean, he knows I freeze them for smoothies, and can make some bomb vegan desserts with them (which I always share with him).  Not just banana bread, but nice cream, cakes, cookies and whatnot.  I am one of those people who asks the people at the store if they have overripe bananas in the back I can have that they can not sell.  I hate throwing out such a useful ingredient.  To be completely honest, I don't think I have bought a banana in a while because of this.  Of all of the things I make with banana, I think cakes and banana bread are my favorite.  Probably because my Mom used to make that type of stuff when I was little and it was always so good!  She revamped my Grandma's banana bread recipe adding chocolate chips to it instead of the nuts and switching out the milk with soy milk when I was little and it always turned out wonderful.  My favorite was when she made it in a cake pan, and we put frosting on it.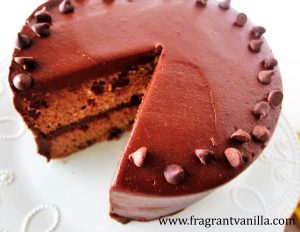 Well, I decided that I was a banana cake type of weekend last weekend.  Banana chocolate chip cake.  Probably because my coworker made banana chocolate chip scones in the deli, and they made me want banana chocolate chip something.  There is just something comforting about banana chocolate chip baked goods.  They remind me of the excitement of waiting for my Mom's desserts to be done baking and cooling enough to cut into and enjoy.  Because if they don't require frosting, you know they are amazing when the chocolate chips are still gooey.  Well, my cake would need to cool completely unfortunately because I was going for a layer cake.  Cream cheese frosting used to be my old standby, but I decided to make a peanut butter fudge frosting this time.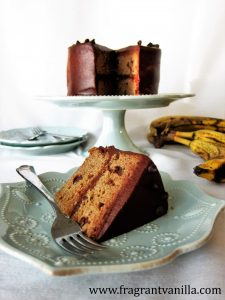 This cake is actually fruit sweetened, thanks to the dates and bananas in the batter. The dates give it a caramelly flavor reminiscent of brown sugar which is what my Mom used in her banana bread.  I made this oil free as well, swapping in peanut butter in place of the oil.  It was perfectly moist thanks to the bananas and dates, and the peanut butter added just the right amount of richness.  Once it was frosted we couldn't wait to dive in.  It was simply heavenly let me tell you!  I think this would be the perfect simple Birthday cake!  If you are not a fan of peanut butter, use your favorite nut butter instead, just make sure it is one that is smooth and spreadable.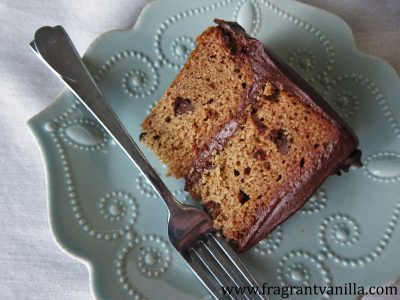 Vegan Chocolate Chip Banana Cake with Peanut Butter Fudge Frosting
Makes 1 6 inch 2 layer cake
Ingredients:
2 6 inch cake pans
Cake:
1 1/2 cups quinoa flour (or all purpose gluten free flour)
1 1/2 tsp baking soda
1 tsp baking powder
1/2 tsp sea salt
1 cup packed soft medjool dates, pitted, soaked in water for 30 minutes and 1 cup of the soaking water reserved
1/4 cup organic peanut butter
1 Tbsp pure vanilla extract
1 cup pureed organic bananas
2 Tbsp apple cider vinegar
3/4 cup vegan chocolate chips
Frosting:
1 1/4 cups pitted medjool dates, soaked in water for 30 minutes, and 1 cup of the water reserved
3/4 cup organic peanut butter
3/4 cup cacao powder
pinch sea salt
Directions:
Preheat the oven to 375F degrees and position rack in center of oven. Line two six-inch-diameter cake pans with 2-inch-high sides with parchment paper. Coat parchment paper and pan sides lightly with oil so that the cake doesn't stick and line the bottom of the pan with a piece of parchment fit to the pan.
Whisk flour, baking powder, baking soda, and sea salt in a large bowl to blend well.  Set aside.
Place dates, reserved water, peanut butter, banana puree, and vanilla extract into a blender, and blend until smooth, then whisk this blended mixture into the flour mixture until well blended. Whisk in the cider vinegar until bubbles form. Mix in chocolate chips.  Transfer cake batter to prepared pans and bake cakes until tester inserted into center comes out clean, about 30 minutes. Cool cakes completely in pan on rack, about 1 hour. Cut around sides of pan to loosen. Turn cakes out onto platter; peel off parchment paper.
Meanwhile, to make the frosting, combine all ingredients In a high speed blender, and blend until smooth (since moisture content in dates varies, and nut butters may vary in runniness, if it seems too thin, add a little more cacao powder, too thick, a little more water.
To assemble, place one cake layer on a plate, and spread frosting 1/2 inch thick over it.  Place the other cake layer over that, then spread the remaining frosting on the top and down the sides of the cake.
***if you would like a 2 layer 9 inch cake, double this entire recipe and bake in two 9 inch cake pans.  It will take longer to bake, about 50 minutes to 1 hour.
(Visited 399 times, 1 visits today)