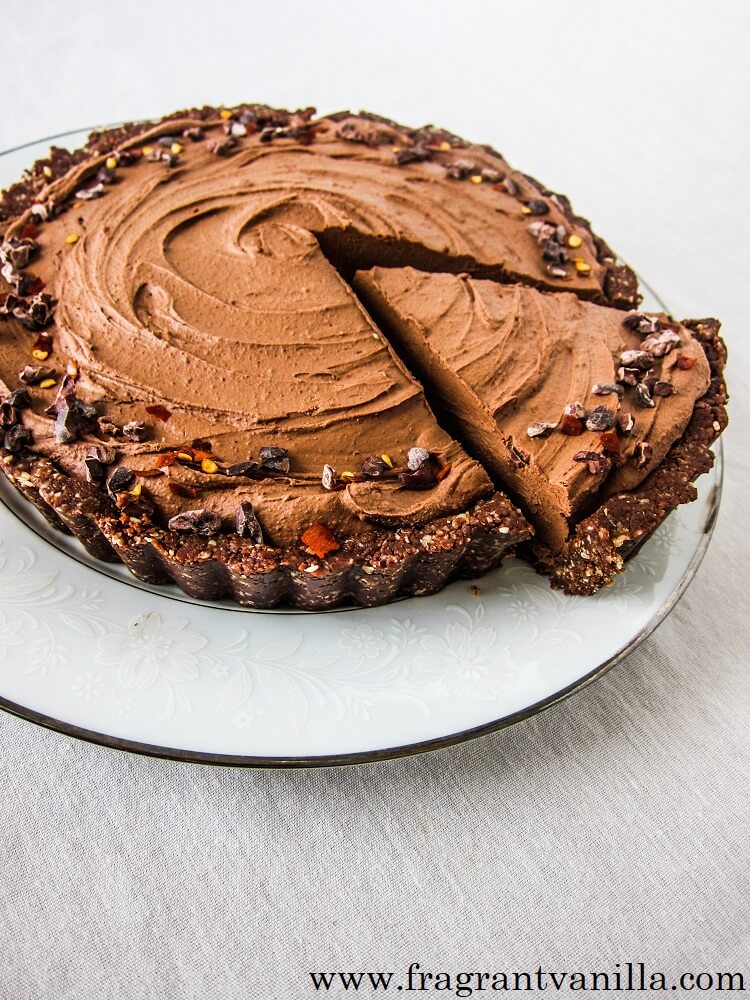 Vegan Chocolate Chili Mousse Tart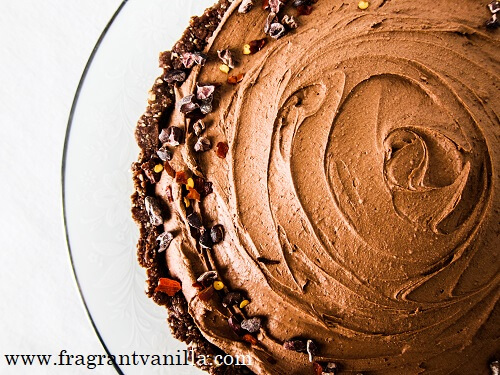 I got a dessert cookbook from my friend when I was in high school, and it had the most delicious chocolate mousse recipe in it that I ended up making dozens of times back in the day.  It was super simple, only 2 ingredients, but so elegant, rich and delicious!  If I was making food for people or for a holiday, I would often times make that as the dessert because it could be made ahead of time, and always got rave reviews.  You just chilled some whipping cream, then melted dark chocolate and then poured it in slowly as you whisked it, and it turned into the most luscious chocolate mousse you can imagine.  Yes, sadly it wasn't vegan thanks to that heavy whipping cream.  Although I usually used chocolate without milk in it.  It took me a while to attempt to veganize it but I finally got around to it. I was worried at first it wouldn't work the same with coconut milk instead of the cream, but I was pleasantly surprised when it did!  I make the process easier though, and use a food processor instead of a hand mixer to blend the mousse and it works perfect!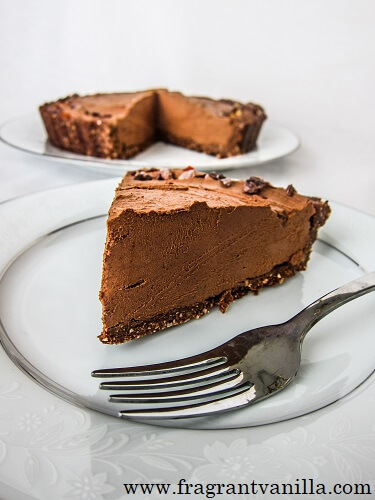 At the deli I work in, they sell these little chocolate mousse tarts which got me to thinking, I should make my own vegan version.  Because why not?!  I decided to make a big tart though instead of little ones because I wanted a bigger piece than just a little tart.  I decided to jazz it up a little as well, and add some chipotle chili powder because I was going to be sharing it with Eric and he likes anything chocolate with a little kick.  He is always telling me to put chilies in things.  Sometimes I give in, like in this case.  For the crust, I made a chocolate almond crunchy crust, because why not make this all chocolate the whole way through.  I am in the mood for rich chocolate lately which is kind of weird because I am normally all about the vanilla. This crust was the perfect thing to combine with the mousse! It came together fast in the food processor.  No bake, which is awesome because it means less time to make.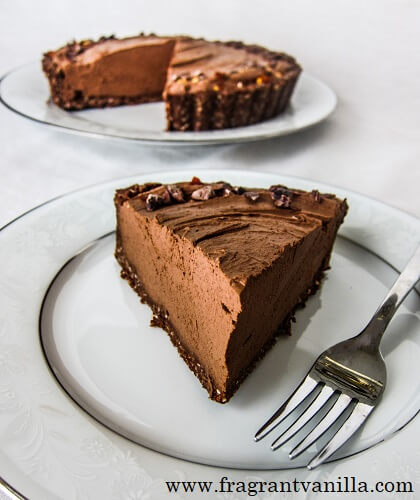 Although I normally don't add almonds to my mousse, this time I decided to add some almond butter as well, because almonds, chocolate and chilies go so heavenly together.  What resulted was the most rich and delicious mousse that would have been perfect just as it was, but it was even better when combined with the crust.  I loved how it turned out!  If you are a big chocolate fan, and you like a little spice with your chocolate, give this a try!  If you don't like spicy things, you could leave it out and just make a chocolate mousse tart.  It will still be really yummalicious!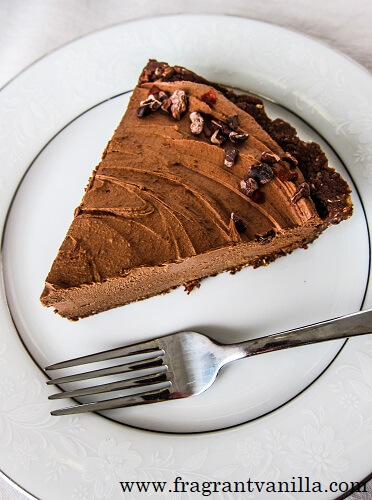 Vegan Chocolate Chili Mousse Tart 
Makes one 8 inch tart
1 8 inch removable bottom tart pan
Crust:
3/4 cup finely shredded dried coconut
3/4 cup sprouted, dehydrated buckwheat groats, or organic rolled oats (if not gluten sensitive)
1/4 cup raw cacao powder or unsweetened cocoa powder
2 Tbsp organic almond butter
1 cup soft pitted medjool dates (if they are not soft, soak them 30 minutes and drain well before using)
1/4 tsp sea salt
filtered water as needed
Filling:
1 1 15 oz can full fat organic coconut milk, chilled
2 cups vegan dark chocolate chips
2 Tbsp almond butter
3 Tbsp maple syrup
1/2 tsp chipotle powder
Instructions:
For the crust, combine all ingredients in the food processor until finely chopped and starting to hold together when squeezed (if it doesn't you may need to add a little filtered water 1 Tbsp at a time).
Press the mixture into a 8 inch removable bottom tart pan greased with coconut oil.
For the filling, melt the chocolate in the top of a double boiler, then pour into a glass measuring cup with a spout.
Place the coconut milk, almond butter, maple syrup and chipotle powder in a food processor and blend until smooth.
Turn the food processor on, and with the motor running, slowly pour the chocolate into it and blend until uniform in color.
Pour the filling over the crust and spread evenly.  Place in the freezer to firm up (about 1-2 hours).
Enjoy!
Tart keeps refrigerated for 1 week in a container.
(Visited 497 times, 1 visits today)