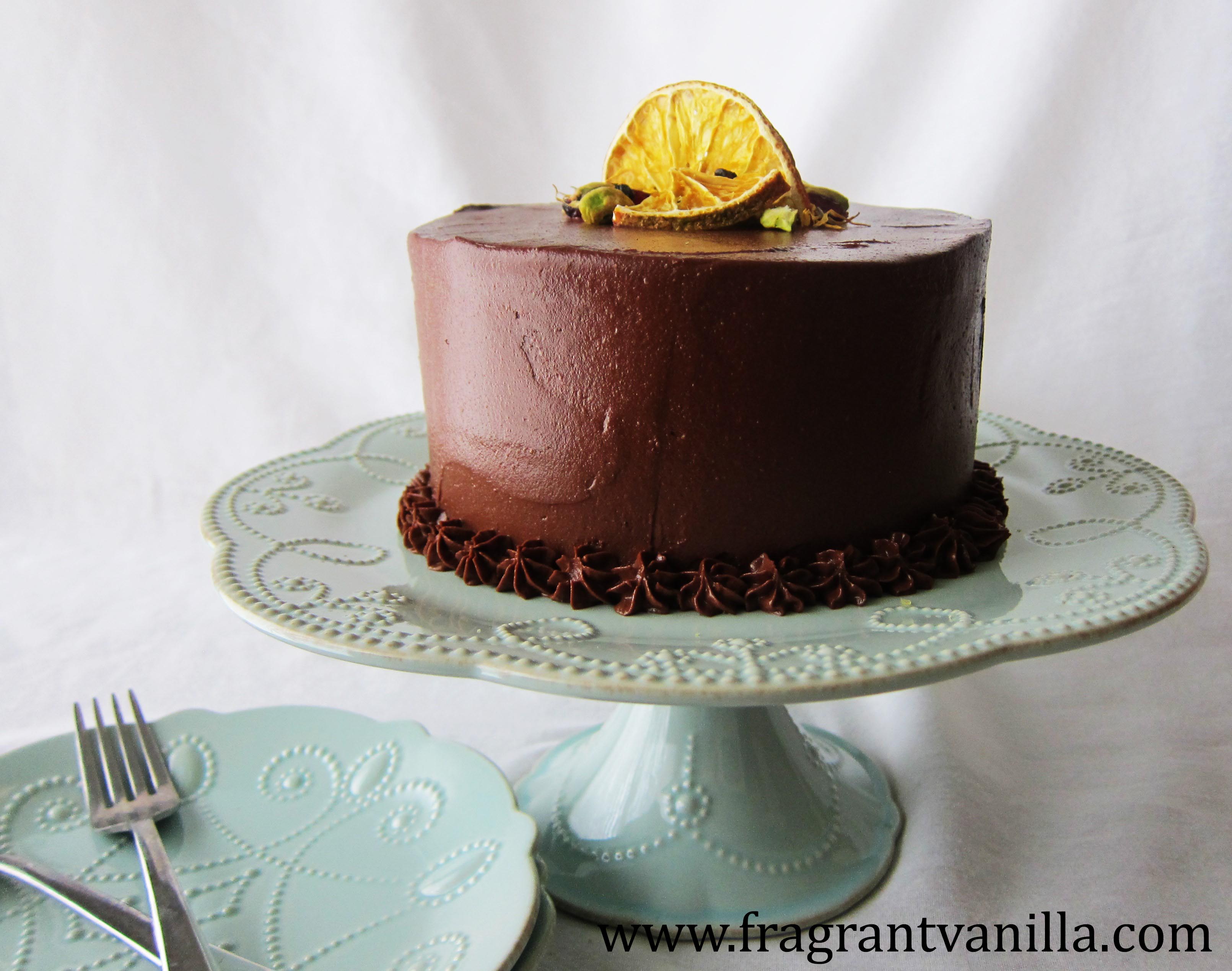 Vegan Chocolate Carrot Cake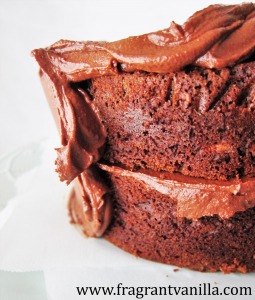 Ever since last year when I saw a chocolate carrot cake, I have wanted to make one.  Because chocolate cake and carrot cake are both pretty amazing, and together they should be awesome, right?  Well I decided to make one last weekend.  It was time.  I had a big bag of carrots begging to be used in my refrigerator, and I was in the mood for something decadent and chocolaty, so it was happening.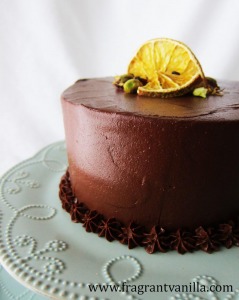 I had a few things I was going to change about this carrot cake recipe from my normal carrot cake recipe though. Of course I was going to add cacao powder along with the usual spices, but I wanted to make this a fruit sweetened cake.  I have been experimenting with that a lot lately and liking the results.  I used dates for this, and they worked out perfect.  Just the perfect amount of sweet to offset the chocolate, and they kept this cake nice and moist.  Second, I switched up my usual gluten free flour for quinoa flour because I had it on hand, it is also gluten free, and works as a 1:1 swap for AP flour in baked goods.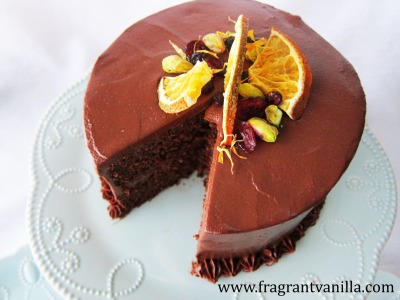 The cake tasted amazing. I gobbled up the scraps I trimmed from it to even it out in no time.  It deserved a really decadent fudgy frosting.  Nothing else would do.  In the past, I would have simply mixed together maple syrup and cacao powder to get a fudgy frosting, but now I find that way too sweet. So I used dates instead as my sweetener, blended up with some water, nut butter and cacao powder, and what I got was the most amazing chocolate frosting I have eaten.  Only 4 ingredients, and so good!  It was also raw, so raw foodists take note, you can use this frosting recipe on your raw cakes as well!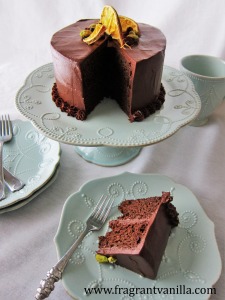 This cake was freaking delicious once assembled.  Chocolate decadent deliciousness...and honestly one of the best things I have made as of lately.  It was simple to make as far as layer cakes go, so I would encourage you to try this!  Bake it for a loved ones Birthday, they will think you are awesome!
Vegan Chocolate Carrot Cake 
Makes 1 6 inch 2 layer cake
2 6 inch cake pans
Cake:
1 1/2 cups Bob's Red Mill Gluten Free All Purpose Baking Flour
1/3 cup cacao powder or unsweetened cocoa powder
1 1/2 tsp baking soda
1 tsp baking powder
1/2 tsp sea salt
2 tsp ground cinnamon
2 tsp ground ginger
1 cup packed soft medjool dates, pitted, soaked in water for 30 minutes and 1/2 cup of the water reserved
1/4 cup avocado oil or olive oil
1 Tbsp pure vanilla extract
1 cup fresh orange juice at room temperature
2 Tbsp apple cider vinegar
1 1/4 cups shredded organic carrots
Frosting
1 1/4 cups pitted medjool dates, soaked in water for 30 minutes, and 1 cup of the water reserved
3/4 cup raw walnut butter or raw almond butter
3/4 cup cacao powder
pinch sea salt
Preheat the oven to 375F degrees and position rack in center of oven. Line two six-inch-diameter cake pans with 2-inch-high sides with parchment paper. Coat parchment paper and pan sides lightly with oil so that the cake doesn't stick and line the bottom of the pan with a piece of parchment fit to the pan. Whisk flour, cacao powder, baking powder, baking soda, sea salt, ginger, and cinnamon in a large bowl to blend well. Place dates, reserved water, oil, orange juice, and vanilla extract into a blender, and blend until smooth, then whisk this blended mixture into the flour mixture until well blended. Whisk in the cider vinegar until bubbles form. Mix in carrots.  Transfer cake batter to prepared pans and bake cakes until tester inserted into center comes out clean, about 30 minutes. Cool cakes completely in pan on rack, about 1 hour. Cut around sides of pan to loosen. Turn cakes out onto platter; peel off parchment paper. Let cool completely.
Meanwhile, to make the frosting, combine all ingredients In a high speed blender, and blend until smooth (since moisture content in dates varies, and nut butters may vary in runniness, if it seems too thin, add a little more cacao powder, too thick, a little more water).
To assemble, place one cake layer on a plate, and spread frosting 1/2 inch thick over it.  Place the other cake layer over that, then spread the remaining frosting on the top and down the sides of the cake.
***if you would like a 2 layer 9 inch cake, double this entire recipe and bake in two 9 inch cake pans.
(Visited 1,985 times, 1 visits today)