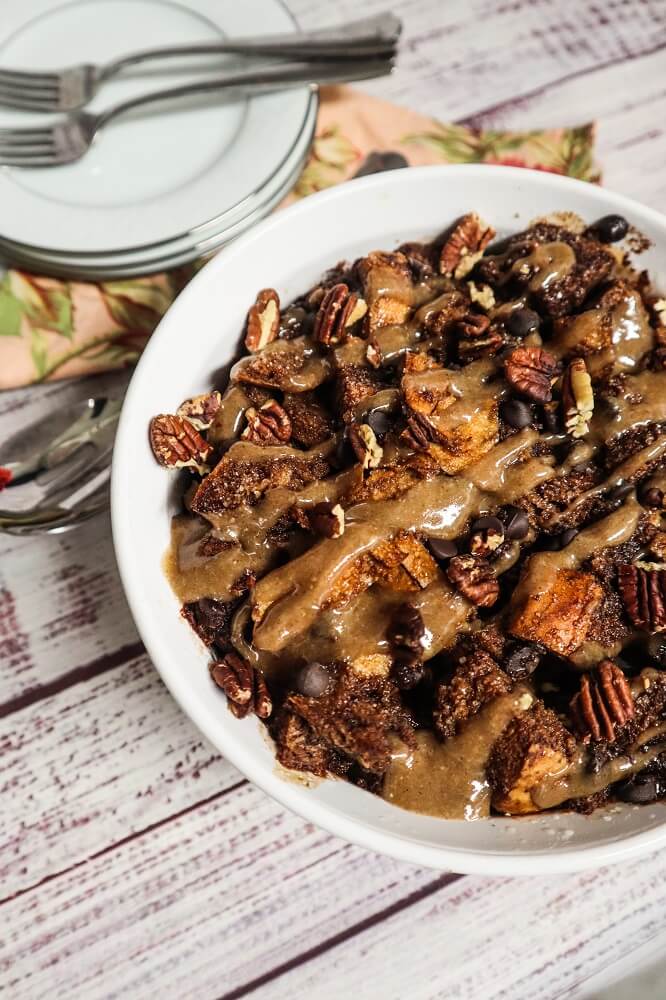 Vegan Chocolate Caramel Pecan Bread Pudding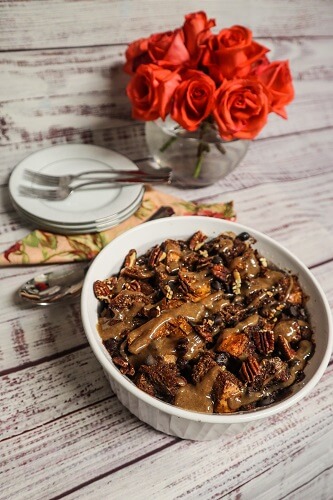 Over the New Years holiday, we got a bit of snow and it was chilly for a few days before it warmed up again so I figured it was the perfect time to make some sweet comfort food.  Not only that, why not make something delicious to celebrate?!  I had a loaf of somewhat stale sourdough bread and I decided to make my favorite bread recipe, bread pudding! But I thought why not make it extra decadent and delicious this time and make a chocolate bread pudding with chocolate chunks. Now that would have been delicious on its own, but I decided to go over the top and add pecans and caramel as well and make it a turtle bread pudding.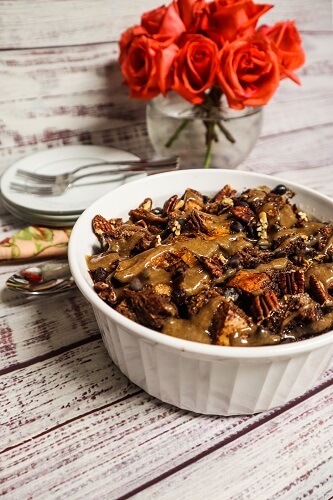 I did not call it turtle in the title though, because when I do I always get plenty of questions as to what turtle is or why I am putting an animal product that sounds like it doesn't fit in my recipe in there (man actual turtle bread pudding sounds absolutely horrid lol). In case you have never heard of turtles, they were a caramel dipped in chocolate with pecans pressed into it (that looked like a turtle hence the name) but it now also refers to the chocolate, caramel and pecan combo.  So if I ever mention turtle this is what I mean and it is one of the best combos ever!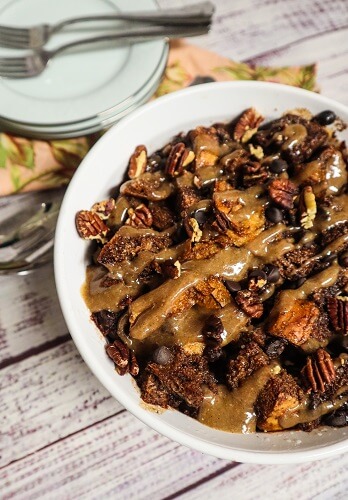 Anyways, back to the point of this post, the bread pudding.  I started out with a good amount of that crusty sourdough, and then made a mixture of oat milk, flax eggs, maple syrup and cacao powder for a chocolaty batter.  It soaked into the bread beautifully, and I mixed it with pecans and poured it into the casserole super excited for the results!  It smelled amazing while baking like the best brownies or chocolate cake!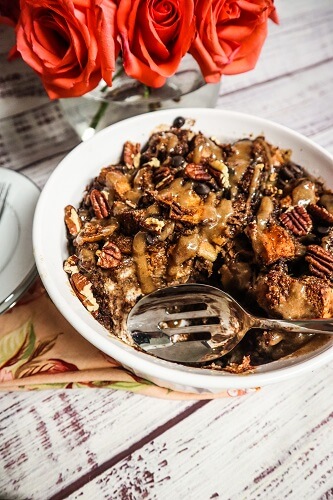 It was lovely when I took it out of the oven, the top nice and crispy, and if you dove into it, a tender layer of pudding revealed!  I topped it off with some quick pecan caramel, more pecans and it was perfect!  It was one of the most delicious desserts I have had lately, the perfect sweet comfort food. I shared some with my Mom and she loved it so much, she wanted me to save some extra for her for the next day.  If you are a chocolate fan, and you have some stale bread on hand, definitely give this a try! Also, since this is technically my first post of the new year, HAPPY NEW YEAR EVERYONE!  Lets hope 2021 is an amazing year and certainly less crazy than the last. Wishing you all the best, and happiness!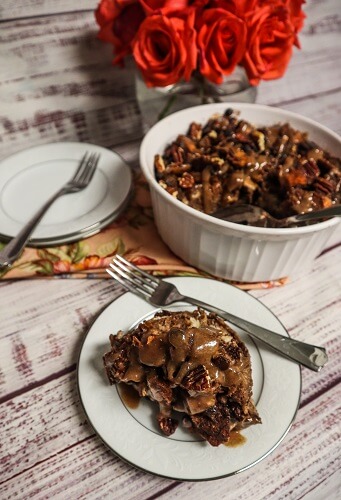 Vegan Chocolate Caramel Pecan Bread Pudding 
Serves 4-6
Ingredients:
Bread Pudding:
2 Tbsp ground flax seed, mixed with 6 Tbsp filtered water
1 3/4 cups oat milk (or your favorite plant based milk)
1/4 cup maple syrup
1/4 cup unsweetened cacao powder
1/4 tsp sea salt
1 tsp pure vanilla extract
6 cups lightly packed cubed sourdough bread
1/2 cup chopped chocolate or chocolate chips
1/2 cup chopped toasted pecans
2 Tbsp maple sugar (or coconut sugar)
Caramel:
1/2 cup pecan butter, cashew butter or almond butter
1/4 cup maple syrup
2-3 Tbsp filtered water, or as needed
1 tsp pure vanilla extract
1/8 tsp sea salt
Instructions:
Preheat the oven to 350F degrees, and oil two 1 quart baking dishes (or see bottom of post for other baking dish options).
In a bowl, whisk together the flax seeds and water mixture, oat milk, maple syrup, cacao powder, sea salt, and vanilla until well combined, then add the bread crumbs and toss to coat in the mixture.  Mix in chocolate.
Transfer the mixture to the prepared baking dishes, (including the liquid, pour it over them). Sprinkle with the maple sugar.
Place in the oven on a tray, and bake for about 25-30 minutes (see bottom for other pan sizes baking times), or until the top is starting to brown and the liquid has absorbed and baked into pudding at the bottom.
Remove from oven.
Whisk together the caramel sauce ingredients, drizzle over the pudding then let cool about 10 minutes and enjoy warm!
For 6 small ramakins: bake 15 minutes
For 1 8x8 inch square pan or 2 quart baking dish: bake 30-40 minutes
(Visited 502 times, 1 visits today)