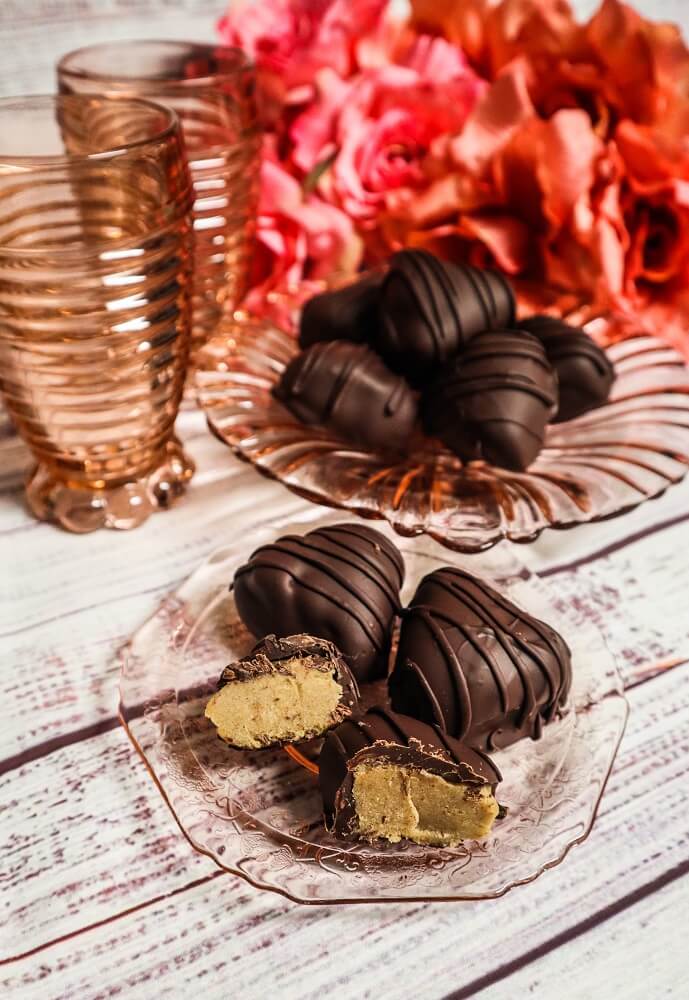 Vegan Chocolate Caramel Hearts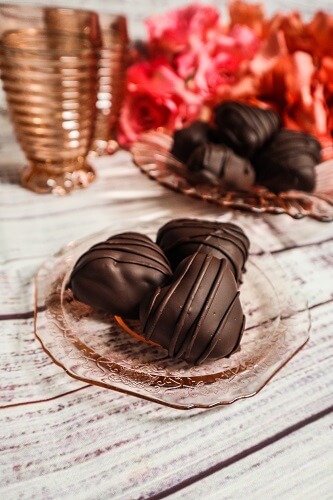 Valentine's Day is about a month away, so I figured why not make some candy!  Not that I didn't make candy for Christmas, but there is a candy for every season right?  Luckily the candy that I make isn't just complete sugar and has some nutritional value.  Making candy for Valentine's day is sort of a yearly thing.  I used to just buy it growing up to give away to my classmates, or buy it for myself, but now I make it. My Grandma always used to buy me a box of chocolates every year though and I looked forward to that.  The filled ones were my favorite, especially the caramels.  So that is what I decided to make this week.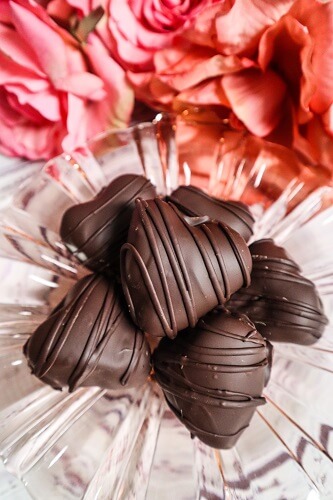 Some chocolate caramel hearts! I figured I might as well make something that looked cute and festive as well as tasted good.  I know some people hate Valentine's Day and the cheesy kitschy aspect of it, but I actually like it!  Even when I didn't have a significant other back in the day I enjoyed at least spending time with my Mom on that day and going out to a fun dinner or something and making something chocolate for dessert.  I still enjoy the holiday, and making fun goodies for it!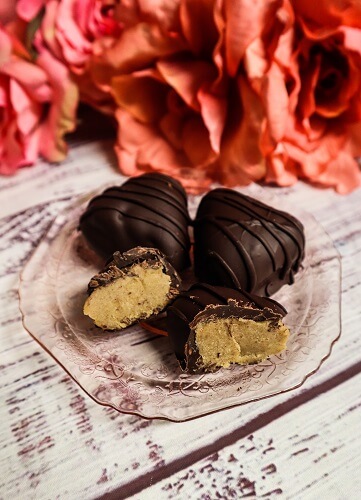 For the filling on these hearts, I made a date caramel because I much prefer it to actual sugar caramel. Dates have lots of fiber and nutrients, and I call them nature's caramel because they taste just like it.  I blended them up with almond butter, coconut butter, vanilla and some water and one chilled it becomes a moldable caramel.  I shaped it into little hearts and chilled it before dipping them in dark chocolate.
These are a little bit of work, but I enjoyed making them and they are worth the effort!  They are totally heavenly!  The caramel is sweet and vanilla scented, with a gooey chewy consistency and it is paired perfectly with the dark chocolate!  These would be perfect for sharing on valentine's day!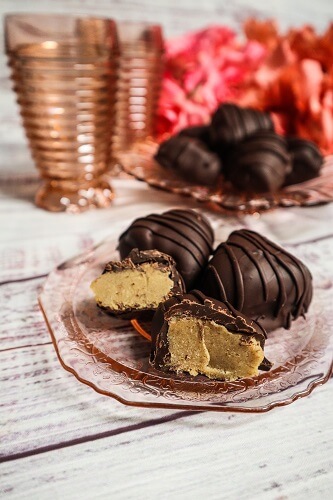 Vegan Chocolate Caramel Hearts
Makes 16
Ingredients:
2 cups soft pitted medjool dates soaked in water 30 minutes until soft and drain well before using in recipe
1/2 cup almond butter
1/3 cup filtered water
1 cup coconut butter, warmed to liquid
1 tsp pure vanilla extract
1/4 tsp sea salt
2 cups chopped vegan dark chocolate or dark chocolate chips
Instructions:
To make the caramel filling, combine the dates, almond butter, water, coconut butter, vanilla, and sea salt in a high speed blender and blend until smooth.
Drop it onto a parchment lined tray by the mounded tablespoon, you should have about 10 mounds.  Place in the freezer until they are more firm (about 20 minutes), and you can shape them into hearts.  Shape them into eggs with your hands (like you would with play dough.  Put them back on the tray and freeze until hard, about 1 hour to 1-2 hours.
When the centers are almost ready, melt the chocolate in the top of a double boiler until smooth.
Dip each caramel heart into the chocolate, coating it completely and allowing the excess to drain off (I like to set mine on a fork to do so), and place back onto the tray.  When they are all done, put them back into the freezer to harden the chocolate if it isn't set yet.
Store caramels in the refrigerator for up to a month in an airtight container with a lid.
(Visited 511 times, 1 visits today)