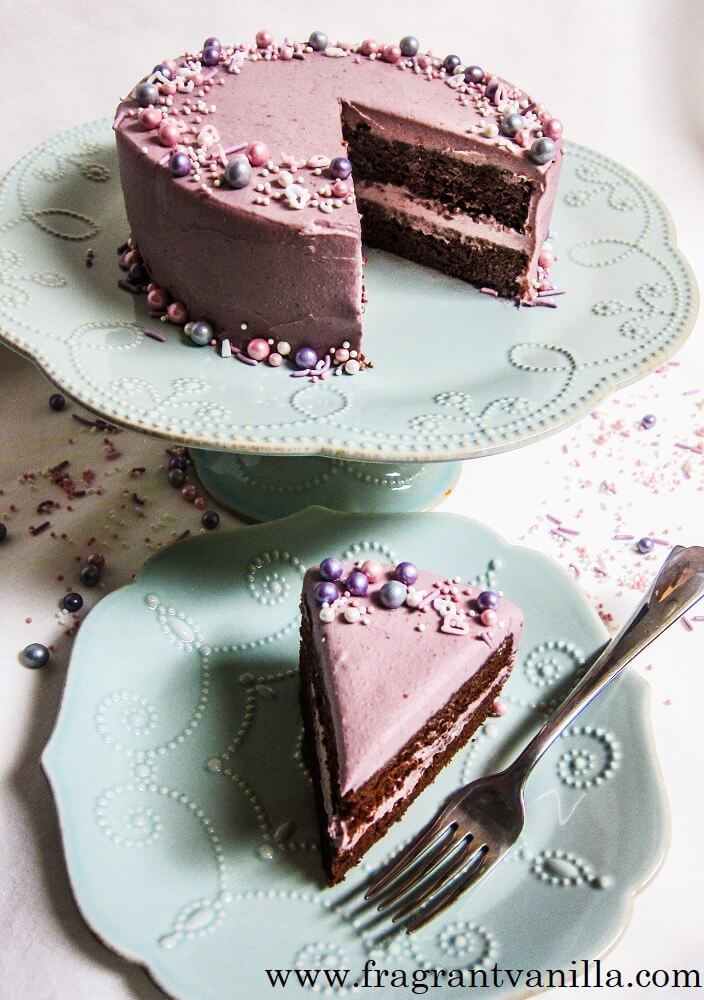 Vegan Chocolate Cake with Raspberry Frosting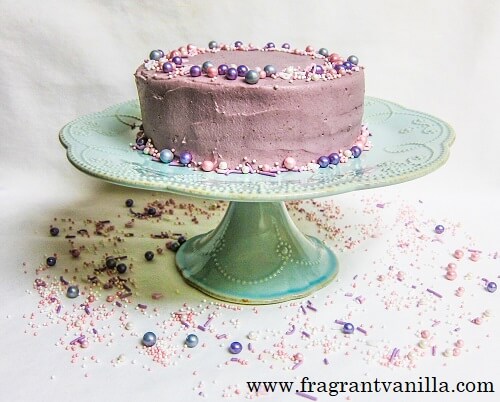 Today is my blogaversary!  8 years ago I decided to start a blog, just looking to share recipes with friends and family.  I had previously just been posting them to Facebook but I figured that wasn't a very organized approach, and I wanted them all in one place, so I created a blog on Blogger.com.  I had a passion for creating new things and sharing them, but I never thought that I would go much beyond sharing things with only the people that I knew.  I also had no idea that basically anyone could create a blog.  It all had seemed so intimidating before that.  But soon, I joined some blog communities and as my followers grew, I thought to myself, this is fun and exciting and decided to stick with it.  It used to be so much easier to get your content out there on platforms like Facebook before they started making you pay to get views, and luckily I got in before that, so I gained much of my readers before they had that put in place.  Now, sometimes I feel like it is really hard to get my recipes out there because I can not afford to pay, and it becomes frustrating at times.  But I still keep going.  I no longer have my blog on Blogger, I have had my own website for the last 3 years and it is nice to have something to call my own.  Over the years my recipes have changed somewhat.  When I started out, I was a vegetarian, not vegan, but I still created many vegan recipes.  Finally though, back in 2012, I decided to go full vegan with the blog and remove all of the recipes with animal products, or revamp them.  It was a lot of work, but worth it!  Because I want you all to be able to come here and know that you will only see vegan recipes.  Also, when I first started my blog it was all desserts.  Because that is what I find the most joy in creating.  But I decided that I needed to share some savory things too, because I don't just eat desserts of course, and you all asked for it!  So now here we are 8 years later, and I think that alone is worth celebrating.  The fact that I have been sharing recipes for 8 years, and it seems like it is so much a part of my life that I have been doing it forever.  I don't know what I did with all my free time before I had a blog!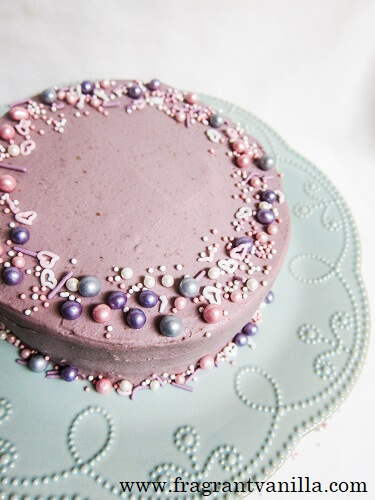 So, I thought I would make a special cake to celebrate, because every Birthday deserves a fabulous dessert!  Also, everyone should have the perfect chocolate cake recipe.  So, I went with that.  A moist, rich chocolate cake that is date sweetened.  This is my tried and true chocolate cake base recipe, and it always turns out for me.  Moist and soft thanks to the dates, and just sweet enough.  I like the idea of things that are sweetened with fruit as well.  Now normally I would have gone for a chocolate fudge frosting to make a chocolate on chocolate cake, but I wanted something with color that could look festive.  I chose a pink frosting, since I love anything girly, and I actually flavored it with raspberries.  It was a sort of a vegan "cream cheese" frosting that was a rich mixture of coconut milk and cashews and it was super delicious with the raspberries added!  I actually used freeze dried berries because they are packed with flavor and they do not add any excess moisture to the frosting.  Trust me on this one.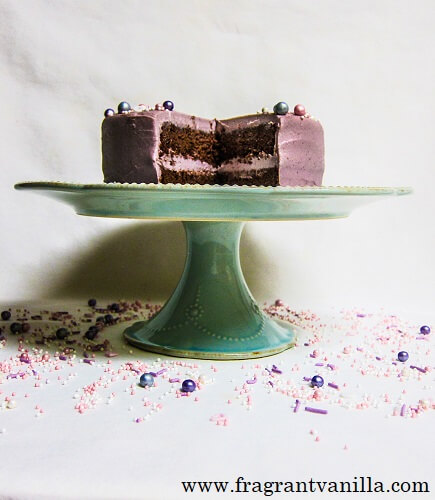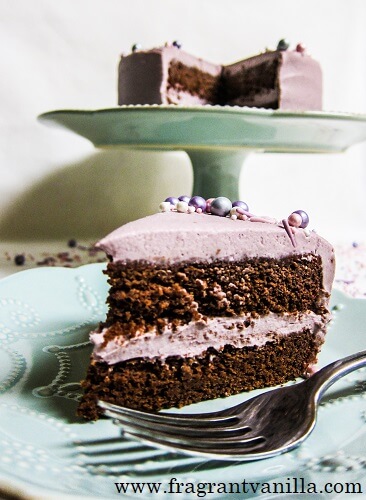 Lastly, I bought some vegan sprinkles just for this occasion.  They were cute, and pink and girly.  I just couldn't resist.  I don't eat or buy a lot of sprinkles, but this special occasion needed some.  If you don't prefer to use sprinkles on your cake, feel free to decorate with fresh raspberries or even crush the dried ones and sprinkle them around the edge of the cake like sprinkles.  The cake turned out so delicious!  The sweet berry frosting the perfect pairing with the rich chocolate cake!  The combination kind of reminded me of the raspberry cream chocolate that was always included in my box of Valentine's chocolates I would always get from my Grandma when I was little.  Those were always one of my favorites.  I think this cake would be perfect for Valentine's day!  Here's to another year of creating delicious recipes, and I want thank all of you that visit my website or follow my recipes!  You are the reason that I keep sharing!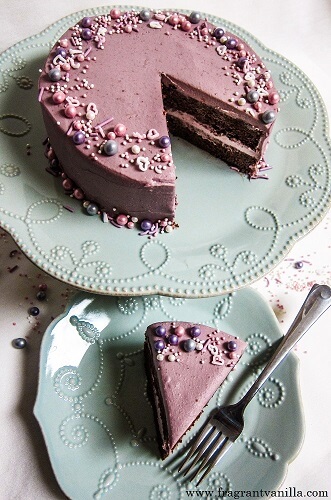 Vegan Chocolate Cake with Raspberry Frosting 
Makes one 2 layer 6 inch cake
Ingredients:
Cake:
1 1/2 cups Bob's Red Mill Gluten Free All Purpose Flour
1/4 cup cacao powder or unsweetened cocoa powder
1 1/2 tsp baking soda
1 tsp baking powder
1/2 tsp sea salt
1 1/4 cups packed soft medjool dates, pitted, soaked in water for 30 minutes and drained
1/4 cup almond butter
2 tsp pure vanilla extract
2 cups filtered water
2 Tbsp apple cider vinegar
Frosting:
For decoration:
Directions:
Preheat the oven to 375F degrees and position rack in center of oven.
Oil two 6 inch round cake pans with coconut oil and line the bottom with parchment.
Whisk flour, cocoa powder, baking powder, baking soda, sea salt in a large bowl to blend well.
Place dates, water, almond butter, and vanilla extract into a blender, and blend until smooth, then whisk this blended mixture into the flour mixture until well blended. Whisk in the cider vinegar until bubbles form.
Pour the cake batter into prepared pans, and place in the oven.
Bake cakes until set and a toothpick inserted into the center comes out almost clean, about 25-30 minutes.  Remove from oven, let cool completely, then un-mold them onto two plates, cover and set aside.
To make the frosting, combine all ingredients in a high speed blender and blend until completely smooth.  Pour into a bowl and place in the freezer until the consistency of stiffly whipped cream (about 30-45 minutes depending on how warm it has gotten.  Once it is ready place in the refrigerator until ready to assemble.
To assemble, place one cake layer on a plate, and spread about 3/4 cup frosting over it.  Place the other cake layer over that, then spread the remaining frosting on the top and down the sides of the cake.
Decorate with sprinkles and enjoy!
(Visited 2,157 times, 1 visits today)