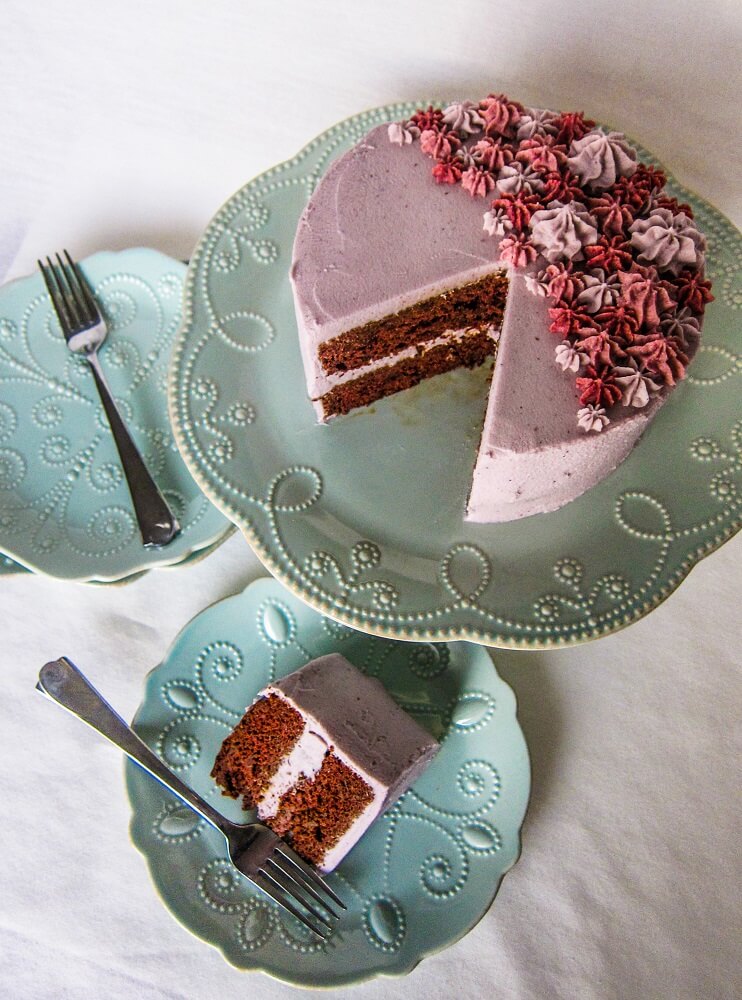 Vegan Chocolate Beet Cake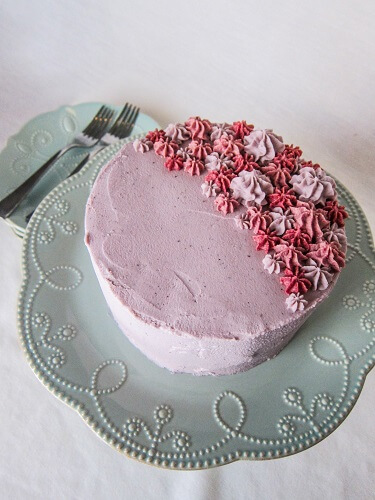 I had two leftover beets from another dish I had made and I thought about juicing them because beet juice is amazing and packed with good nutrients, but you know what sounded even better than juice? Cake. Which was the other thing I was thinking of making with that beet. Cake almost always wins when it comes to me choosing between two different things to make. Plus with the cake I would get so much more out of that beet than one glass of juice. I should explain, I wanted to make a chocolate beet cake in the way that people make carrot cake for example. Grated into the batter to give it that lovely moist but soft and light texture. Beets are amazing in a chocolate cake.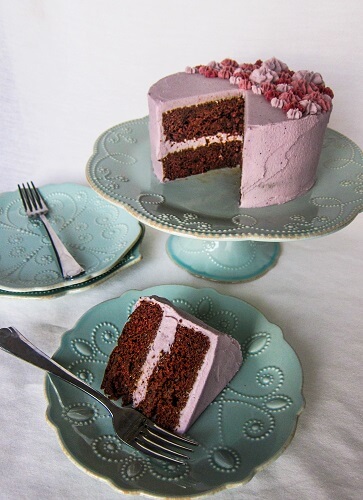 I actually have a chocolate beet cake recipe in my cookbook "Just Vegan Cakes" but the one I made this time is slightly different. This one uses dates in the batter instead of coconut sugar and almond butter instead of oil, so it is actually fruit sweetened and oil free. But of course you would never guess by tasting it because it just tastes like delicious chocolate cake! The beets hide in there as well, so it is a good way to get sneaky vegetables into your diet (or your family's) without them knowing it.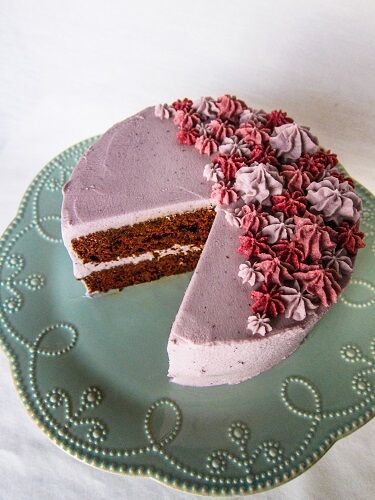 I thought about frosting this with a fudge frosting, but vanilla frosting on chocolate cake sounded better to me at the moment so I made a luscious smooth cream cheese style frosting. I say cream cheese because I added in a little cashew butter along with the coconut milk to give it that cream cheese like texture and a dash of lemon juice to give it that tang. I could have just eaten that with a spoon. Just sayin'.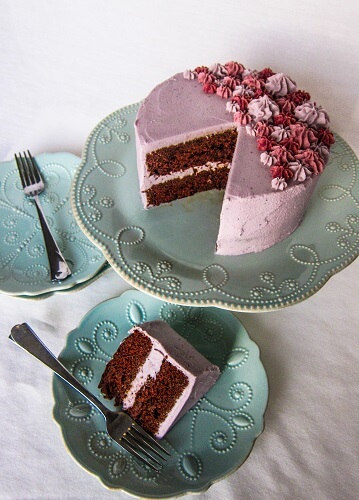 It was all even more delicious once assembled! The cake's texture turned out perfect, nice and moist but still light and fluffy with a dark chocolate flavor and the vanilla frosting was the perfect thing to contrast it with all silky smooth and rich. You would have never guessed that there were beets in there, and that is the secret special ingredient. If you ever happen to have a few beets on hand, give this a try!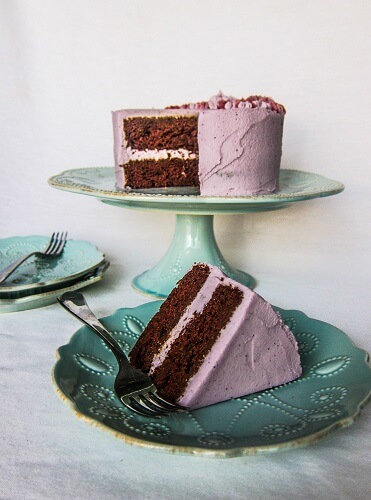 Vegan Chocolate Beet Cake
Makes 1 6 inch 2 layer cake
2 6 inch cake pans
Ingredients:
Cake:
1/4 cup cacao powder
1 1/2 tsp baking soda
1 tsp baking powder
1/2 tsp sea salt
1 1/4 cups packed soft medjool dates, pitted, soaked in water for 30 minutes and 1 cup of the water reserved
1/4 cup almond butter
1 Tbsp pure vanilla extract
1 cup filtered water
2 Tbsp apple cider vinegar
1 1/2 cups shredded organic beets
Frosting:
1 15 oz can full fat organic coconut milk*, chilled
1/2 cup organic cashew butter
1/4 cup maple syrup
1 tsp pure vanilla extract
1 Tbsp lemon juice
1/4 tsp sea salt
1/2 cup plus 2 Tbsp melted coconut butter (warmed to liquid)
1 tsp beet powder to color the frosting
Instructions:
Preheat the oven to 375F degrees and position rack in center of oven. Line two six-inch-diameter cake pans with 2-inch-high sides with parchment paper. Coat parchment paper and pan sides lightly with oil so that the cake doesn't stick.
Whisk flour, cacao powder, baking powder, baking soda, sea salt, in a large bowl to blend well.
Place dates, reserved date water, almond butter, water, and vanilla extract into a blender, and blend until smooth, then whisk this blended mixture into the flour mixture until well blended. Whisk in the cider vinegar until bubbles form. Mix in beets.
Transfer cake batter to prepared pans and bake cakes until tester inserted into center comes out clean, about 30 minutes. Cool cakes completely in pan on rack, about 1 hour. Cut around sides of pan to loosen. Turn cakes out onto platter; peel off parchment paper. Let cool completely.
To make the frosting, combine all ingredients in a high speed blender or food processor and blend until completely smooth.  Pour into a bowl and place in the freezer until the consistency of stiffly whipped cream (about 30-45 minutes depending on how warm it has gotten, stirring it a few times).  Once it is ready place in the refrigerator until ready to assemble.
To assemble, place one cake layer on a plate, and spread frosting 1/2 inch thick over it.  Place the other cake layer over that, then spread the remaining frosting on the top and down the sides of the cake.
*If you would like to make this cake with organic whole wheat pastry flour instead of the gluten free flour that will work as well, it can be swapped 1:1. 
*For this frosting recipe use a coconut milk with at least 3/4 of the can cream, or unsweetened coconut cream (I like Thai Kitchen Brand) or it will NOT work for the recipe. 
  ***If you would like a 2 layer 9 inch cake, double this entire recipe and bake in two 9 inch cake pans just keep in mind it will take about 45-50 minutes to bake.
(Visited 1,518 times, 1 visits today)