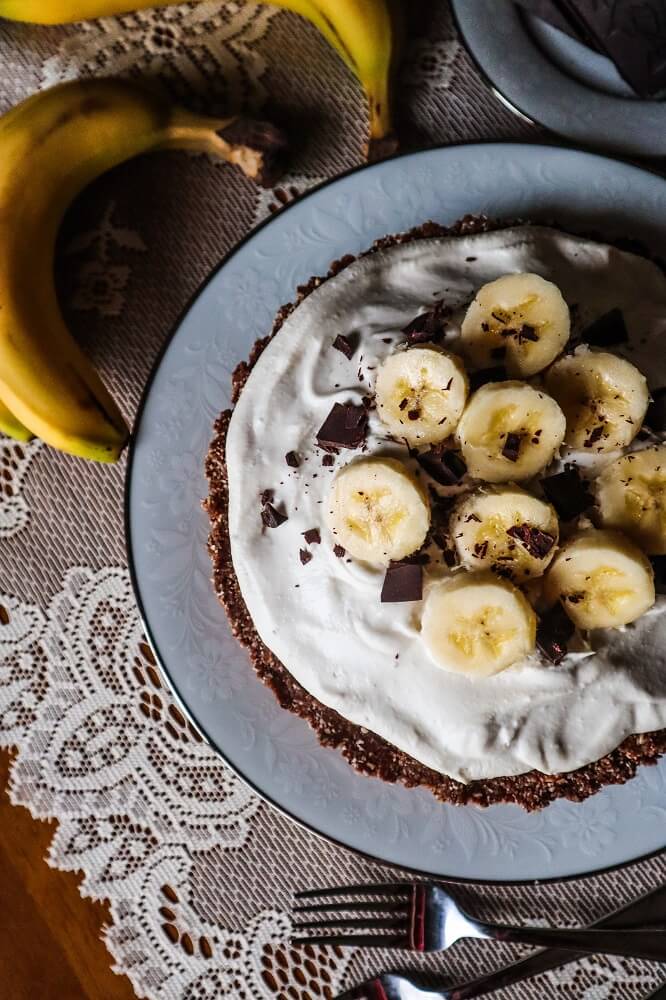 Vegan Chocolate Banana Cream Pie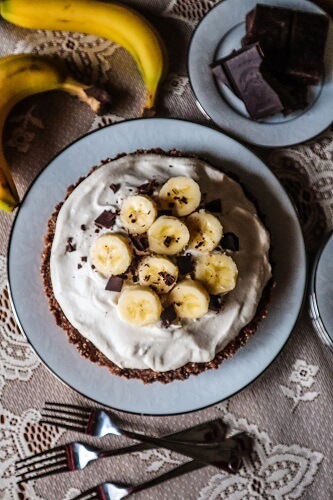 About 10 years ago, there was a really good local upscale restaurant (that has sadly since closed) that my Mom and I would visit often, and they had amazing banana cream pie.  I can't say that I had eaten much banana cream pie before I had it there, but after I had tried it, I ended up making my own at home quite a few times because I craved it and it was so good!  I love recreating things I try when I am at restaurants.  It has been ages since I made a banana cream pie though, I don't think I have made one in 2 years.  So I figured it was about time!  Last week I made a chocolate banana cream pie!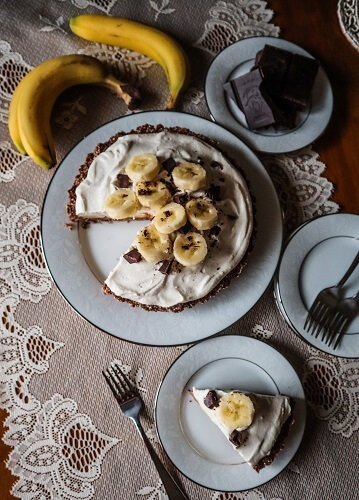 I had bought a whole bunch of bananas, but wasn't feeling like just eating them by themselves and they were getting perfectly ripe, so it was perfect!  Also, my Mom's birthday was last weekend and since she enjoyed that other banana pie so much, I thought this one would be good to share with her! She is not really a cake person, so I don't usually bake a cake for her birthdays, usually a pie.  I knew this one was going to be good!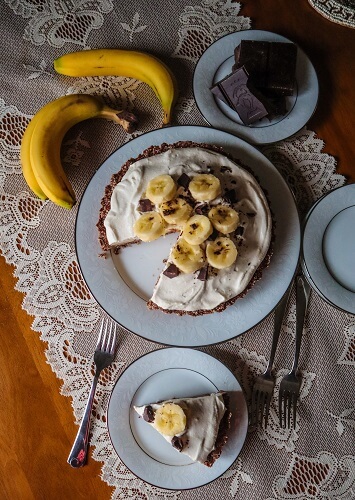 I thought about making a baked crust, but I wanted a chocolate crust, and not one made from cookies so I made a no bake press in crust instead and it worked out great plus was much easier to make.  For the filling, I used plenty of bananas with cashew butter and coconut butter to create a creamy dreamy texture.  It tasted amazing too!  Like chocolate banana ice cream.  Maybe I just think that because I am a fan of nice cream (banana based ice cream) and I used to make that often, but it is so good!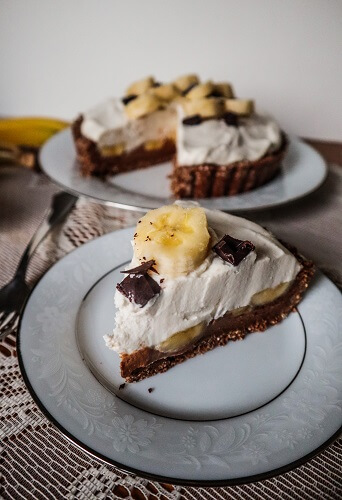 I added in a layer of bananas, then topped it off with plenty of vanilla coconut whipped cream!  That is one thing I have to have on my banana cream pie is coconut whipped cream piled high!  The pie was sooo heavenly!  That chocolate in the filling made it even better than just an original banana cream pie, and it was so rich and delicious you would never guess it was vegan and gluten free!  If you are a banana cream pie person, definitely give this a try!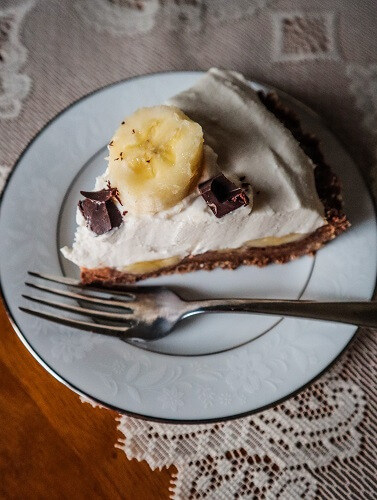 Vegan Chocolate Banana Cream Pie
Makes one 8 inch pie
one 8 inch pie pan, or removable bottom tart pan
Ingredients:
crust:
1 cup finely shredded dried coconut
1 cup gluten free organic rolled oats (or additional coconut)
2 Tbsp cacao powder
1/4 tsp sea salt
1/2 cup soft medjool dates, pitted (soaked in water 30 minutes and drained well if not soft)
1 Tbsp raw cashew butter
Filling:
1 cup mashed organic banana
2 Tbsp raw cashew butter
1/4 cup plus 2 Tbsp coconut butter (not oil), warmed to liquid
2 Tbsp maple syrup
1/4 tsp sea salt
3 Tbsp cacao powder or unsweetened cocoa powder
2 organic bananas sliced
Topping:
1 15 oz can full fat coconut milk (the kind that is at least 3/4 of the can thick cream or it will not work in this recipe, I used Thai Kitchen brand)
1/4 cup maple syrup
1 tsp pure vanilla extract
1/4 tsp sea salt
2/3 cup coconut butter (not oil), warmed to liquid
2 Tbsp raw cashew butter
For garnish:
Chopped vegan dark chocolate or chocolate chips
Instructions:
To make the crust, combine all the ingredients in a food processor and process until finely chopped and starting to hold together.  Press the mixture into the 8 inch pie pan or 8 inch removable bottom tart oiled with coconut oil.  Place in the freezer while you prepare the filling.
For the filling, combine all ingredients except the 2 sliced bananas in a blender and blend until smooth.  Pour into the prepared crust, and top with the banana sliced in an even layer. Place in the freezer while you prepare the cream topping.
To make the topping, combine all ingredients in a blender and blend until smooth. Then place in the freezer, whisking every so often until it reaches the consistency of thick cream.
Spread the whipped cream over the pie and place in the refrigerator to set for about 30 minutes.
Garnish the top of the pie with vegan dark chocolate.
Store any leftover pie in the refrigerator.
(Visited 1,910 times, 1 visits today)