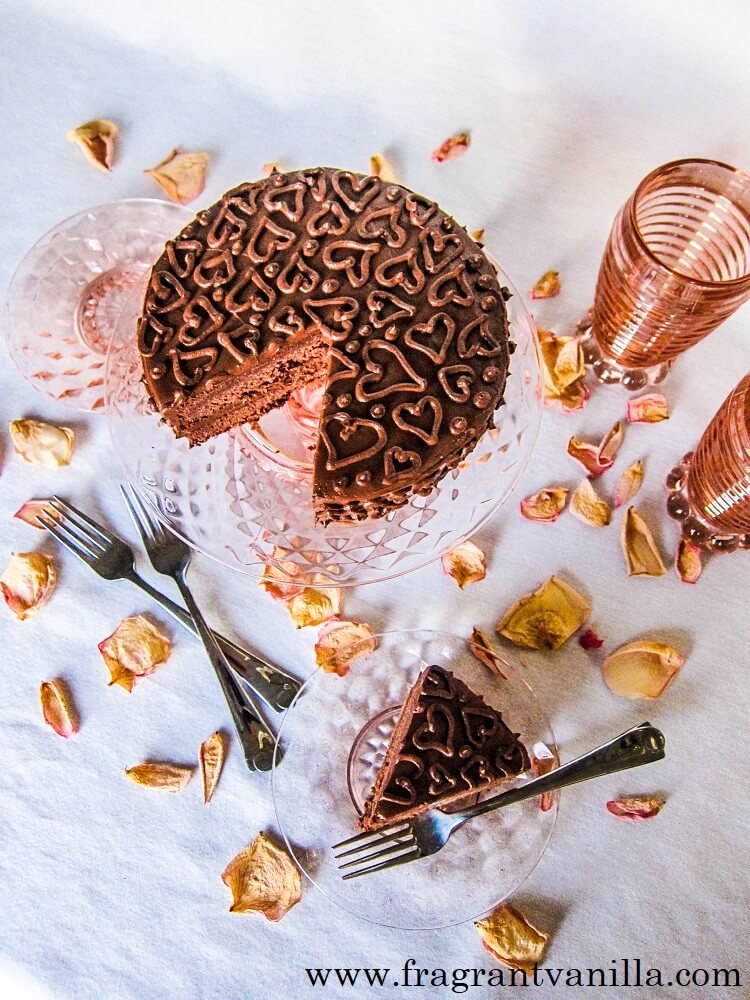 Vegan Chocolate Avocado Cake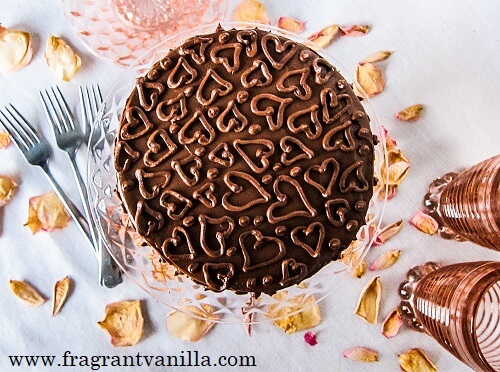 An occasion such as Valentine's Day, deserves the perfect decadent rich chocolate.  So, I decided to make one last weekend.  Eric and I celebrated early since the actual holiday is during the work week and I am working.  We went for a long walk around Minneapolis in our favorite area, then hit up our favorite local brewery Insight, then enjoyed some warming ramen at Tori Ramen in St. Paul, because that is the restaurant Eric chose. It was perfect though, because I am recovering from a cold and some warming broth was just what I needed.  And of course I had the dessert covered with the chocolate avocado cake I made.  I don't know why I hadn't thought of it before, but the combination is a great idea.  Think of it.  Chocolate is heart healthy, avocados are heart healthy so it is a healthy cake (wink, wink).  And why not make your cake healthy and taste amazing too!  Don't worry, you can not taste avocado in this cake at all.  Just rich, decadence.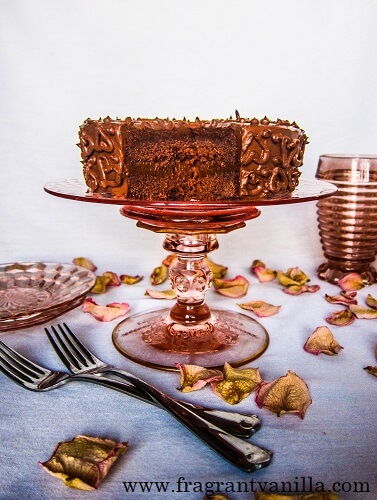 For the cake part, I used my classic date sweetened chocolate cake, made with mashed avocado in place of the nut butter.  And, let me tell you, it made the most rich tasting delicious cake batter that was actually oil free.  You bet I  scraped the bowl clean and enjoyed the last bit of batter!  That is one of my favorite things about baking cakes, getting to eat the batter. It baked up beautifully as well, and the aroma of brownies filled my kitchen and home.  That is seriously one of the best scents in the world.  Once it had cooled down and was ready to frost, it needed a decadent rich frosting to finish it off.  So, I blended up avocados, date paste, cacao powder, and a little sea salt and vanilla and it was so good!  It tasted like avocado mousse and fudge combined.  Once it was spread onto the cake, it was lovely.  I couldn't wait to try it!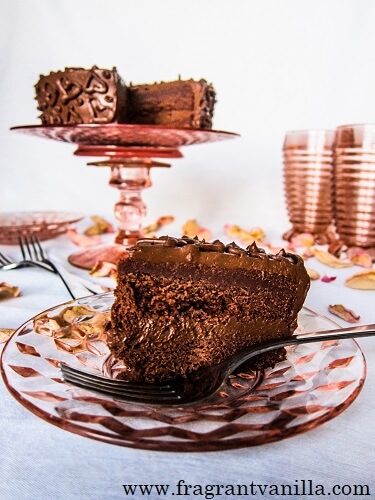 This is the chocolate lover's dream.  It is just the right consistency as far as cake goes.  Moist, soft, and light, not dry or dense provided you don't over-bake or under-bake it. I am super picky as far as cake texture goes so I am always careful about the amount of time I bake my cakes. This one turned out perfect.  It had rich chocolate flavor as well, and that gooey luscious frosting tasted so good you would swear that it contained some non-vegan ingredients.  But nope!  This cake is actually gluten free, oil free, and fruit sweetened, so wins all around!  So the next time you are in the mood for classic chocolate cake, give this a try!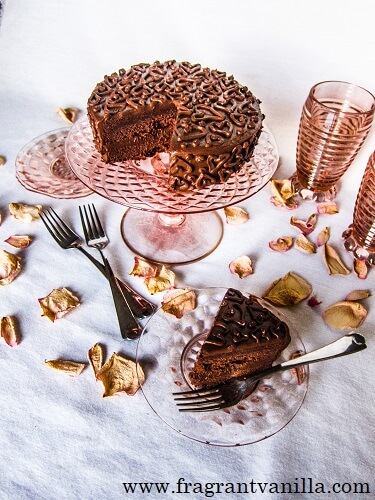 Vegan Chocolate Avocado Cake
Makes one 2 layer 6 inch cake
Ingredients:
Cake:
1 1/2 cups Bob's Red Mill Gluten Free All Purpose Flour
1/4 cup cacao powder or unsweetened cocoa powder
1 1/2 tsp baking soda
1 tsp baking powder
1/2 tsp sea salt
1 1/4 cups packed soft medjool dates, pitted, soaked in water for 30 minutes and drained
1/4 cup mashed avocado
2 tsp pure vanilla extract
2 cups filtered water
2 Tbsp apple cider vinegar
Frosting:
1 1/2 cups mashed avocado
1/2 cup date paste* or maple syrup
3/4 cup filtered water
1/2 cup cacao powder
1/4 tsp sea salt
1 tsp pure vanilla extract
Directions:
Preheat the oven to 375F degrees and position rack in center of oven.
Oil two 6 inch round cake pans with coconut oil and line the bottom with parchment.
Whisk flour, cocoa powder, baking powder, baking soda, sea salt in a large bowl to blend well.
Place dates, water, avocados, and vanilla extract into a blender, and blend until smooth, then whisk this blended mixture into the flour mixture until well blended. Whisk in the cider vinegar until bubbles form.
Pour the cake batter into prepared pans, and place in the oven.
Bake cakes until set and a toothpick inserted into the center comes out almost clean, about 25-30 minutes (be careful not to over-bake or under-bake the cake.  Check it at 25 minutes and put back into the oven a little longer if it is not finished baking).  Remove from oven, let cool completely, then un-mold them onto two plates, cover and set aside.
To make the frosting, combine all ingredients in a high speed blender and blend until completely smooth.  Pour into a bowl and place in the freezer until the consistency of stiffly whipped cream (about 30-45 minutes depending on how warm it has gotten).  Once it is ready place in the refrigerator until ready to assemble.
To assemble, place one cake layer on a plate, and spread about 3/4 cup frosting over it.  Place the other cake layer over that, then spread the remaining frosting on the top and down the sides of the cake.
Decorate with sprinkles and enjoy!
*To make date paste, soak 1 cup dates in filtered water for 30 minutes, then drain, reserving 2/3 cup filtered water.  Pour the dates and 2/3 cup water into the blender and blend until smooth.  Store date paste in a jar in the refrigerator for up to 2 weeks.
(Visited 1,372 times, 1 visits today)