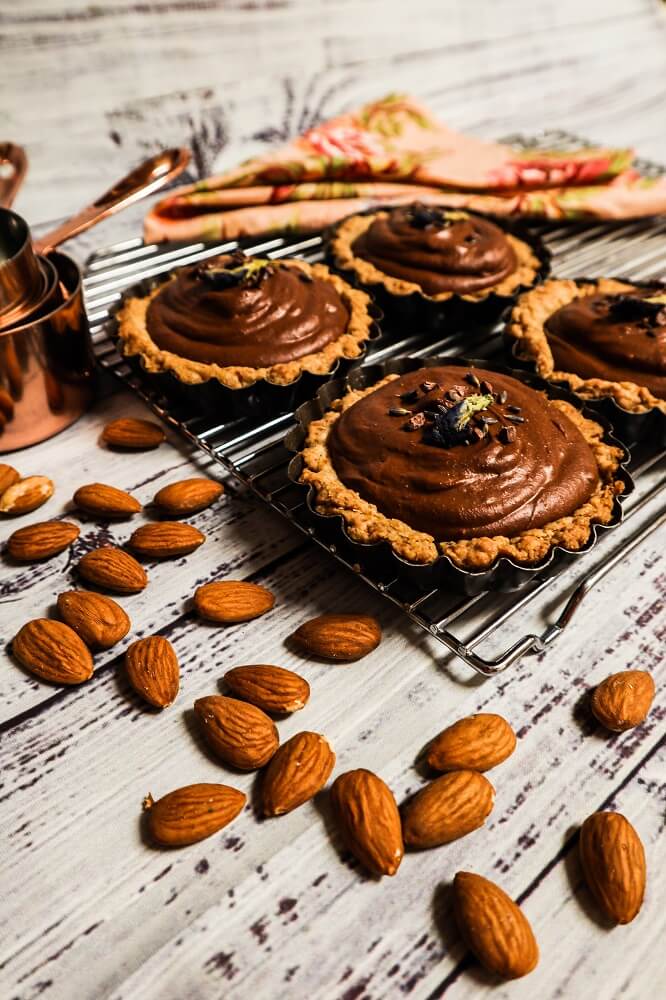 Vegan Chocolate Almond Mousse Tarts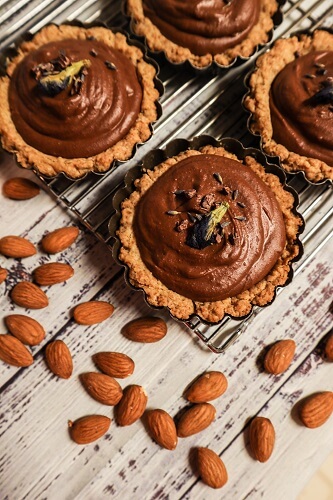 I am in a chocolate dessert sort of mood lately. Maybe it is because Valentine's Day is just around the corner and chocolate just feels right, or because eating chocolate seems to make me forget about winter.  Anyways, I decided that I needed something chocolaty last week, and since I had already recently made brownies and cake, I thought something with a chocolate mousse sounded lovely!  What I decided on was chocolate mousse tarts. My Mom had recently talked about a chocolate almond butter tart that she used to buy at Trader Joes that was really good, that she couldn't get anymore.  So, I thought I would make something kind of similar and share.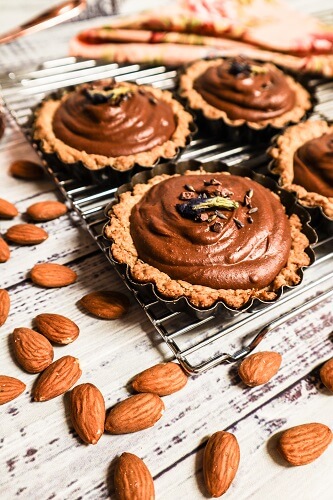 Little tarts are perfect for sharing! Plus, I know I feel special when I am enjoying my own cute little mini dessert.  These do require baking for the crust portion, but they aren't difficult to make.  For the crust, I had thought about making them no bake, but I wanted the rich buttery pie crust that comes with baking.  I just used my classic pie crust dough and it worked perfect!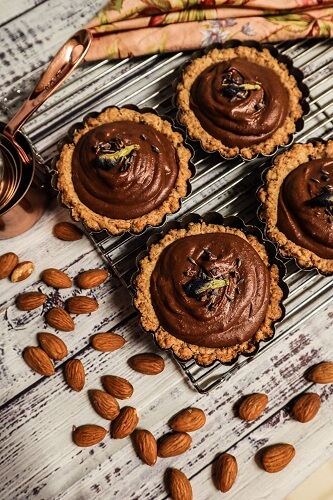 For the filling I used coconut milk, the full fat kind that is mostly cream.  Please note, this thick kind is absolutely essential to the recipe turning out and thickening.  Plus, it makes it darn delicious when it is all rich and smooth.  Also, I added almond butter since these are chocolate almond butter tarts.  The filling was silky smooth and packed with chocolate flavor thanks to the large amount of cacao powder I used in it.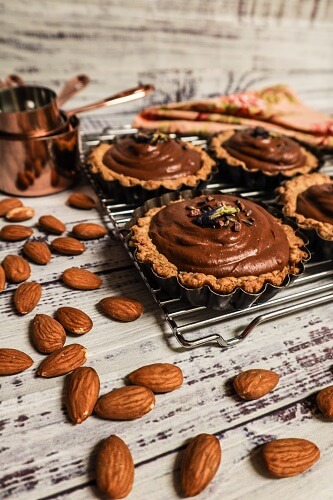 I was pleasantly surprised by how fast I whipped these up.  Then again I cooled the crusts out in my garage since it was below freezing out there.  They turned out sooo good!  The crust was buttery and flakey and the filling smooth rich and delicious with a slight nuttiness from the almonds, and plenty of rich cacao flavor!  If you are a chocolate fan, definitely give these a try!  They would be perfect for Valentine's Day!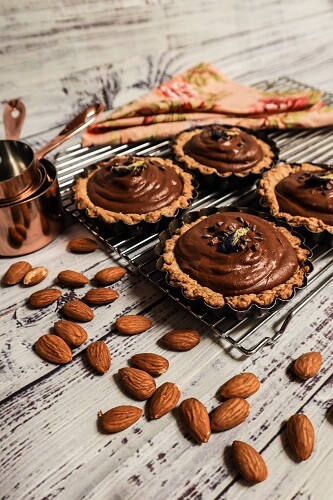 Vegan Chocolate Almond Mousse Tarts
Makes 4
Crust:
1/2 cup plus 3 Tbsp flour
2 Tbsp coconut sugar
1/4 cup plus 2 Tbsp coconut oil
1/8 tsp sea salt
3-4 Tbsp filtered water or as needed
Filling:
3/4 cup full fat coconut milk (the thick part from the top of the can of coconut milk, use a brand that has mostly coconut cream (3/4 of the can), or it will not work for this recipe)
1/2 cup cacao powder or unsweetened cocoa powder
1/4 cup maple syrup
3 Tbsp almond butter
1/2 cup coconut butter, warmed to liquid
pinch sea salt
Instructions:
Preheat the oven to 375F degrees.
In a bowl, combine the pastry flour, coconut sugar, coconut oil, and sea salt in a bowl, and mix together with your hands, scrunching the coconut oil into the flour until you have smaller pea sized pieces.  Mix in the water until a dough is formed, then divide into 4 balls and press them into four 4 inch tart pans, into the bottoms and up the sizes of the pan so it looks nice.  Prick a few holes into the bottom with a fork.
Place in the oven and bake for 20 minutes, until golden brown and set.  Remove from the oven and let cool.
To make the filling, combine all ingredients in a high speed blender and blend until smooth. Pour into a bowl, and place in the freezer, stirring every so often until it is almost the consistency of mousse or whipped cream this will take anywhere from 15 minutes to 30 minutes depending on how warm your ingredients were.
Once the filling has thickened, spoon into the crusts (it will be mounded), then refrigerate until completely set (1/2 hour at least).
Enjoy!
(Visited 1,169 times, 1 visits today)