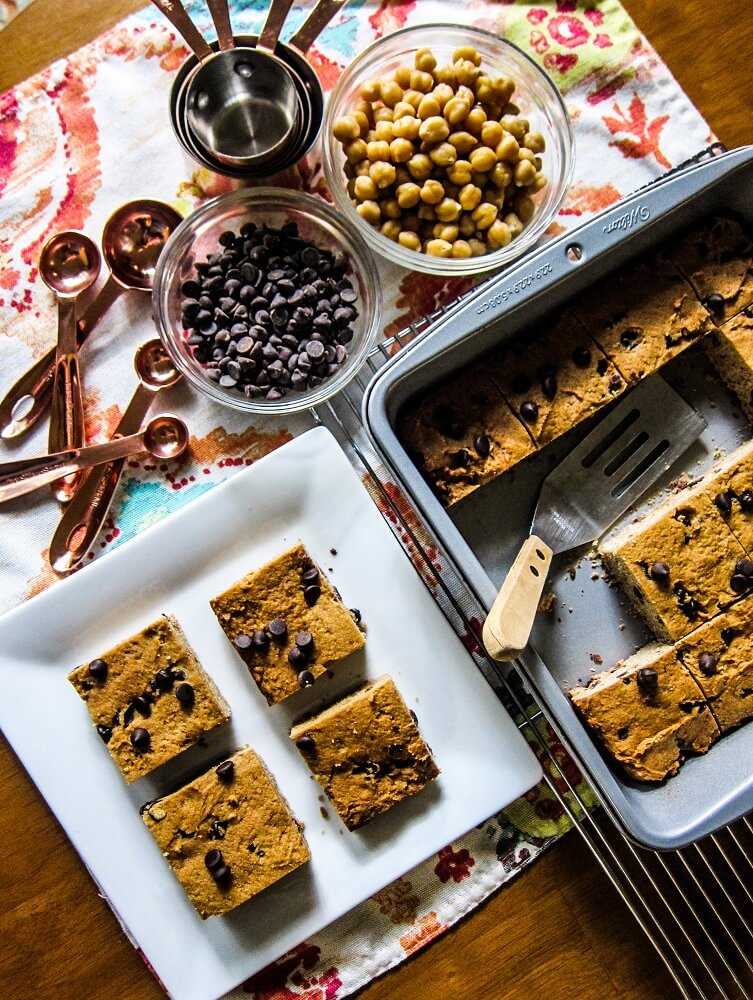 Vegan Chickpea Blondies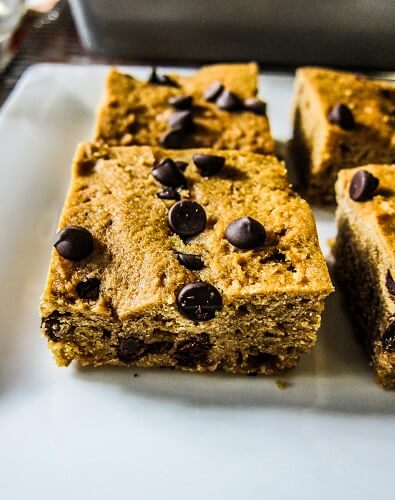 I think I use chickpeas in more recipes than any other bean. I am always making hummus, and salads with chickpeas and I even add them to cheesecake recipes instead of cashews as a nut free version. I recently made black bean brownies, so I figured why not make chickpea blondies?! I make so many other things with them, and they are a pretty neutral flavor so they go good in things that are vanilla flavored. Plus I love adding ingredients with fiber and protein to my desserts for an added boost so long as I can't taste them.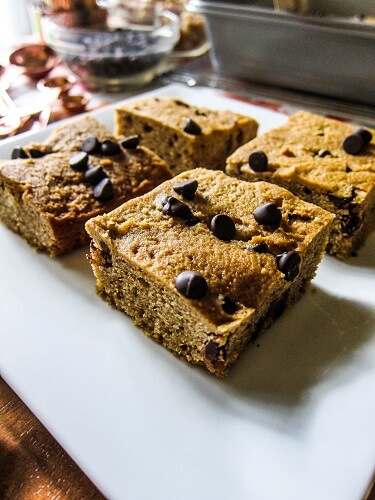 These blondies were really simple to make, you just blend the first part in the blender then mix in the rest and pour into a pan, that simple. For the batter though, in a regular blondie recipe I would have used coconut oil but in this one I used avocado oil because it has a more buttery flavor, and it will stay soft when cooled down (coconut oil desserts sometimes get too hard when refrigerated or too cool).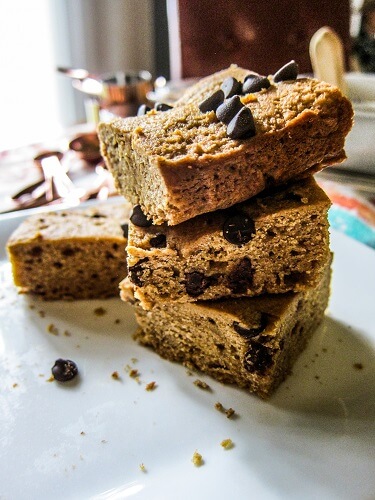 To keep these nice and moist also I used some aquafaba because why not since I was already using chickpeas in the recipe. If you don't know what aquafaba is it is chickpea liquid. Either canned or home made. If your chickpeas are already drained though, no worries, you can also use a flax egg for the recipe instead if you would like.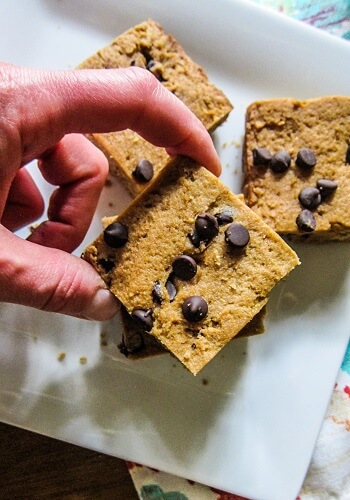 The dough tasted super delicious, and they baked up beautifully! They smelled amazing too as I pulled them from the oven. Just like chocolate chip cookies. Honestly these are best when you enjoy them while still warm and the chocolate chips are gooey! They have a nice soft texture and a vanilla caramel like flavor throughout. Next time you have some chickpeas on hand and are in the mood for something sweet give these a try!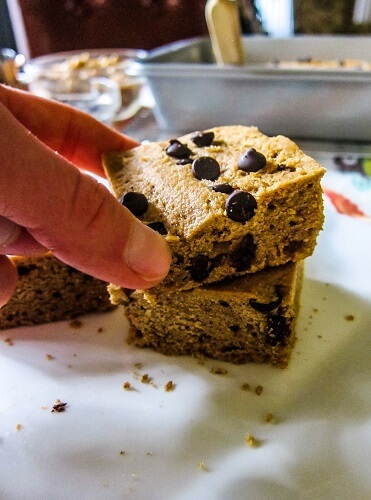 Vegan Chickpea Blondies
Makes 16
1/2 cup avocado oil
1 cup maple sugar or coconut sugar
1 cup cooked chickpeas
3 Tbsp aquafaba (the liquid of canned chickpeas)* or 1 Tbsp flax seed mixed with 3 Tbsp filtered water
1 tsp pure vanilla extract
1 1/4 cups organic whole wheat pastry flour
1/2 tsp baking soda
1/8 tsp sea salt
3/4 cup vegan dark chocolate chips
Instructions:
Preheat the oven to 350F degrees, and line an 8x8 inch square pan with parchment.
To make the dough, add the the oil, coconut sugar, chickpeas, flax and water mixture and vanilla to a high speed blender or food processor and process until smooth.
Scrape the mixture into a large bowl.
Add the flour, soda, and salt and mix until smooth.
Stir in the chocolate chips.
Pour into the bottom of the 8x8 inch pan and spread with a offset spatula or knife until the top is even, and place in the oven.
Bake for 25-30 minutes or until done in the center and lightly brown.
Remove from the oven and let cool before cutting into bars. When ready to cut, just lift them out with the parchment onto a cutting board and cut into 16 bars.
Enjoy!
(Visited 509 times, 1 visits today)