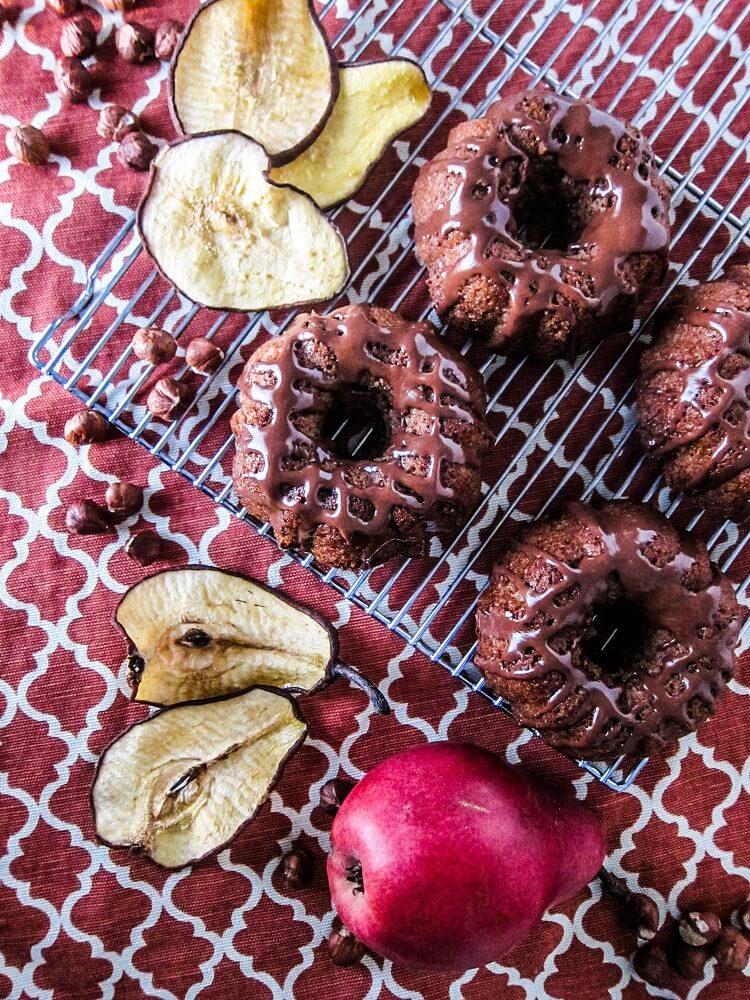 Vegan Chai Spiced Pear Cakes with Hazelnut Chocolate Glaze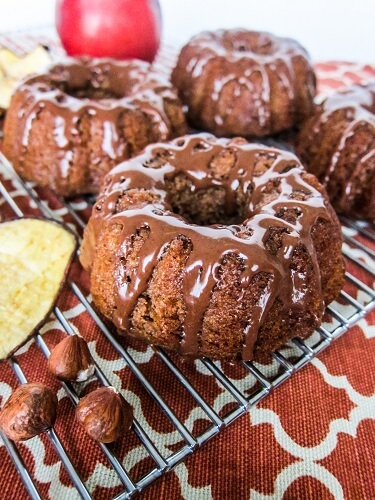 So far Fall in Minnesota has been a rather chilly rainy one, the temperatures in the 30s and 40s most days with rain for 2 weeks straight it felt like until this week so we have all been bundling up. But finally we got a few lovely dry days in the 60s. This is the type of Fall I dream about, where it is warm enough to not have to wear jackets, and you can go out and enjoy the Fall colors on a hike and be comfortable.  I made sure to get outside, but I also decided to do some Fall baking to celebrate the perfect Fall days, and because cake sounded good.  I had some perfectly ripe Minnesota grown pears that a coworker had given me, and so I decided on pear bundt cakes.  Apple gets all the attention most of the time, you don't hear about people going to the pear orchard to pick pears.  But they are super delicious so I am not sure why they don't sell like apples do.  Heck, I would go to a pear orchard.  If you get a perfectly ripe, fragrant pear it is sweeter than an apple sometimes.  Back when I was in college, in the Fall one of my favorite things was to poach pears in the oven in a dish with spices, then eat them with ice cream.  Super delicious easy dessert.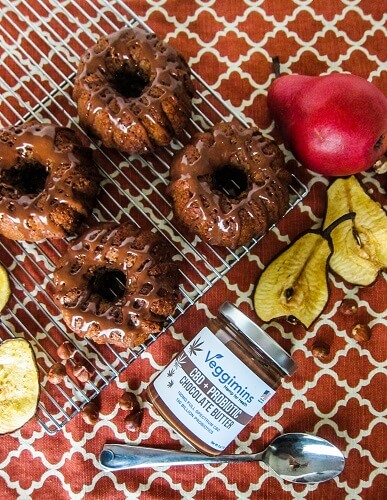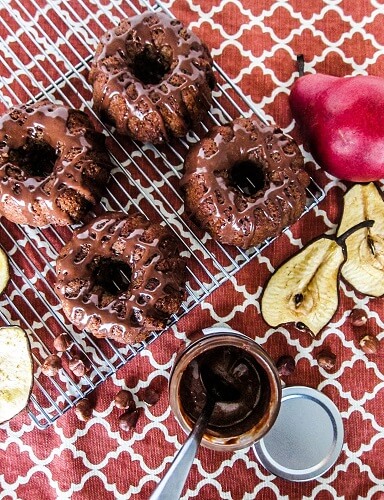 Anyways, back to those bundt cakes.  I suppose I could have made one large cake, but I like the idea of mini cakes, and they are perfect for sharing.  Not only that, they bake so much faster!  Only 20 minutes for these babies. For the batter, I pureed my pears, then blended them up with dates, spices, almond butter as a base to add the flour and other ingredients too.  This batter is actually fruit sweetened and oil free!  And, it is plenty sweet from the pears and dates.  It baked up beautifully and smelled amazing!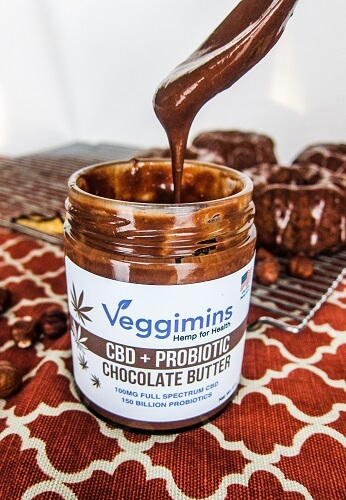 But bundt cakes need a little glaze to decorate them so I decided to use some Veggimins Hemp CBD Chocolate Hazelnut Butter that Raw Guru sent me recently so drizzle over the cakes.  After all, pears, hazelnuts and chocolate are a match made in heaven.  This spread is bomb by the way, like the best nutella you will ever taste and what's not to love about CBD oil being included in it.  It was amazing on the cakes!  They were so good... soft and sweet from the pears with a hint of spice and the rich dark chocolate. If you have pears on hand, give these a try!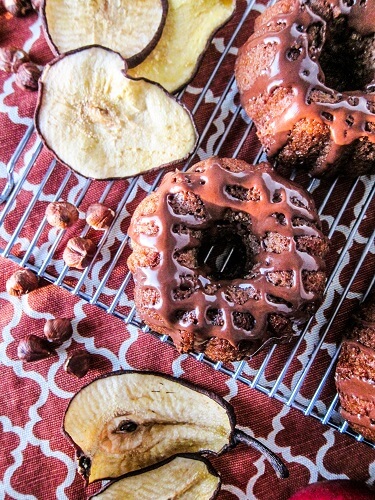 Vegan Chai Spiced Pear Cakes with Hazelnut Chocolate Glaze 
Makes four 1 cup bundt cakes
Ingredients:
2 6 inch cake pans
Cake:
3/4 cups quinoa flour (or all purpose gluten free flour)
3/4 tsp baking soda
1/2 tsp baking powder
1/4 tsp sea salt
1/2 tsp cinnamon
1/2 tsp ginger
1/2 tsp cardamom
1/4 tsp cloves
1/4 tsp nutmeg
1/2 cup packed soft medjool dates, pitted, soaked in water for 30 minutes and 1/2 cup of the soaking water reserved
2 Tbsp almond butter
1 tsp pure vanilla extract
1/2 cup pureed ripe pears
1 Tbsp apple cider vinegar
Glaze:
Directions:
Preheat the oven to 375F degrees and position rack in center of oven. Oil 4 mini bundt pans.
Whisk flour, baking powder, baking soda, spices and sea salt in a large bowl to blend well.  Set aside.
Place dates, reserved water, almond butter, pear puree, and vanilla extract into a blender, and blend until smooth, then whisk this blended mixture into the flour mixture until well blended. Whisk in the cider vinegar until bubbles form.
Transfer cake batter to prepared pans and bake cakes until tester inserted into center comes out clean, about 20 minutes. Remove from oven and cool cakes completely in pan on rack, about 1 hour.
Un-mold onto a piece of parchment on a sheet pan.
Warm the hazelnut butter slightly in a double boiler just until it is liquid enough to pour (but don't over-heat), and drizzle over the cakes.
Enjoy!
*If you can't get the CBD hazelnut butter, or would rather make your own glaze, you can instead whisk 1 Tbsp cacao powder into 1/4 cup hazelnut (or almond) butter, along with 1 Tbsp maple syrup and just enough water to make it pourable and use the same way you would use the CBD hazelnut butter.
(Visited 186 times, 1 visits today)