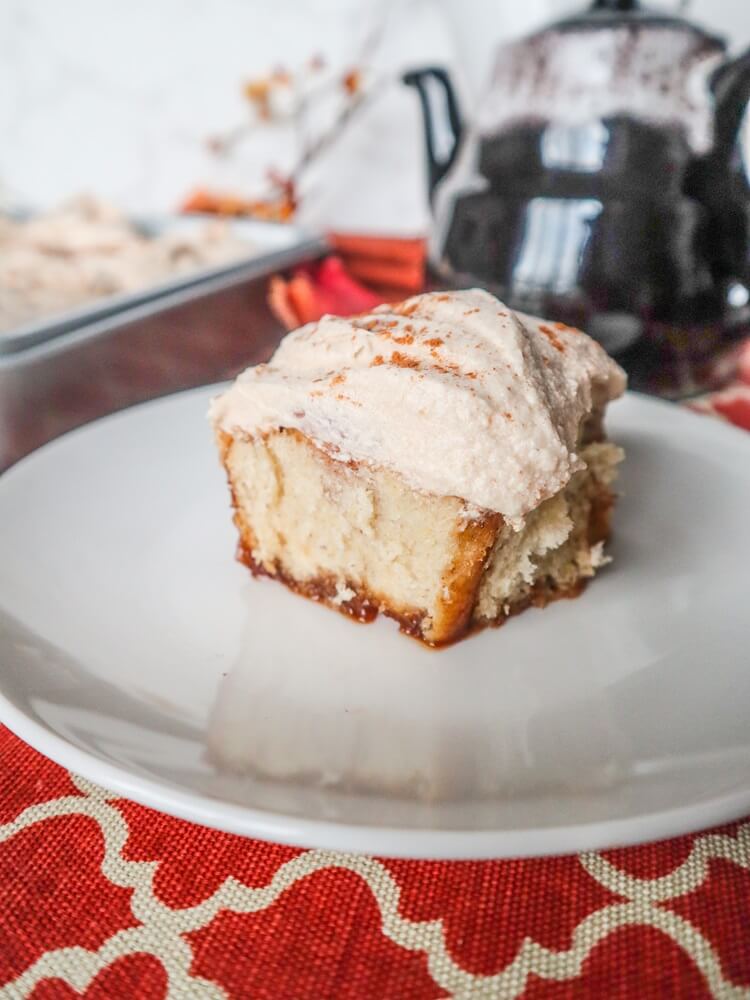 Vegan Chai Spiced Cinnamon Rolls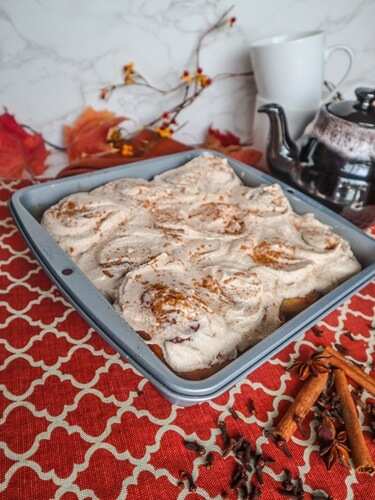 One of my favorite things to bake on a lazy weekend morning is cinnamon rolls.  I was recently craving them so I decided to whip some up on the weekend!  There is nothing I enjoy more sometimes than an oatmilk latte and a sweet baked treat, and cinnamon rolls are perfect with coffee!  I decided to switch them up a little this time though  and instead of just using cinnamon, make them Vegan Chai Spiced Cinnamon Rolls!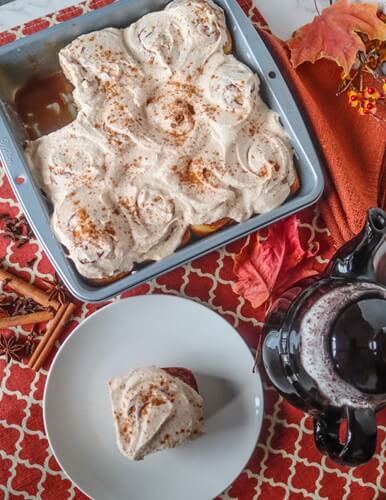 There used to be a time when I was intimidated by any sort of yeasted bread such as cinnamon rolls, but once I made some and got the hang of it, it is actually quite easy. Now, I actually start them a day ahead of time, shape them and let them rise in the refrigerator overnight.  I then let them come to room temperature and bake them as I would if they had not gone in the refrigerator.  They turn out the same and that way it isn't as much to do in the morning and I can enjoy them faster!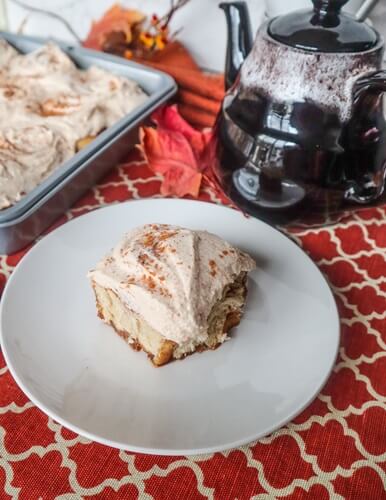 For these ones I used whole wheat pastry flour, but if you wanted to use all purpose flour for a slightly lighter roll you may do so.  To give these a little richness I added avocado oil because I like its slightly buttery flavor in baked goods, but melted coconut oil would also work.  For the spices I used a mixture of cinnamon, ginger, anise, cardamom allspice and nutmeg for a very fragrant chai swirl, mixed with maple syrup and sugar. These smelled so amazing while baking and I could not wait for the finished product!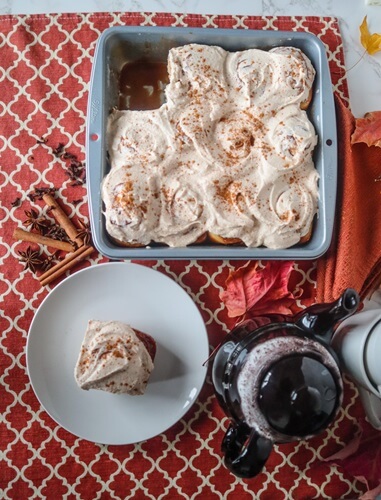 I frosted them with a chai vanilla buttercream frosting and they were perfect!  So heavenly, light and fluffy fluffy sweet bread, scented with vanilla and chai spices, the luscious sweet frosting completing the glorious combo of flavors and textures! These are wonderful with coffee and the perfect pick me up!  If you are in the mood for cinnamon rolls, definitely give these Vegan Chai Spiced Cinnamon Rolls a try!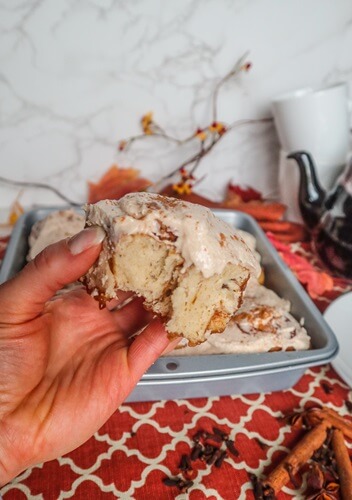 Vegan Chai Spiced Cinnamon Rolls
Makes 12
Dough:
1/4 oz active dry yeast
1/2 cup warm water ( 105-110F degrees)
1/2 cup warm coconut milk (I warmed it up on the stove)
1/4 cup maple sugar or brown sugar
1/4 cup avocado oil
1 tsp pure vanilla extract
1 tsp sea salt
1 Tbsp ground flax seed, mixed with 3 Tbsp filtered water
3 1/2 cups whole wheat pastry flour or as needed
Filling:
1/4 cup maple syrup
1/2 cup maple sugar plus more for sprinkling
1/2 tsp cinnamon
1/4 tsp ginger
1/4 tsp anise
1/4 tsp cardamom
1/4 tsp allspice
1/8 tsp nutmeg
Frosting:
1 cup vegan butter, I used Earth Balance (at room temperature)
1 Tbsp plant based milk (I used Oatly oat milk, but you can use what you prefer), add 1 more Tbsp if needed if frosting comes out too stiff
1/2 tsp pure vanilla extract
1/4 tsp cinnamon
1/8 tsp ginger
1/8 tsp anise
1/8 tsp cardamom
1/16 tsp allspice
1/8 tsp nutmeg
2 1/2 cups powdered sugar
Instructions:
To make the dough, combine the yeast and the warm water plus a pinch of sugar and stir to dissolve. Let sit 5-10 minutes until it starts to foam.
In a large bowl, combine the coconut milk, sugar, vanilla extract, avocado oil, salt and flax mixture and mix together to combine.
Add the yeast, and 2 cups of flour and mix to combine.
Add the remaining 1 1/2 cups of flour and mix until you have a smooth dough (you may need to use your hands at the end to mix it in).
Turn out onto a lightly floured surface, and knead for 5-10 minutes until smooth and supple. If it is too sticky add a little flour but you want to add as little as possible because if you add too much the dough gets tough.
Place in an oiled bowl, and cover. Let rise for about 1 1/2 hours until doubled in size.
When it is ready, turn out onto the counter or a board and roll out into a 9x15 inch rectangle.
Mix together the maple syrup, maple sugar and spices and spread it evenly over the dough.  Sprinkle with another Tbsp sugar.
Roll it up, then cut the roll into 12 pieces.
Oil an 8x8 inch square baking pan, and place them in the pan.
Cover and let rise for 45 minutes.
Meanwhile heat the oven to 350F degrees.
When the rolls have risen for 45 minutes, place them in the preheated oven and bake for about 30 minutes until starting to brown and cooked through.
Remove from the oven and let cool 15 minutes.
To make the frosting, beat the butter with the milk, vanilla and spices until fluffy.
Add the powdered sugar 1 cup at a time, and beat until completely mixed and light and fluffy (if the frosting is too stiff add that other Tbsp of milk).
Spread the frosting over the rolls and serve!
These keep covered at room temperature for up to 3 days, or refrigerated for up to 1 week.
(Visited 191 times, 1 visits today)