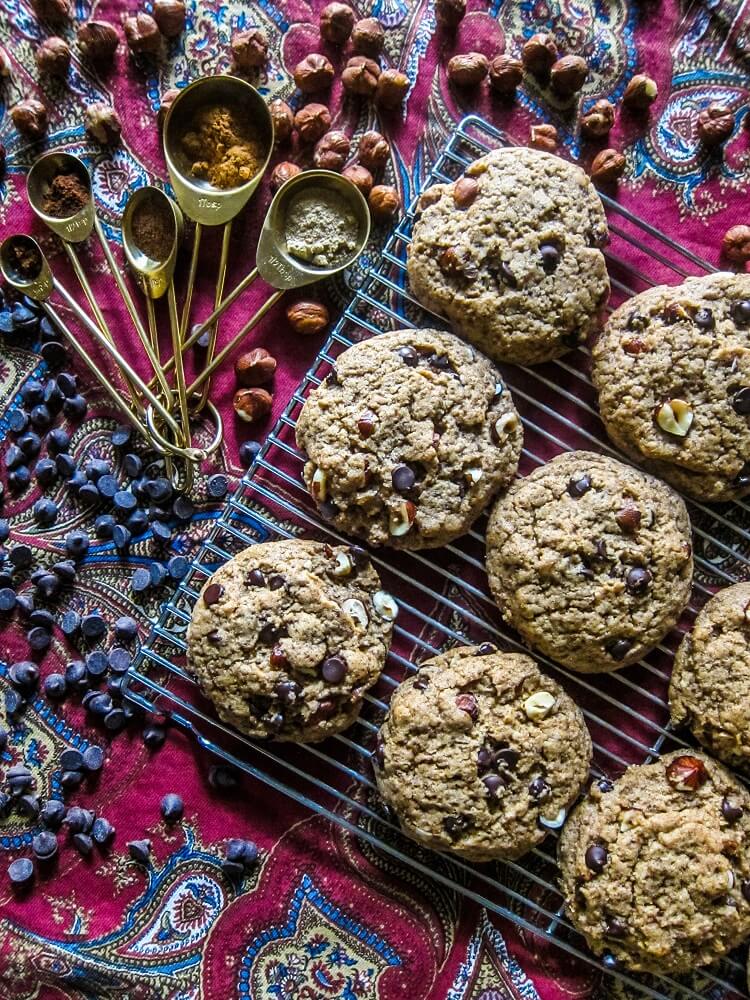 Vegan Chai Spice Hazelnut Chocolate Chip Cookies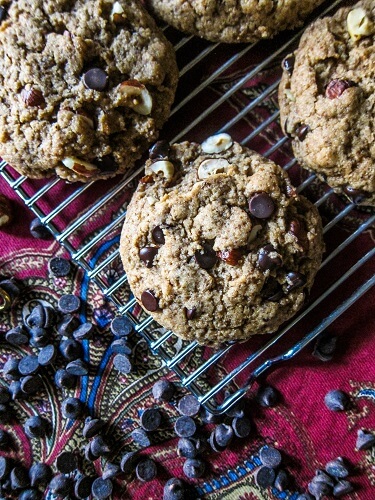 It was a good weekend!  Eric and I hit up Twin Cities Veg Fest on Sunday, and although it was 90F degrees, it was still a lot of fun and a really nice day.  Where else can you get such a variety of all vegan food to choose from?!  They had much more options than the last two years, and it was awesome to see so many people out there enjoying it!  I feel like there are more vegans than ever in the Twin Cities.  One of the first things we bought was some frozen yogurt, because it was just so hot, and we had walked about a mile from the car in the sun.  It was kinda cool, a self serve frozen yogurt station with different flavors to mix and match plus toppings.  We chose coconut and chai frozen yogurt and fresh fruit. It really hit the spot!  Also, it reminded me of how much I love chai spice in things and I decided that I needed to make something chai spice when I got home.  We also enjoyed some food from the Herbivorus Butcher Food Truck, but I didn't have enough cash on me after that to buy much else because I decided to buy a really cute vegan shirt and some hot sauce there too.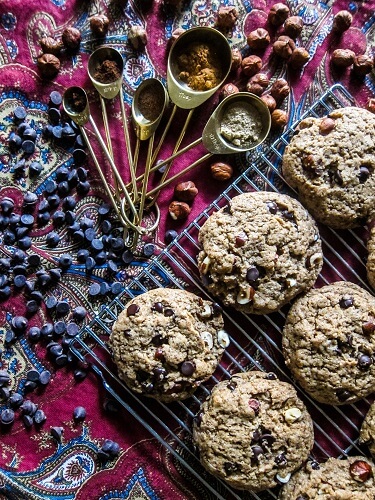 When I got home I decided to make cookies with chai spice because that ice cream made me hungry for it.  Partly because I was in the mood for some cookie dough, and chai spice cookie dough sounded fabulous.  I also had a bag of hazelnuts on hand that I wanted to include in the cookies, so I made chai spice hazelnut chocolate chip cookies.  My favorite part of making cookies is not even the finished baked cookies, it is eating the dough.  The warm baked cookies are a close second though.  Let me tell you, this dough was super delicious!  I added the chai spices to my classic chocolate chip cookie dough as well as hazelnut butter and I could not stop eating it.  i love Fall spices in cookies.  These aren't quite as aggressive as say, actual spice or gingerbread cookies, it is more subtle, but amazing with the classic chocolate chip cookie flavor and the nutty hazelnuts.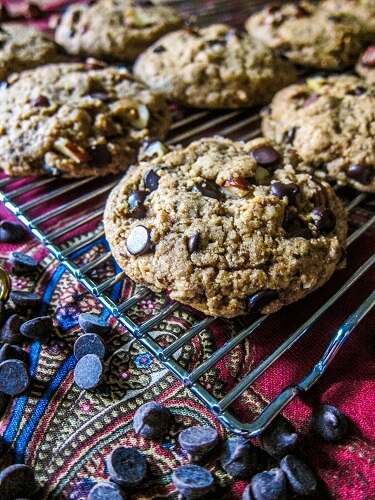 Enough of them made it into the oven after me sampling dough to still get a good sized batch to share. My kitchen smelled amazing while they were baking!  I couldn't wait to try one of the warm ones.  It was fabulous!  The gooey rich chocolate chips were perfect with the aromatic spiced cookie and crunchy hazelnuts!  If you are in the mood for chocolate chip cookies, but also want something Fall-ish, give these a try!  I have a feeling you will love them too!
Vegan Chai Spice Hazelnut Chocolate Chip Cookies
Makes 16 large cookies
Ingredients:
 2 Tbsp ground flax seed
1/4 cup plus 2 Tbsp filtered water
1/2 cup virgin coconut oil, warmed to liquid
1/2 cup hazelnut butter
1 1/2 cups organic coconut sugar
1 teaspoon vanilla extract
1 teaspoon baking soda
1/2 teaspoon sea salt
1/2 tsp cinnamon
1/2 tsp cardamom
1/2 tsp ginger
1/8 tsp cloves
1/8 tsp nutmeg
3 cups Bob's Red Mill gluten free all purpose baking flour
3/4 cup chopped Hazelnuts
1 cup vegan chocolate chips
Directions:
Preheat your oven to 350F degrees.
In a small bowl, whisk together the flax seed and filtered water.  Set aside in the refrigerator for 15 minutes.
Meanwhile, in a large bowl, coconut oil and hazelnut butter with sugar and mix until well combined
Mix in the vanilla extract and flax mixture until well combined.  Add the baking soda, salt and spices then the flour, a cup at a time, mixing between each addition, until well combined.  Mix in the hazelnuts and chocolate chips.
Line 2 large baking sheets with parchment paper.
To Form the cookies take about a 1 1/2 inch chunk of dough, form into a ball, and place on on prepared cookie sheets a couple inches apart, and press down just slightly. Bake for about 12-15 minutes, until puffed and just starting to brown slightly.
Remove from the oven, and let cool on the pan a few minutes, then remove to a wire rack to cool.
Repeat with remaining cookies and let cool for at least 15 minutes before enjoying.
(Visited 169 times, 1 visits today)