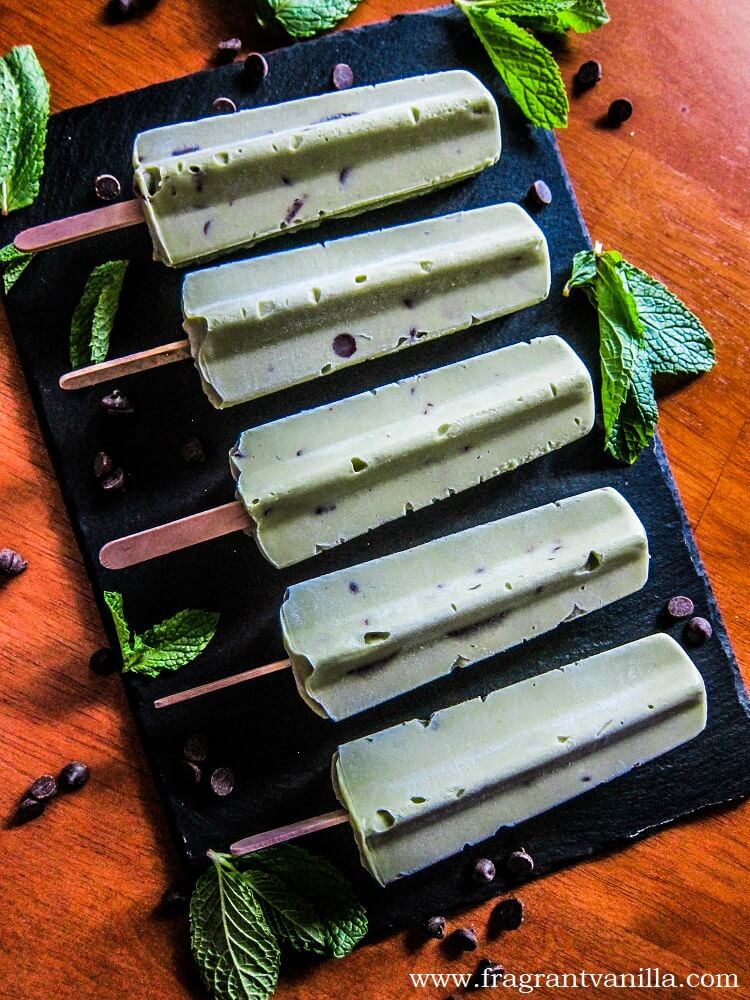 Vegan CBD Mint Chip Ice Cream Pops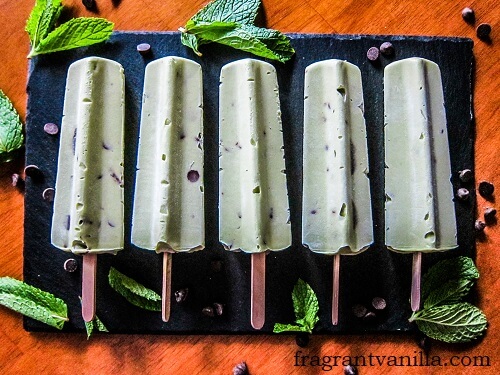 It was super hot and humid in Minnesota last weekend.  We have had a few big thunderstorms, and then when the sun came back out it just brought more of the humidity into the air.  I went on a long 28 mile bike ride and I felt like I had jumped into a pool when I got home, only it was just my own sweat.  I try not to let the heat stop me from doing things outside like running, biking and walking because I need the fresh air and sunlight, but boy it is hard sometimes.  I was craving something in the form of ice cream hard core.  So, I decided to make some ice cream pops.  Mint chip was what I had decided on.  Back in the day when I was little, mint chip was one of my favorite ice cream flavors.  There is just something super refreshing about the combination of vanilla and mint, and those dark chocolate pieces distributed throughout it made it heavenly.  It sounded like the perfect thing to cool me off, and they would be individually portioned which is awesome for when you don't want to scoop ice cream.
Raw Guru recently sent me a box of goodies including some CBD oil and chocolate bars.  I decided that my ice cream pops would be even better with these items included.  The CBD oil is 300 mg Veggimins organic CBD oil , and I was super excited about receiving it.  I have been taking CBD oil before bed for a few months now, and it really helps me sleep better and calms my nerves, and I really wanted to try the Veggimins brand.  CBD is also good for relieving inflammation, which I need help with sometimes since I work out a lot.  If you have never tried this oil, it does not contain THC the psychoactive part of cannabis, so you don't get high, it just helps with things like decreasing anxiety, fighting inflammation, relieving nausea and decreasing depression among other things.  Definitely check it out, it is worth it! The oil they sent me was the cinnamint flavor, so I thought it would be the perfect thing to add to my ice cream pops, why not include my daily dose of CBD?!  I also chopped up some of the Sunbiotics Chocolate with Probiotics and Peppermint and their Original chocolate that they sent me, because it paired so well with the mint theme I had going.  I have to add though, that that chocolate bars were delicious on their own too, because I had to sample them while I added them to the ice cream of course. I love the idea of including probiotics in chocolate.  Why not have dessert and healthy probiotics too?!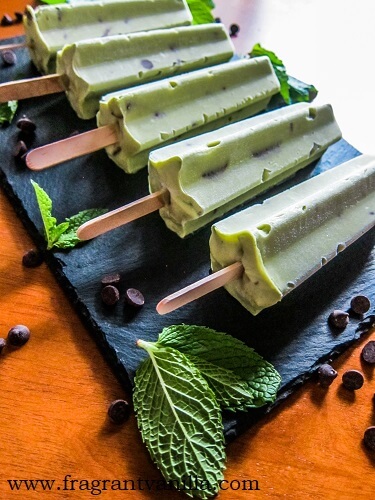 The ice cream bars turned out sooo good!  I made a creamy base with a secret ingredient, avocado.  Don't worry, you can't taste it, it just makes the ice cream silky smooth and gives it a light green tint that is typical of mint chip ice cream.  The bars were so refreshing and delicious!  They tasted like the ice cream I enjoyed as a kid but in ice cream bar form, and no refined sugars added.  If you are a mint chip fan, give these babies a try!  If the CBD oil and Sunbiotics chocolate sounded like something you would like to try, you can get 10% off on the Raw Ruru Website when you order with the code: FRAGRANTVANILLA entered when you check out.  I hope you are all staying cool if it is hot where you live like it is here currently!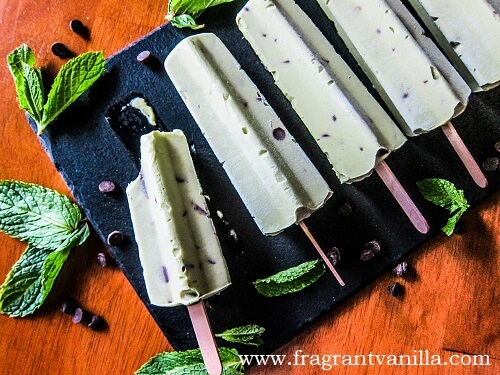 Vegan CBD Mint Chip Ice Cream Pops
Makes 4-8 popsicles (depending on what type of molds you have)
1 15 oz can organic full fat coconut milk
1/4 cup maple syrup
1 large avocado
1/2 tsp sea salt
2 tsp pure vanilla extract
1 tsp peppermint extract
4 dropperfuls Veggimins organic CBD oil 300 mg 
1 cup coursely chopped vegan dark chocolate or vegan chocolate chips
Instructions:
Combine all ingredients but the chocolate chips in a high speed blender and blend until smooth.
Stir in the chocolate chunks or chips.
Pour into molds, and freeze until firm before un-molding.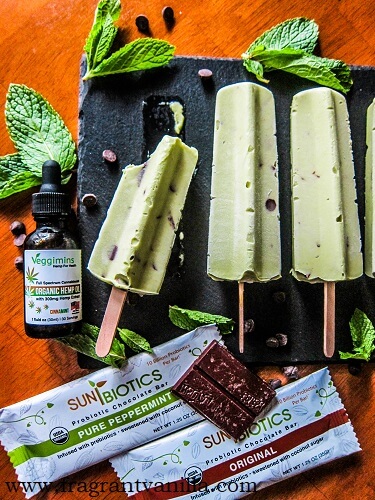 (Visited 230 times, 1 visits today)