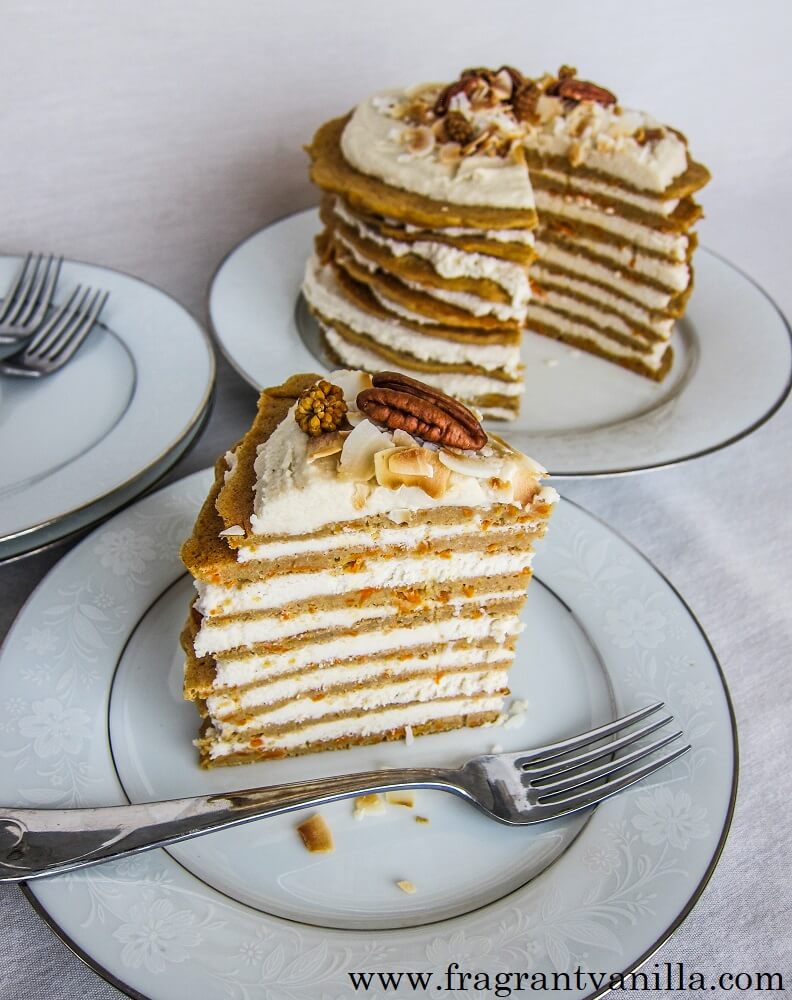 Vegan Carrot Crepe Cake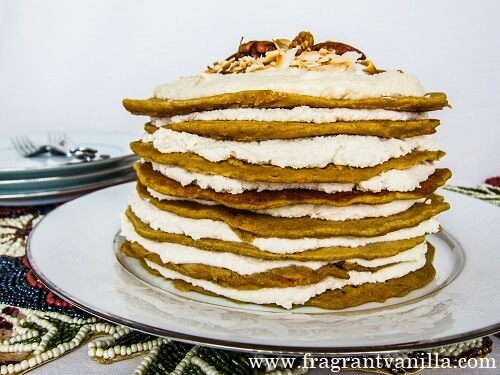 Whenever there is a holiday, I feel that a delicious dessert is in order to be served with the meal.  Growing up there was always something for dessert, like the pies at Thanksgiving and Christmas, and the sweet giant cinnamon rolls and Swedish rice ring that were always served with Easter brunch when I was little.  So, even to this day, I always have to make something grand for every Holiday.  This year for Easter I decided to make a carrot cake. We don't do brunch anymore, we just visited with family then came home and made dinner.  It was something super non-traditional oddly enough.  I made taco salad.  But it was amazing, so it didn't matter if it were Easter themed or not.  The carrot cake though, was fit to be served at a traditional Easter meal.  I love carrot cake, and so I try and work it into my cake making every Spring.  But I wanted to have a little fun and make something different and exciting.  I am always like that though, always making different versions of things, and not always sticking with the original.  The nice thing about this cake is that you don't have to bake it in the oven, but you do have to make crepes on the stove.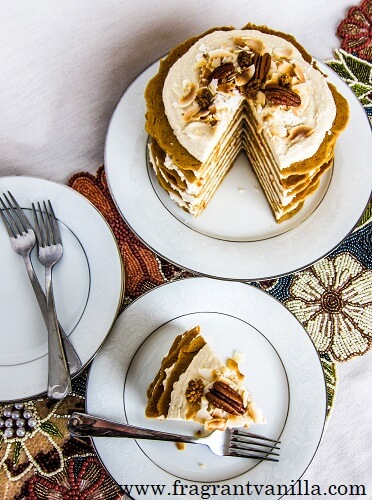 It is actually kind of fun though.  My first experience with making crepes was in high school French class.  Our teacher brought in crepe batter and pans and we made them.  They were so good and it was one of the best class periods ever!  I like making crepes as an adult too, they are pretty easy, and you can fill them with whatever you like.  But of course these were going to be carrot cake, so I added in plenty of carrots and spices. Carrot cake has to have aromatic spices. I like ginger, nutmeg, cardamom and cinnamon in mine. It smells so good while they are cooking!  Yes, it takes a little time to cook them, but I just worked on making the cream frosting to fill the layers while I made them. It is a pretty simple vanilla cream that I put on a lot of my desserts.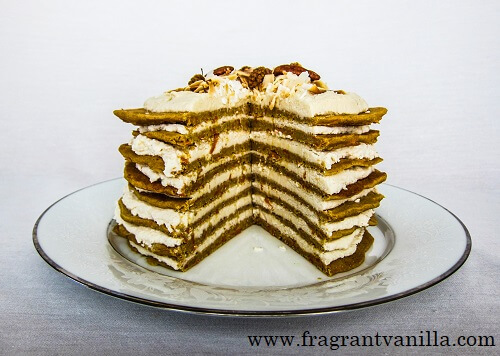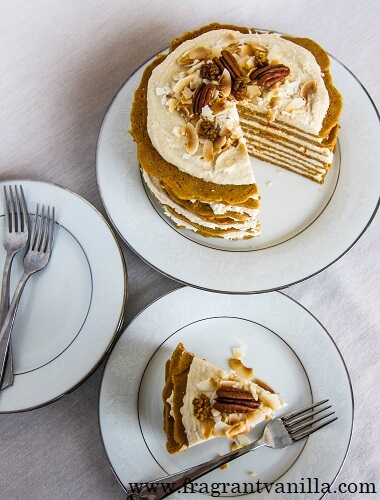 Once the crepes were all made and cooled and the frosting was ready, I assembled that baby.  I like the look of many layers, it is so pretty.  It tasted just like carrot cake too, but of course with even more creamy frosting which is a big plus for me because the frosting on cake is always my favorite part.  These have the perfect frosting/cake ratio!  Easter may be over now, but carrot cake is in season all of Spring (and I make it all year anyhow) so if you want to try a new recipe for carrot cake, give this a try!  I hope you are all having a wonderful Spring, it is snowing here right now so it still feels like Winter.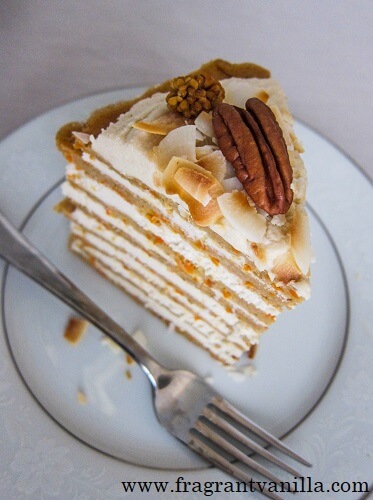 Vegan Carrot Crepe Cake
Makes one 6 inch cake
Crepes:
1/4 cup ground flax seed
3/4 cup filtered water
1 1/2 cups gluten free all purpose flour
1 Tbsp ground cinnamon
1/2 Tbsp ground ginger
1/2 tsp nutmeg
1/2 tsp cardamom
3 Tbsp coconut sugar
pinch sea salt
1/4 cup melted coconut oil
1 1/2 cups light coconut milk
1 tsp pure vanilla extract
2 cups grated organic carrots
Cream:
2 15 oz cans organic full fat coconut milk, chilled
1/2 cup maple syrup
2 tsp pure vanilla extract
1/4 tsp sea salt
1 1/4 cups coconut butter, warmed to liquid
Garnish:
Instructions:
To make the crepes, mix together the flax seed and water in a bowl, and set aside in the refrigerator for 15 minutes until it is the consistency of egg whites.
Meanwhile, whisk together the coconut sugar, flour, and sea salt in a bowl, then whisk in the coconut oil. Slowly whisk in the milk little by little to make sure the mixture stays free of lumps. Next, whisk in the vanilla, followed by the flax mixture you had set aside and the carrots.
Heat a non-stick 6 inch pan over medium heat, then pour in 1/3 cup batter, and swirl the pan so that it spreads out to the edges.
Cook for about 3 minutes on the first side, then flip over and cook the second side. Once the crepe is done, set aside on a plate.  Repeat with the remaining batter, separating the crepes with parchment paper on the plate so that they don't stick together. Once you have finished allow them to cool completely.
To make the cream, combine the coconut milk, maple syrup, vanilla and sea salt in a food processor and process until smooth.  Then, slowly with the motor running, add the coconut butter through the feed tube (you don't want the mixture to separate and clump up.  But if it does, just continue to blend until smooth (it will be liquid at this point), then place in the freezer and allow to chill until thick) until the mixture is thick.  Set aside in a bowl in the refrigerator.
To assemble the cake, place one crepe on a plate, then spread some of the cream over that in a thin layer, then top with another crepe.  Repeat the layers until you get to the last crepe then top the cake with the remaining cream.  Garnish with toasted coconut and pecans.  Let the cake set in the refrigerator for at least an hour before cutting.
(Visited 896 times, 1 visits today)