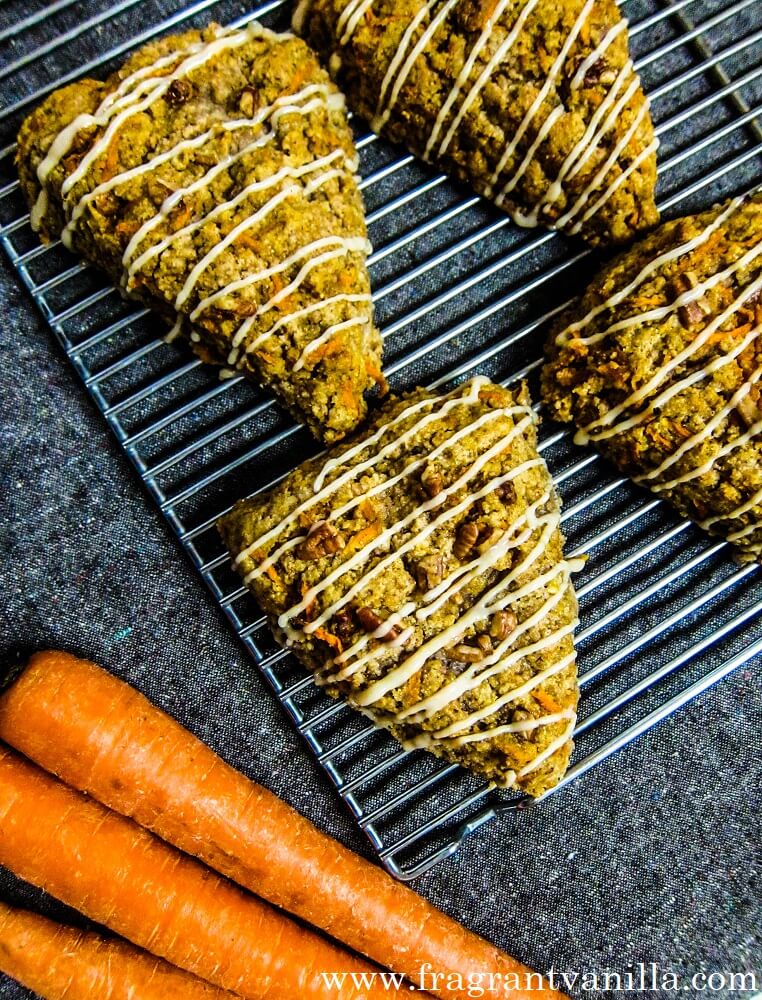 Vegan Carrot Cake Scones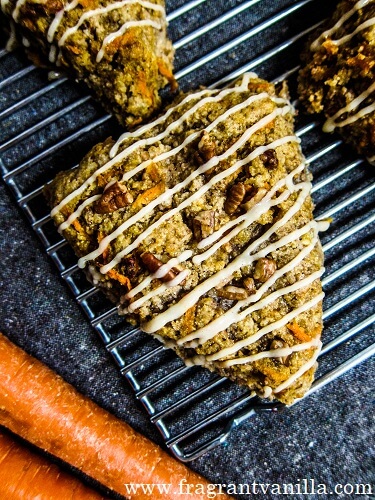 The arrival of Spring has me in the mood for carrot cake. Because to me, it is the quintessential Spring dessert.  I mean, it is perfect for Easter celebrations, and carrots first come into season this time of the year (well not for a while in Minnesota, but in other parts of the country). I like plenty of aromatic spices in mine, and chopped pecans, and it has to have a cream cheese frosting or glaze.  Gosh, I am making myself hungry talking about it.  I had carrots on hand last weekend and it just seemed right to make carrot cake, but I didn't have the ambition to bake a cake, make frosting, and frost it.  I wanted something a little more instant.  Scones sounded amazing as well, I was craving their flaky rich texture so, I decided to make carrot cake scones.  We make a carrot scone at the deli I work in, and I am always telling myself that I need to make a vegan version, so now was the time!  I can't believe I have never made any carrot cake scones, I have been baking for a long time and they sounded amazing!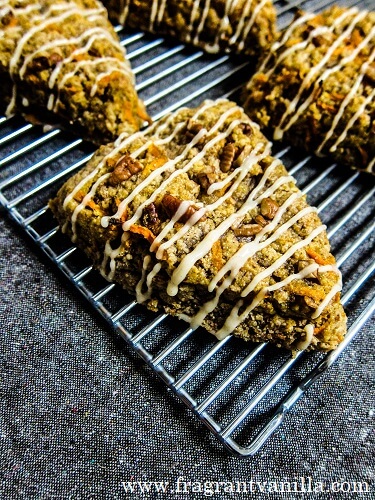 These are actually pretty quick and easy to make, which is always a win!  You can be enjoying them much faster than actual carrot cake. I made a gluten free dough for them, and added in some pecan meal for richness and extra flavor.  Trust me, this little addition makes them so much better!  For spices, I added cinnamon, ginger and nutmeg and it was just enough to make them aromatic.  Yes, these have coconut oil and full fat coconut milk in them, they are not a low fat recipe, but it is so worth it!  It makes them flaky, delicious and crave worthy.  The trick to making them turn out perfect is to mix the dough just until it is starting to hold together with small lumps of coconut milk and coconut oil still in the dough, then you get those pockets of flaky perfection. I mixed in plenty of carrots and pecans and even the dough tasted good!  Yes, I eat this dough just like I do with cookie dough haha!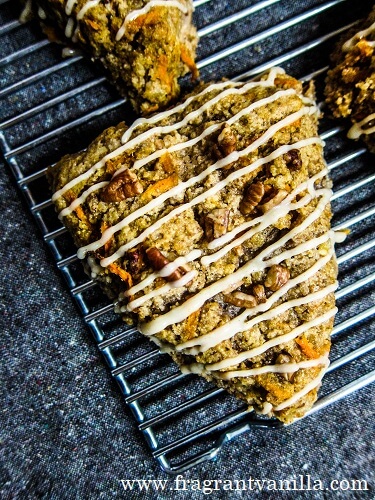 They smelled amazing while baking, the sweet aroma of carrot cake spices filling my kitchen.  They baked up beautifully, and I could not wait to try them!  But first, since they were carrot cake, they needed a "cream cheese" glaze.  So I whipped one up in a minute and it was just what they needed.  These are heavenly! They have all of the flavor of sweet carrot cake, but they are rich, flaky and delicious!  That slightly tangy sweet glaze is the perfect addition. These would be perfect for an Easter brunch, but of course I recommend making them now, just because they are so good!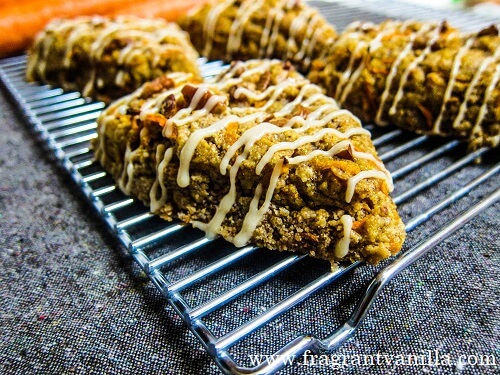 Vegan Carrot Cake Scones
Makes 8
Ingredients:
Scones:
1/2 cup pecan meal*
1/2 cup coconut sugar
2 1/2 tsp baking powder
1 tsp cinnamon
1 tsp dried ginger
1/2 tsp nutmeg
1/4 tsp salt
1/2 cup virgin coconut oil, cut into chunks
1 cup cold full fat organic canned coconut milk (whisked until smooth if chunky)
1 Tbsp pure vanilla extract
1 1/2 cups shredded carrots
1/2 cup chopped pecans
coconut milk for topping (if needed)
coconut sugar for sprinkling
"Cream Cheese Glaze:
1 Tbsp raw cashew butter at room temperature
1 Tbsp coconut butter, warmed to liquid
2 tsp maple syrup
pinch sea salt
1/8 tsp cider vinegar
Instructions:
Preheat oven to 425F degrees with the rack set at the middle position.
Line a baking sheet with parchment.
In a large bowl, combine the flour, pecan meal, sugar, ginger, cinnamon, nutmeg, baking powder, and salt. Cut in the coconut oil with a pastry blender or 2 knives until the mixture starts to clump into pea sized pieces. In a small bowl, stir the vanilla into the coconut milk. Add the coconut milk to the dough, and stir a few times, but do not over-mix. The dough should hold together when squeezed, but still be clumpy.
Fold in carrots and pecans until evenly distributed.
Place dough on a floured work surface, and shape into a 4 inch wide log. Use a bench scraper to cut into 8 triangles.
Place scones on the prepared baking sheet, reshaping slightly if necessary.
Brush the tops lightly with the coconut milk (only if they seem dry, you want the sugar to stick), and sprinkle with coconut sugar.
Place in the oven and bake for about 20 minutes or until golden brown (after about 15 minutes you may need to reshape with 2 bench scrapers if the scones are spreading, then place back in the oven).
Cool on a wire rack.
Whisk together the glaze ingredients until smooth, and drizzle over scones. Enjoy!
*If you prefer to make these not gluten free, you can swap the gluten free flour for organic whole wheat pastry flour.
*For the pecan meal, blend about 3/4 cup pecans in a blender or food processor just until ground finely, but not too long or they will become butter. This should give you enough for the recipe.
(Visited 217 times, 1 visits today)