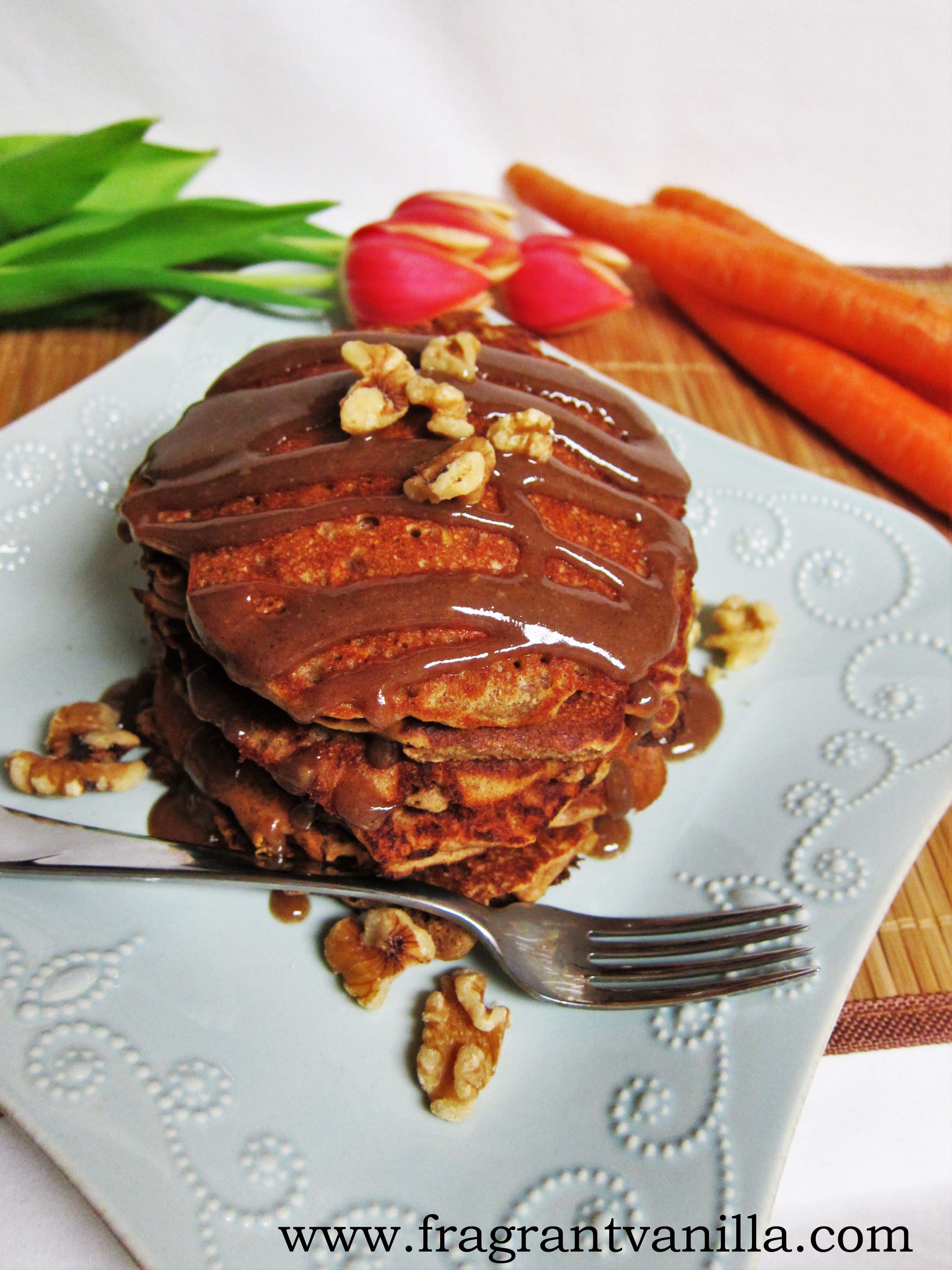 Vegan Carrot Cake Pancakes with Caramel Drizzle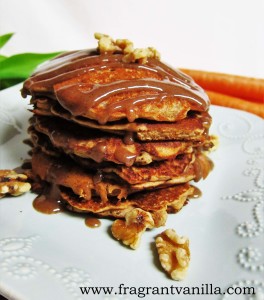 We had a little Spring teaser last weekend when it was 70 degrees and shorts weather.  Now it is snowing a little and chilly.  That's March for you!  But I am still in the mood for Spring stuff even though Minnesota still seems to want to hang on to Winter.  Technically it is Spring at 11:00 tonight, and I am all for it.  So, carrot cake has been my dessert and flavor of choice lately when it comes to breakfast and desserts.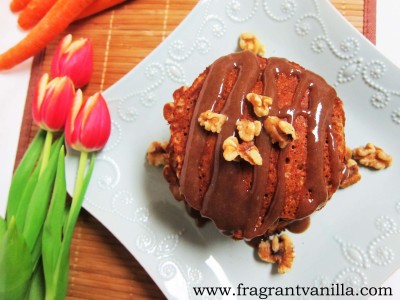 I whipped up some Carrot Cake Pancakes last night, and they were delicious so I thought I would share the recipe with you all. They are like having dessert, but in a healthier way and as a meal with nutritious ingredients involved.  I used quinoa flour, because it is gluten free, high in protein, and kind of nutty tasting.  Also, some Sprout Living Vanilla Lucuma Protein Powder to pack another protein punch so it would be a satisfying meal.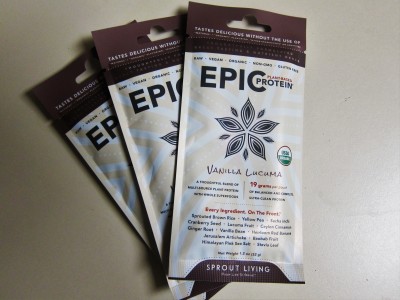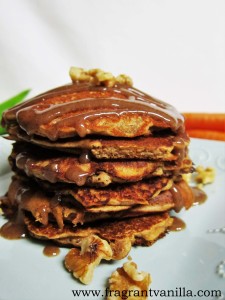 My usual carrot cake spices, ginger, cinnamon and nutmeg were used along with a bit of pecan butter to give it a little richness without oil.  The batter tasted amazing, so I knew the pancakes would too.  My kitchen smelled wonderful, like carrot cake which is just what I was looking for.  I drizzled them with a date caramel instead of the usual cream cheese that accompanies carrot cake or just maple syrup, because I like my pancake toppings to have a bit of substance and caramel just sounded good.  It was the perfect choice.  Next time you are craving carrot cake, now you can have some for breakfast! If you enjoy Sprout Living protein powder, stay tuned, Monday I will be posting another recipe including their protein, and you will have a chance to win some of their product!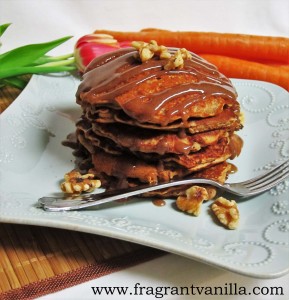 Vegan Carrot Cake Pancakes with Carmel Drizzle
Makes about 14
1 1/4 cups quinoa flour or Bob's Red Mill all purpose gluten free flour
1/4 cup Sprout Living Vanilla Lucuma Protein Powder
1 Tbsp baking powder
¼ tsp sea salt
1 tsp cinnamon
¼ tsp nutmeg
½ tsp ginger
3 Tbsp coconut nectar or maple syrup
¼ cup plus 2 Tbsp aquafaba*
1 ¼ cups light coconut milk
1 tsp pure vanilla extract
3 Tbsp pecan butter (or almond or walnut butter)
1 cup shredded carrots
Caramel Drizzle:
1/2 cup soft medjool dates, pitted
1/4 cup filtered water (or as needed)
1 Tbsp pecan butter (or almond or walnut butter)
pinch sea salt
1 tsp pure vanilla extract
In a bowl, whisk together the flour, protein powder, baking powder, sea salt, cinnamon, nutmeg and ginger.  Whisk in coconut nectar, aquafaba, coconut milk, vanilla, walnut butter, and carrots until well combined.
Preheat your oven to 200F degrees.
Heat a non-stick frying pan over medium heat.  When hot, add ¼ cup of the batter*.  Cook for about 2-3 minutes on the first side, then flip and cook about 2 more minutes until lightly browned and cooked through.  Place on a plate, and put in the oven to keep warm. Repeat with remaining pancakes.
To make the drizzle, combine all ingredients in a high speed blender, and blend until smooth (adding more water if too thick), drizzle over the pancakes before serving.
*Aquafaba is the liquid of chickpeas, canned, or cooked at home. You want it to be thick as egg whites when using, if it is too thin, reduce it first, and allow to cool.  If you do not want to use aquafaba in this recipe, whisk together 2 Tbsp ground flax seed and 6 Tbsp water for 2 flax eggs instead, and use in the recipe as you would aquafaba.
*You may add a little coconut oil to the pan when cooking if you wish (or if you have a regular pan instead of non-stick), if you want non-oil free pancakes.
(Visited 15 times, 1 visits today)