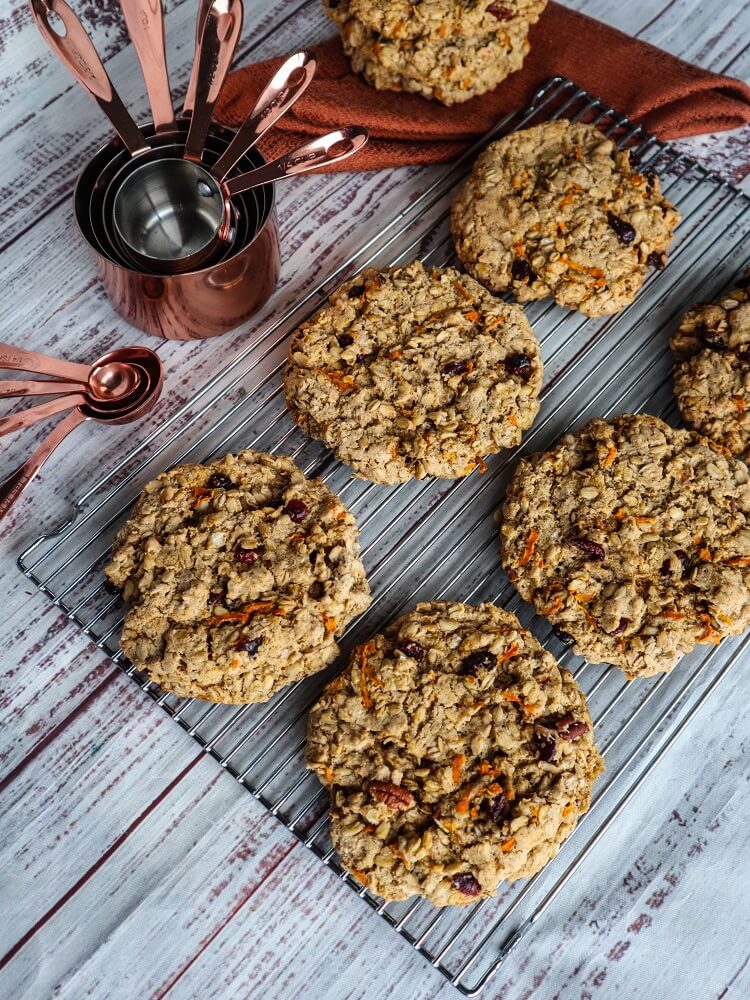 Vegan Carrot Cake Oatmeal Cookies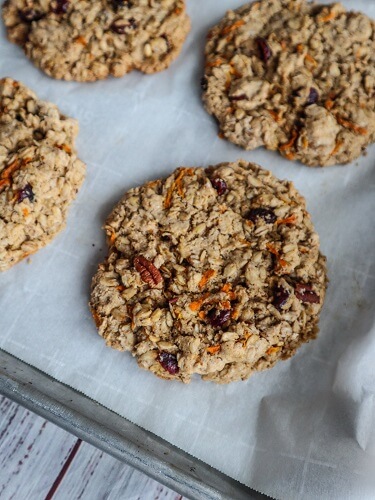 We are a little ways into spring, but it really doesn't feel very spring like in Minnesota yet, as it has been gray and snowing/raining for what seems like weeks now.  But that makes it the perfect time to spend time in my kitchen and bake things of the spring variety.  Like carrot cake themed desserts!  I made some carrot cake scones, carrot cupcakes and now cookies!  My Mom's Birthday was earlier this week, and I know she loves oatmeal cookies and carrot cake, so I decided to combine the two!  After all, they both taste delicious with the spices and have a somewhat healthy element so they are a match made in heaven!  My Mom always said they were the healthiest cookie when I was little.  Even though I am not a cookie person (I tend to prefer cake), if I had to pick a favorite cookie it would be something of the oatmeal variety.  I like the chewy texture and I am a big oats fan.  These Vegan Carrot Cake Oatmeal Cookies turned out pretty darn delicious!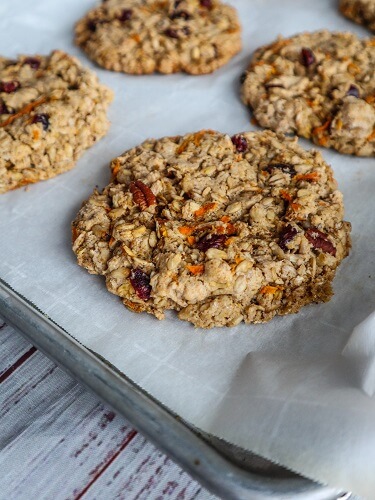 I used my vegan oatmeal cookie base that I make at work for my vegan oatmeal chocolate chip cookies, that we well a lot of there, but swapped a few ingredients to make them a bit healthier.  Such as at work I use regular AP flour and brown sugar but at home I prefer to use whole wheat flour or whole wheat pastry flour, and maple sugar instead of the brown.  Of course if you wanted them to be more traditional, you could just go back to the regular AP flour and brown sugar and they are delicious as well.  Also, if you wanted to make these gluten free, just use either gluten free oat flour or Bob's Red Mill gluten free all purpose baking flour and gluten free oats.  They will be just as delicious! I just used what I had on hand.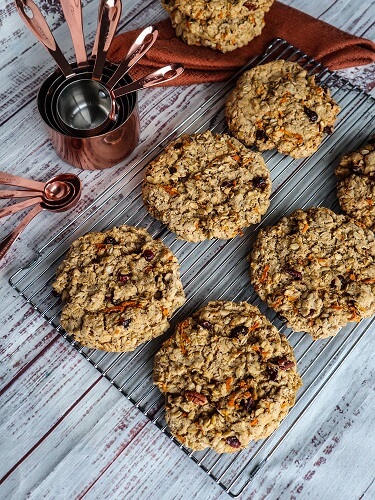 I also added in carrot cake spices, ginger, cinnamon, and nutmeg to give these the flavor of the classic cake.  I kept the vanilla and swapped the dark chocolate chips for pecans and cranberries.  If you wanted to use walnuts and raisins if you have those on hand instead of the fruits and nuts I chose, those would be good too, or pistachios. You can feel free to make these your own with your favorite carrot cake ingredients!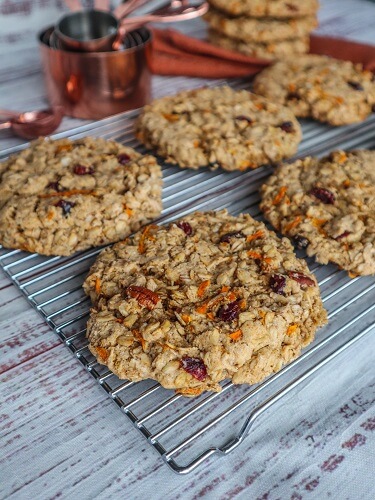 They baked up nicely and filled my kitchen with a heavenly aroma!  Just like a carrot cake, only so much faster and easier to make. They were super delicious, chewy, sweet and they tasted just like carrot cake in cookie form.  My Mom loved them too, which was important because I made them with her in mind. If you are a carrot cake fan or are craving carrot cake, definitely give these Vegan Carrot Cake Oatmeal Cookies a try!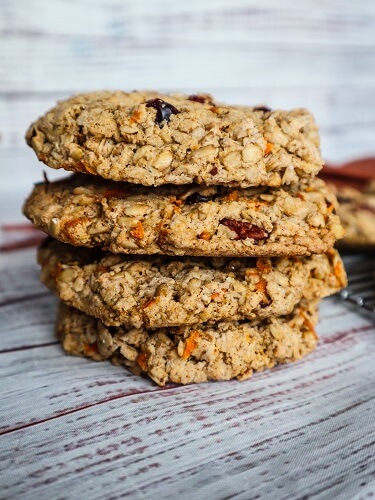 Vegan Carrot Cake Oatmeal Cookies
Makes 16 large cookies
Ingredients:
3/4 cup coconut oil
1 1/2 cups maple sugar or brown sugar
2 Tbsp ground flax seed mixed
1/4 cup plus 2 Tbsp water
1/2 tsp cinnamon
1/8 tsp nutmeg
1/2 tsp ginger
1 tsp vanilla
1/2 tsp sea salt
1 tsp baking soda
1/2 tsp baking powder
1 1/2 cups organic whole wheat pastry flour
3 cups organic rolled oats
1 cup grated organic carrots
1 cup dried cranberries
1 cup chopped pecans
  Instructions:
In a large mixing bowl, mix together the coconut oil, and sugar until well blended. Mix the flax seeds with the water, then add them to the oil and sugar mixture. Then the spices and vanilla, and mix until well combined (the mixture will become very thick).
Mix in the salt, soda,baking powder, and flour until well blended. Mix in the oats until well combined, then add carrots, cranberries and pecans and mix until evenly distributed throughout the dough.
Heat the oven to 350 degrees with the rack set at the middle position. Line 2 baking sheets with parchment paper.
Roll the dough into 16 large balls, and spread them out on the 2 cookie sheets with plenty of room in between. Bake for 15-18 minutes or until golden, but not over baked. Let cool on sheet a few minutes, then remove to a wire rack lined with parchment to cool.
Enjoy!
(Visited 780 times, 1 visits today)