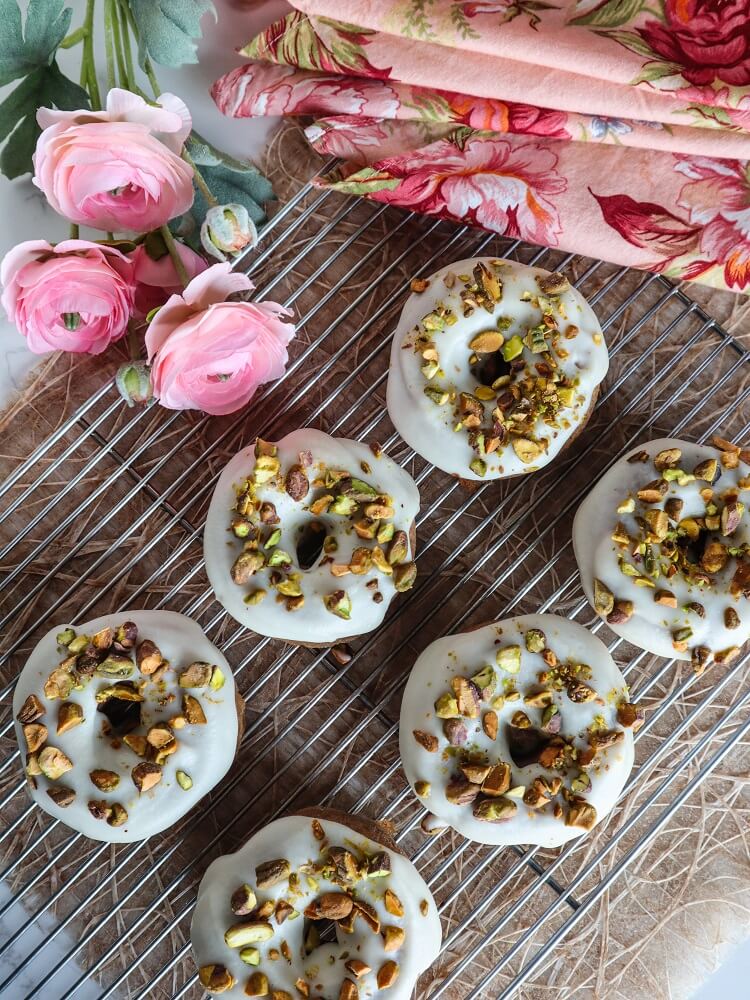 Vegan Carrot Cake Doughnuts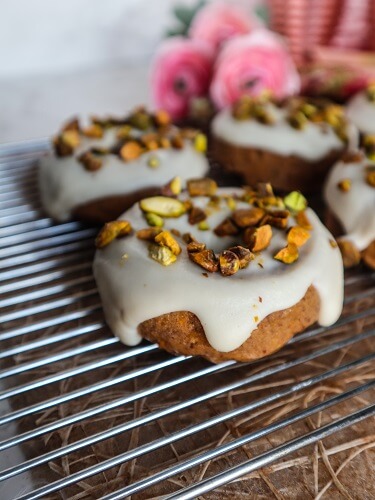 It may technically be spring here in Minnesota but we are getting some pretty wintery weather lately, like a few inches of snow and below freezing temps.  But I am so ready for spring, so I am just putting up spring decor, and making spring food and pretending it isn't cold outside.  Things like carrot cake, or these Vegan Carrot Cake Doughnuts!  I wanted some doughnuts last weekend and I have really been in a carrot cake mood lately so I combined the two and they turned out awesome!  Also they are much easier to make than carrot cake which was a win since it was a busy weekend.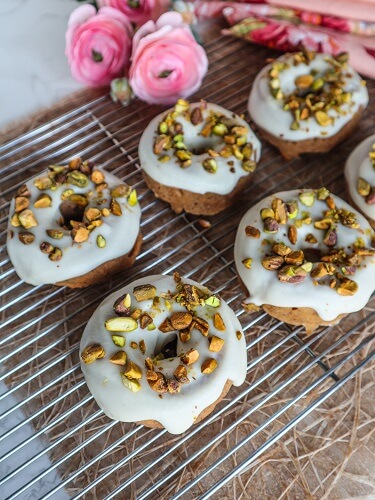 These are healthier than traditional fried doughnuts because they are baked, and you can choose which kind of sweetener you want in them.  If you want to go less processed you could use coconut sugar.  But since all I had on hand at the time was regular sugar I went with that not wanting to make a trip to the store (I know regular sugar is not healthy but like I said you can choose your sweetener, and they still have better ingredients than most doughnuts).  I used whole wheat pastry flour in these because it is my favorite for baked goods but you can use regular AP if you prefer that, or even gluten free AP flour (see note at the bottom).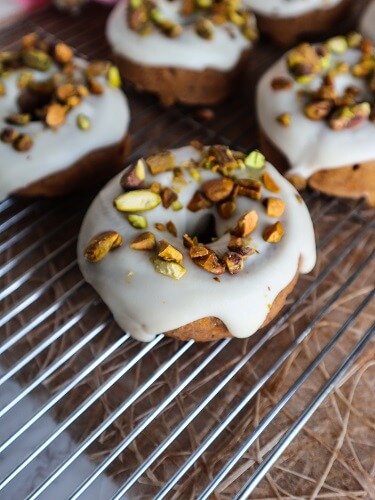 I gave them a little spice, I like a mixture of cinnamon, ginger and nutmeg in my carrot cake, and a touch of vanilla.  They baked up beautifully and made my kitchen smell amazing!  I could not wait to try them but first they needed a glaze!  I decided on a coconut glaze with vanilla because it is really simple and easy to make.  It is just coconut butter (not oil), vanilla, maple syrup, water, and sea salt.  This is my favorite doughnut glaze because it tastes delicious but is not overpoweringly sweet like some powdered sugar glazes. I also topped them off with crunchy pistachios because they are so pretty!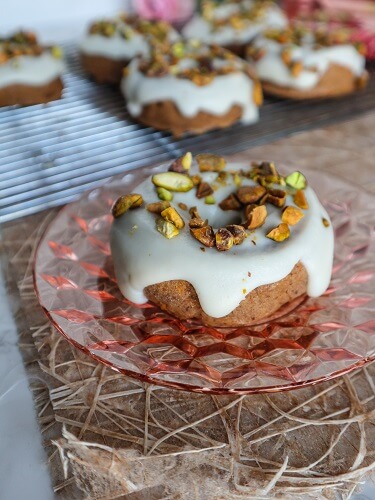 These doughnuts turned out so delicious!  They are moist but still light, lightly spiced, scented with smooth vanilla frosting, and crunchy pistachios on top and it is hard to just eat one!  I love them with coffee for a weekend mid afternoon snack!  If you are a carrot cake fan, definitely give these Vegan Carrot Cake Doughnuts a try!  They are so much easier than making a large carrot cake that you have to frost!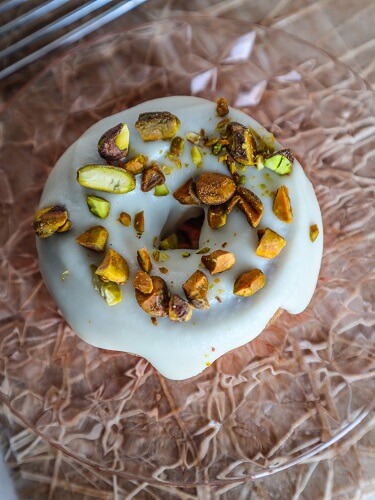 Vegan Carrot Cake Doughnuts 
Makes 8
Ingredients:
Cake batter:
1 1/2 cups organic while wheat pastry flour or all purpose flour
3/4 cup plus 2 Tbsp granulated sugar
3/4 tsp baking powder (1/2 tsp plus 1/4 tsp)
1/2 tsp sea salt
1 tsp cinnamon
1 tsp ground ginger
1/2 tsp nutmeg
2 flax eggs (2 Tbsp golden ground flax seed mixed with 1/4 cup plus 2 Tbsp filtered water, allowed to sit 15 minutes)
1/4 cup plus 2 Tbsp avocado oil or other neutral oil
1/2 cup plant based milk
1 1/2 tsp pure vanilla extract
1 1/2 cups shredded carrots
Glaze:
1/2 cup melted coconut butter
2 Tbsp maple syrup
1/2 tsp pure vanilla extract
3-4 Tbsp filtered water or as needed
1/8 tsp sea salt
Topping:
1/4 cup chopped pistachios
Instructions:
Preheat oven to 350F degrees, and oil a silicone 8 hole doughnut pan.
In a large bowl, combine the flour, sugar, baking powder, sea salt and spices and whisk to blend.
Add the flax eggs, avocado oil, milk, and vanilla and beat with an electric mixer for about a minute (or 3 minutes if doing it by hand with a whisk).
Pour the cake batter into the prepared pan, filling the holes 3/4 full.
Place the doughnuts in the oven and bake for about 15-20 minutes until they are done in the center (you are able to insert a toothpick into the center and it comes out almost clean with a few moist crumbs).
Remove from the oven and let cool 20 minutes, then remove the doughnuts from the pan by tapping it upside down on your cooling rack.  Allow them then to cool completely once they are out of the pans.
To make the glaze, whisk together all ingredients except the water.  Then whisk in the water until smooth and uniform.  If it is a little too thick add just a few tsp more water until it is a pour-able consistency.
Spoon the glaze over the doughnuts, and sprinkle with pistachios.
Allow glaze to set, then enjoy!
Doughnuts keep stored in the refrigerator, covered for up to 1 week.
Notes:
*If you would rather use coconut sugar or maple sugar for this, either will work in place of the sugar.
*This cake can be made gluten free by swapping out the whole wheat pastry flour for Bob's Red Mill gluten free all purpose baking flour (this is a brand I have used before and have tested it in cakes with great results).
(Visited 276 times, 1 visits today)