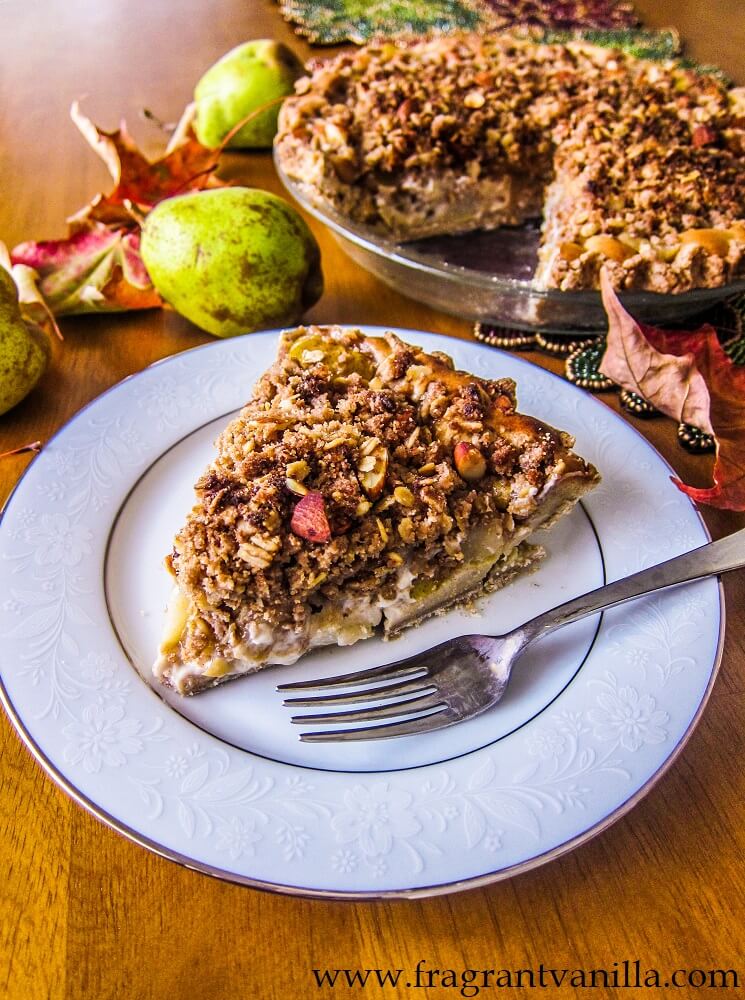 Vegan Cardamom Pear Almond "Cream Cheese" Pie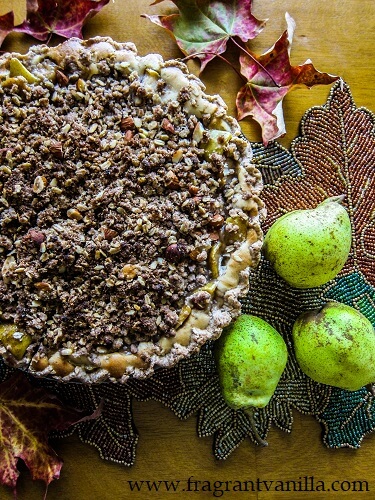 Back when I was in college, one of my favorite things ever was roasted pears.  It might not sound that exciting, but boy were they ever good!  I know most people choose apples over pears for things like pies and roasting, but the sweet pears tasted amazing once baked to spiced caramelized perfection.  I have no idea where I even got the idea to make the pears this way, but I think I made them almost every day one winter.  I would put them in a baking dish with apple juice, spices and some maple syrup around them, cover and bake them for a while (so they essentially sort of poached) until they were incredibly sweet, tender and delicious.  I would then top them off with a local creamy goat cheese.  Not one that was goaty, but one that was mild, creamy and delicious.  Man, was that a good combination.  Not only that, it was a relatively simple and affordable dessert to make. It has been ages since I made that, and come to think of it, I could make it with my vegan chevre, and should soon.  But I was thinking about it the other day when my coworker gave me a big bag of pears from her Dad'd trees.  I thought, why not make a pie with the same sort of flavors going on.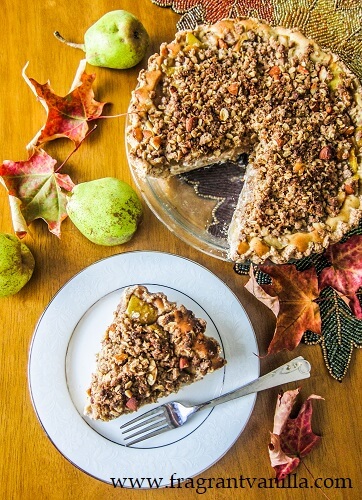 I was thinking about making just a spiced pear pie and serving it with ice cream, or maybe some coconut whipped cream for that creamy element that the chevre gave the inspiring other dish.  But that wasn't enough for me. What I ended up with was a pear pie spiced with cardamom, and a bit of cinnamon. This was just the beginning, and going off of that other idea.  I thought, why not include the creamy element in the actual pie?  So I added a delicious rich vegan cream cheese layer for that creamy chevre element.  Now, every pie needs a good crust, and one of my favorite things in the world is not crusts because they are so rich and delicious!  So the pears and cream cheese were housed in an almond crust and almond oat crumble topping. It smelled amazing while baking, and most importantly once it was finished it was super delicious.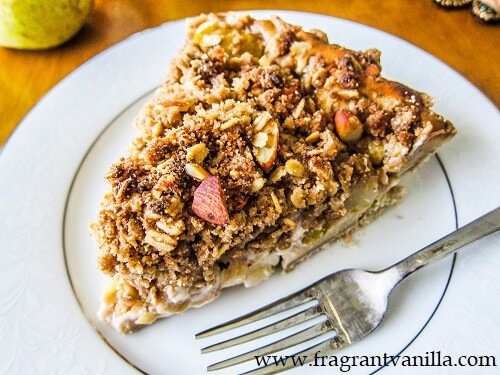 This is like my dream pie, it has it all.  Creamy, crunchy, sweet, jammy, salty... crave worthy deliciousness. The only sad part was waiting for it to cool so I could cut into it.  If you have pears on hand, and some free time to spend in the kitchen, definitely give this a try.  It is the perfect time of year to do so, while the pears are amazing! I hope you are all having a wonderful Fall so far!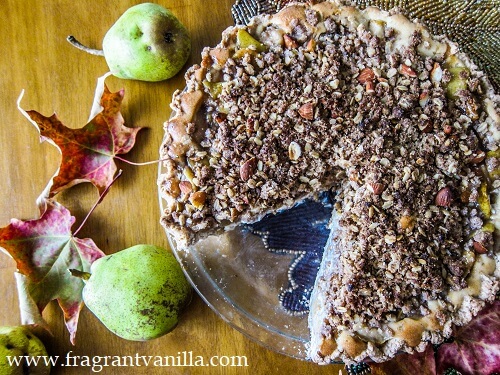 Vegan Cardamom Pear Almond "Cream Cheese" Pie
Makes one 9 inch pie
Crust:
1/4 cup almond flour (or almond meal)
2 Tbsp coconut sugar or maple sugar
1/4 tsp sea salt
1/4 tsp cardamom
1/4 cup plus 2 Tbsp coconut oil in its solid state
about 3-6 Tbsp cold water
Filling:
4 large organic pears (I like bartlett or d'anjou), sliced
2 Tbsp maple syrup
3/4 tsp cinnamon
3/4 tsp cardamom
1 Tbsp arrowroot starch or cornstarch
1 Tbsp lemon juice
Cream Cheese:
3/4 cup thick organic coconut milk (from the top of a chilled can)
3/4 cup cashew butter
2 Tbsp maple syrup
1/8 tsp sea salt
1 tsp pure vanilla extract
1 tsp almond extract
1/2 tsp cider vinegar
2 Tbsp arrowroot starch or cornstarch
Topping:
1/4 cup Bob's Red Mill all purpose gluten free baking flour
2 Tbsp coconut sugar
1 1/2 Tbsp melted coconut oil
1/4 cup plus 2 Tbsp gluten free rolled oats
1/3 cup chopped almonds
pinch sea salt
Instructions:
To make the crust, in a large bowl, mix together flour, sugar, sea salt, and spices. Cut in coconut oil with a pastry blender or 2 knives until it is in pea sized pieces. Mix in  just enough water to create a smooth dough that holds together but isn't too sticky. Add more water if needed, and knead slightly until a smooth dough is created. Roll out into a 10 inch circle on a sheet of parchment paper, then use the paper to help you transfer it to an 9 inch pie dish.  Flute the edges, and set aside in the refrigerator.
To make the pears, combine the pears, maple syrup, cinnamon and cardamom in a saucepan, and cook covered over medium heat, stirring often for about 15 minutes, or until the pears are soft and starting to turn translucent.  Dissolve the arrowroot starch in the lemon juice, and add it to the pears.  Stir until thickened, and remove from heat and set aside.
Pre-heat the oven to 375F degrees.
To make the cream cheese, whisk together all ingredients until smooth and set aside.
To assemble the pie, pour the cream cheese layer over the crust, then scatter the pear filling over that.
Meanwhile, mix together the topping ingredients in a bowl and squeeze with your hands to form clumps.
Scatter the topping over the pie, place in the oven and bake for about 45 minutes until the edges of the crust are lightly brown, and pie is set.  Remove from the oven to a wire rack.
Allow to cool completely before serving.
(Visited 677 times, 1 visits today)