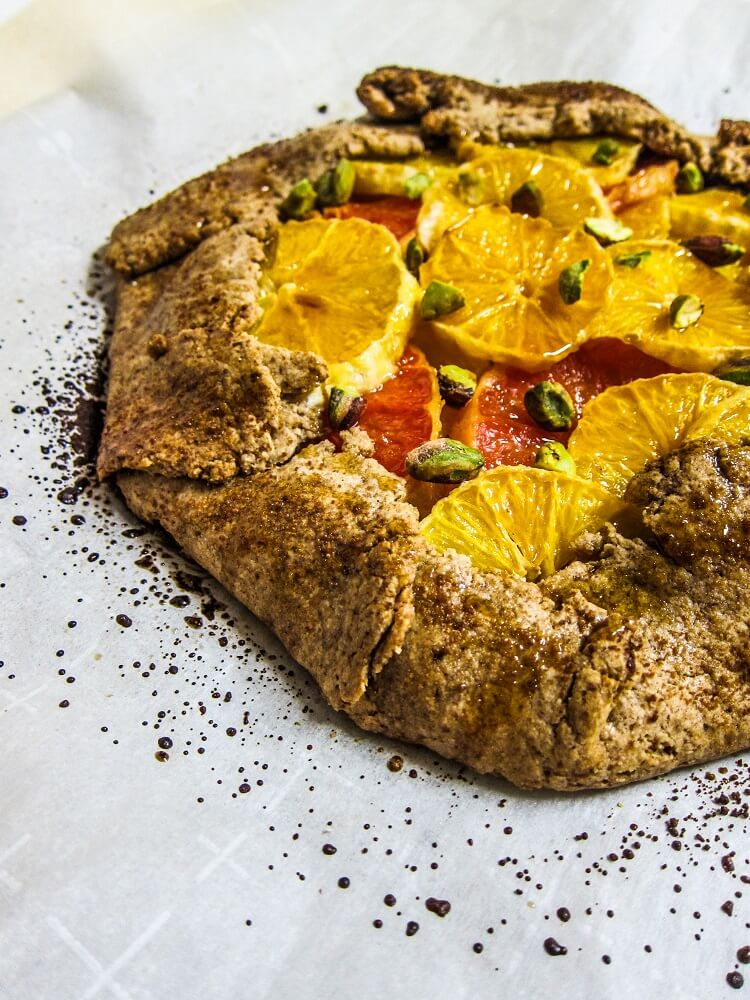 Vegan Caramelized Citrus Galette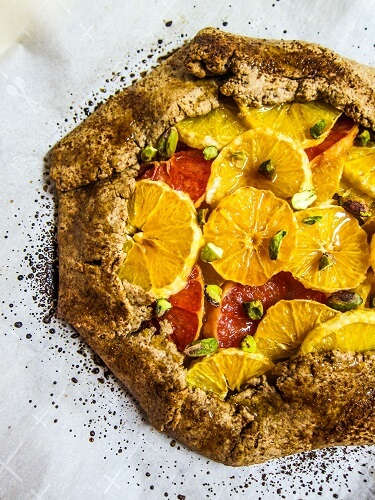 Now that we are past the shortest day of the year, and we are into January, I feel like things are looking up.  Not that the Holidays were bad or anything.  I am just one of those people who likes to not have to worry about too many plans in a short period of time, and likes routine and normalcy.  I feel like I didn't know what day of the week it was for the past couple of weeks with the Holidays in the middle of the week, and different days off than I am used too.  It feels so good to be back to normal and just do things at a more relaxed pace and enjoy things like just going for a walk outside or making new recipes and relaxing with a book or movie at night. It has been really warm here too for the last couple of days, which is awesome!  It is like Spring in January, so I have been trying to get outside everyday instead of just treadmilling it.  Also, it has been nice and sunny, not like December which is one of the cloudiest months.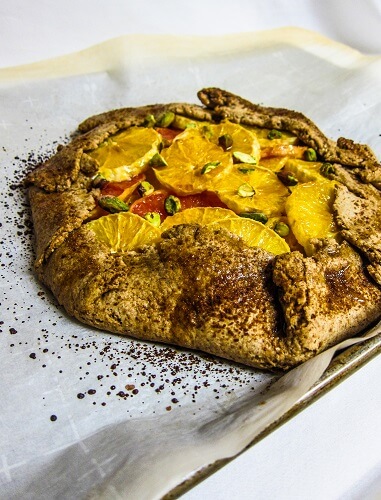 One of those new recipes that I had time to make this week, was a caramelized citrus galette.  I typically make galettes with apples, pears or berries, but since it is the peak of citrus season, I thought why not use it in a delicious dessert. I thought about using just oranges, but I love grapefruits and clementines too so I used all three!  It ended up being the perfect balance of tart and sweet. I tossed them with a little maple syrup, and a dash of cardamom and I knew this filling was going to be good.  I wasn't sure it they would work out though, since citrus tends to be very juicy, but I solved that problem by saving the extra juices and making a caramel like syrup with rosewater and vanilla to top the finished galette off with.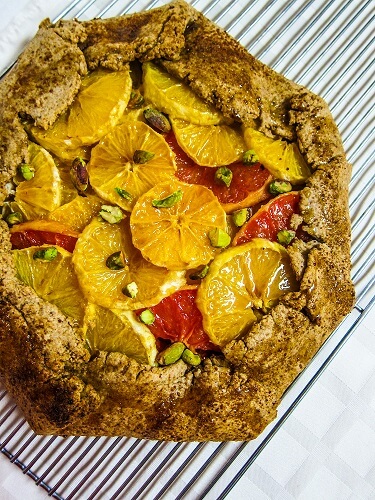 I love galettes because they are so much easier to make in pies and they bake much faster!  No fussy crusts, just one crust to roll and if it doesn't look perfect, it is ok because it is rustic.  It smelled amazing while baking.  I love the sunny sweet scent of citrus, and the crust smelled almost buttery.  When it was done baking I drizzled it with a reduced orange rosewater caramel syrup and sprinkled it with some crunchy pistachios.  It turned out beautifully and it was super delicious!  I like it served warm with a scoop of coconut milk ice cream!  Take advantage of the lovely citrus this season and give this a try!
Vegan Caramelized Citrus Galette
Crust:
2 cups whole wheat pastry flour*
1/4 tsp sea salt
1/4 cup maple sugar or coconut sugar
1/3 cup coconut oil in solid state, cut into chunks
1/4 cup almond butter
5-6 Tbsp ice water
Filling:
1 grapefruit, peeled and sliced into rounds, juices reserved
2 oranges, peeled and sliced into rounds, juices reserved
3 clementines, peeled and sliced into rounds juices reserved
3 Tbsp maple syrup
1 Tbsp cornstarch
1/8 tsp ground cardamom
pinch of sea salt
maple sugar or coconut sugar for sprinkling
Orange Caramel Glaze:
3/4 cup orange juice
3 Tbsp maple syrup
1/2 tsp rose flower water or orange flower water (optional)
1/2 tsp pure vanilla extract
For finishing:
chopped pistachios for garnish
Instructions:
To make crust, combine flour, sea salt, sugar, coconut oil, and almond butter in a bowl, and use a pastry blender to cut into the mixture until it resembles pea sized chunks (you can also use your hands).  Add water and mix into the dough.  Knead a few times until it comes together (you may need to add an additional Tbsp more water).  Shape into and roll out into a 1/4 inch thick circle on a sheet of parchment (you will want to dust the parchment underneath with a little flour and dust the rolling pin too to avoid sticking. If the dough has gotten too warm, place in the refrigerator).  Preheat oven to 400F degrees.
Put a fine meshed strainer over a bowl, and press each citrus slice one by one into the bottom of the strainer (pressing out some of the juice, but not so hard that you smash them and they don't look pretty anymore) and set them aside in a bowl.  Reserve the juices in the bowl under the strainer for later.
Add 3 Tbsp maple syrup, the cornstarch, cardamom, and sea salt to the bowl with the citrus and toss to combine. Arrange fruit mixture on top of the dough, leaving a  1 1/2-inch border all the way around. Fold border over the fruit mixture, overlapping where necessary and pressing gently to adhere the folds (it doesn't have to be perfect, it is rustic).
Brush edges of dough with melted coconut oil, sprinkle with sugar, and bake until crust is deep golden brown and juices are bubbling, 45 minutes or so. Transfer baking sheet to a wire rack to cool the galette.
Meanwhile, add all of the reserved citrus juices plus 3/4 cup orange juice to a small sauce pan along with 3 Tbsp maple syrup. Bring to a boil, and simmer until it is reduced to the consistency of syrup.  Add the rose water and vanilla and stir in.  Drizzle over the warm galette.
Sprinkled the galette with pistachios, and serve warm or at room temperature.
*You may use whole wheat pastry flour if you do not wish to make this gluten free.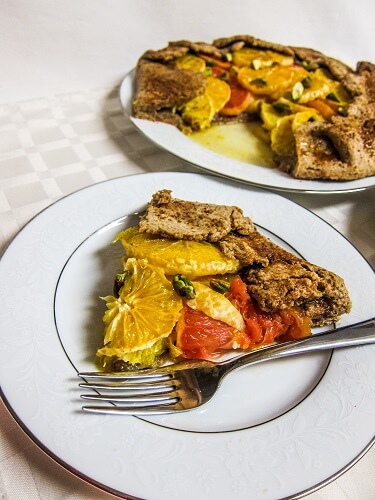 (Visited 148 times, 1 visits today)