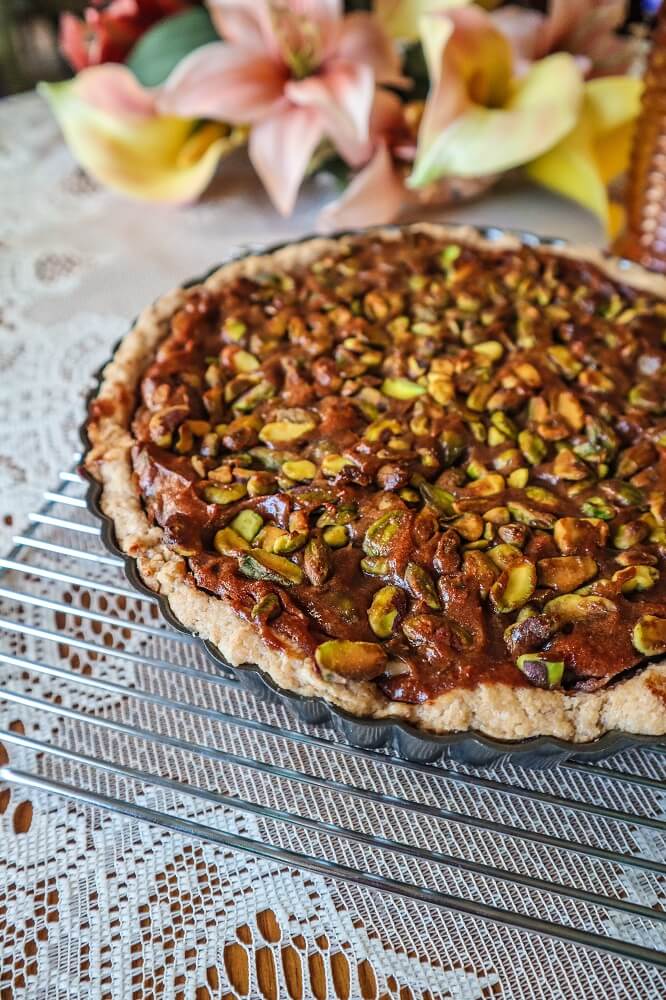 Vegan Caramel Pistachio Tart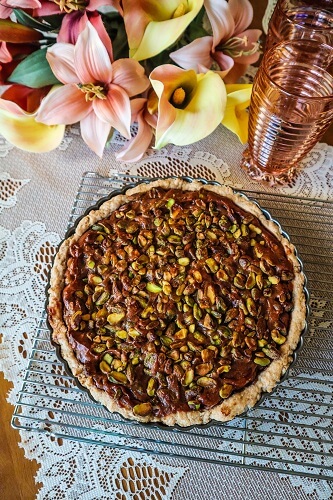 My Mom's Birthday is in a few days and this year she requested a caramel nut tart.  Pecans are good, but you know what's even better and prettier for spring?  Pistachios!  I have a funny story about them too.  Back when I was in high school and I went shopping with my Mom one time I filled up a giant bag of organic pistachios from the bulk section at the co op we shopped at.  When we got to the register to buy them they rang up at $45 or so!  I didn't know they were so spendy and we didn't really want to buy that many if they were so expensive but my Mom ended up buying them anyway and we ended up making them into a caramel tart like the one I decided to make this week.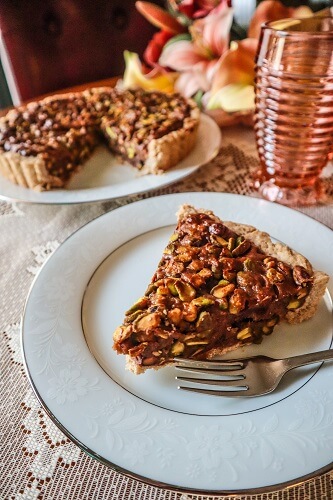 The original one had a lot of dairy, butter and refined sugar in it, but I have come up with a version that is vegan and a bit healthier.  For this one, I make a coconut oil crust which is easy to make and still tastes rich and buttery like the original one.  For the filling instead of all the cream and sugar I made a date caramel.  I love dates they are like nature's caramel, so heavenly!  When you blend them up with a few other ingredients, they make a great caramel for a pie or tart filling!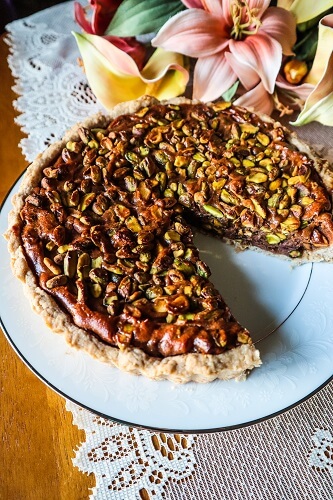 As far as the pistachios went, no they did not cost $45 this time. You can actually get them for a reasonable price at Aldi!  Which is where I usually buy the ones I snack on.  They worked great for this tart!  I could not stop sampling the filling it was so good!  It also smelled so heavenly while baking!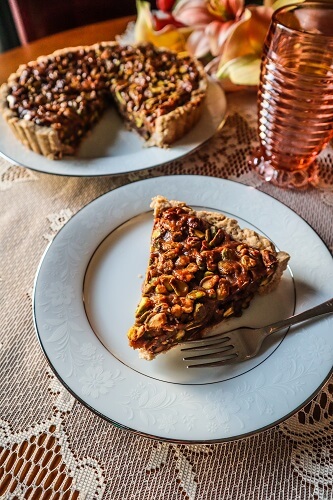 We could not wait to try it!  My Mom loved it (and me too)!  It was gooey and sweet with vanilla scented caramel, crunchy, salty and nutty thanks to the pistachios and the buttery crust was a nice touch!  If you are a fan of pistachios, definitely give this a try!  Also, it would be perfect for Easter!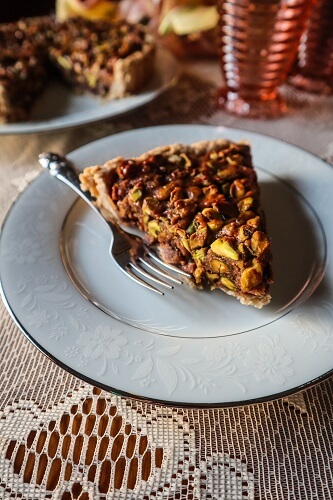 Vegan Caramel Pistachio Tart
Makes one 8 inch tart
Ingredients:
Crust:
3/4 cup plus 3 Tbsp organic whole wheat pastry flour 
1 1/2 Tbsp coconut sugar or maple sugar
1/8 tsp sea salt
1/4 cup plus 1 Tbsp coconut oil in its solid state
about 2-3 Tbsp cold water
Filling:
1 1/2 cups soft pitted medjool dates (if they are not soft, soak them in filtered water for 30 minutes and drain well before using)
1/2 cup raw cashew butter
2 Tbsp maple syrup
1/4 tsp sea salt
2 tsp pure vanilla extract
1/2 cup filtered water
2 Tbsp coconut butter or oil
1 3/4 cups shelled pistachios, plus more for the top
Instructions:
Preheat the oven to 375F degrees, and oil an 8 inch removable bottom tart pan.
To make the crust, in a large bowl, mix together flour, sugar, and sea salt. Cut in coconut oil with a pastry blender or 2 knives until it is in pea sized pieces. Mix in  just enough water to create a smooth dough that holds together but isn't too sticky. Add more water if needed, and knead slightly until a smooth dough is created. Roll out into a 9 inch circle using floured parchment underneath and floured rolling pin. Fit into the prepared pan, using the parchment to assist. Set aside.
To make filling, combine all ingredients in a high speed blender or food processor except the cashews. Process until smooth, then scrape into a bowl and stir in the pistachios. Spoon the filling into the crust and top with more pistachios to make the top look pretty.
Place pies in the oven. Bake for about 30 minutes until the crust is starting to brown lightly. Remove from oven and let cool completely on a wire rack.
Remove the bottom of the pan, and enjoy!
(Visited 757 times, 1 visits today)