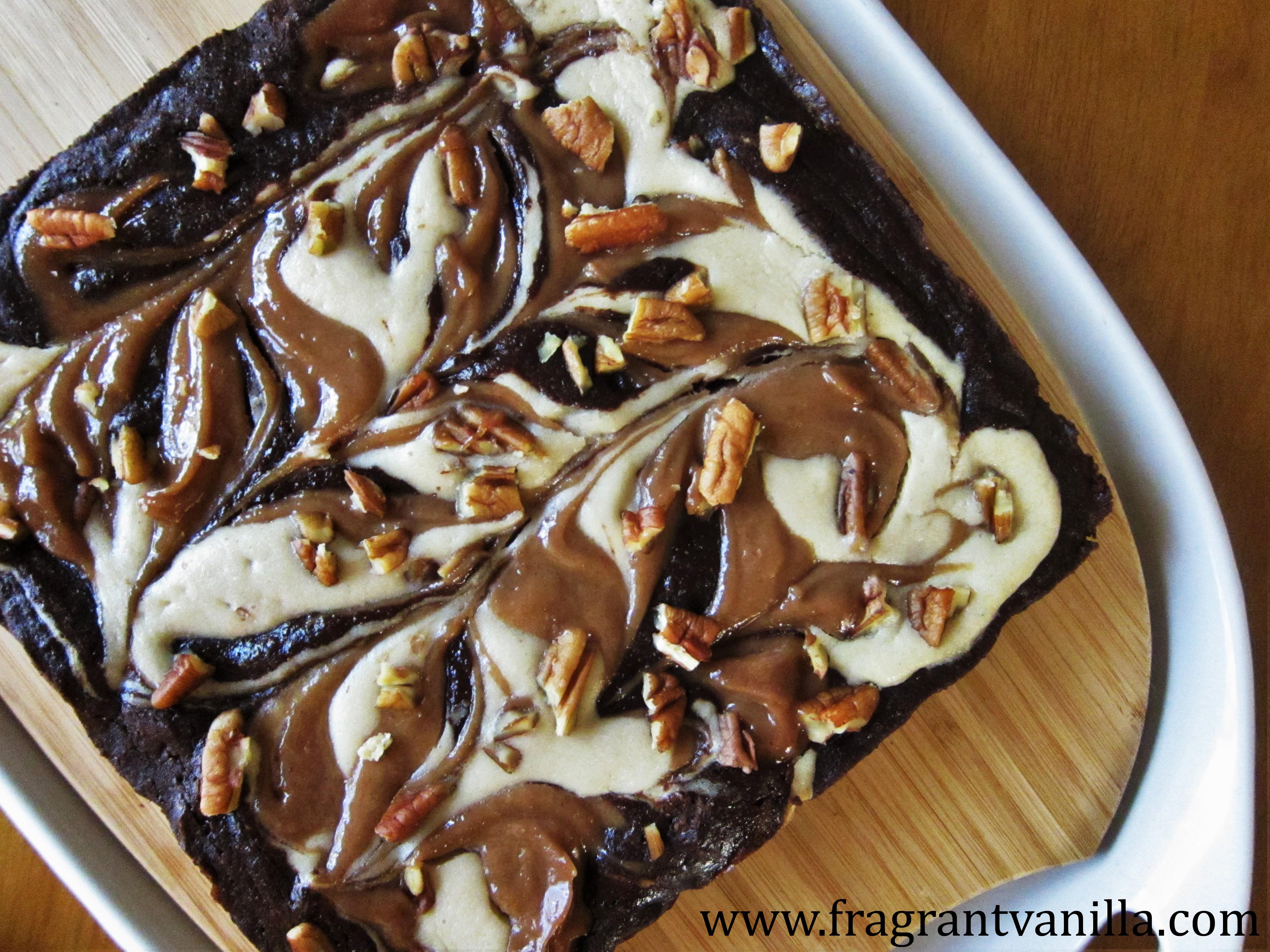 Vegan Caramel Pecan Cheesecake Swirl Brownies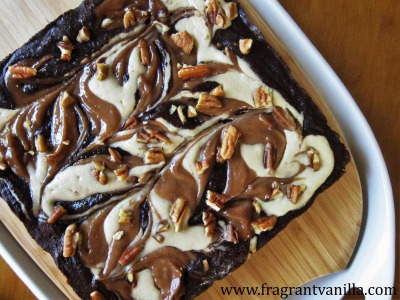 One time, back when I was in high school, I had to bring a dessert to a cross country banquet to share, and my Mom decided to make brownies.  Now mind you, we did not make them from scratch, we bought the mixes at the store, and at that point in my life I could not even imagine making brownies from scratch.  We were making some turtle brownies this time.  They came out of the oven lovely and smelling like decadent chocolaty goodness, but they had to cool on the counter.  We had to go somewhere, and thought nothing of leaving them out in the open, because our Maine Coon cat Heather was well behaved and never jumped up on counters as far as we knew, but when we got home, guess who thought that the brownies smelled good too?  We caught her up on the counter licking the caramel. Bye bye brownies, we had to start over, and luckily Heather did not get sick, but it was kind of funny.  I guess cats sometimes get sick of cat food and want goodies too.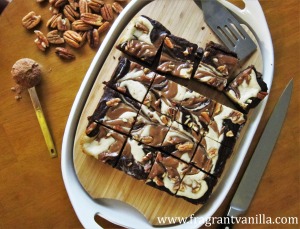 Speaking of caramel in brownies...I  made some brownies with caramel in them on my day off this week and they were amazing.  I had leftover caramel from another dessert I had made, my delicious date caramel recipe that I make often for anything and everything, and I decided it would be awesome in brownies.  But not just brownies, cheesecake brownies with pecans. I was going for pure decadent rich deliciousness here.  I mean, I knew they would be good, but they FAR exceeded my expectations.  I used a mixture of pecan butter and avocado oil in the brownie part instead of coconut because I don't like how hard coconut oil gets when cooled in desserts.  This made them fudgy and rich.  For the cheesecake part, a mixture of coconut milk and cashew butter because I think this gives it the best flavor, and this stuff was so good I could have eaten it with a spoon. once combined with the caramel and pecans and baked...wow, did it smell amazing!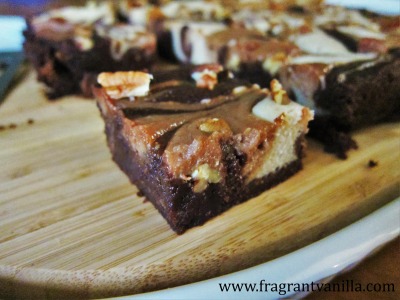 I let them chill overnight, which was really hard considering I wanted to try them so bad, but I wanted them to cut nicely.  It was well worth the wait.  They were decadent, rich, and delicious.  You would not be able to tell that these are vegan, refined sugar free, and gluten free at all, they taste like regular brownies.  These are honestly the best brownies I have made, and I would proudly serve them to a group of omnivores!  Thumbs up from my taste testers too, bet you can't eat just one!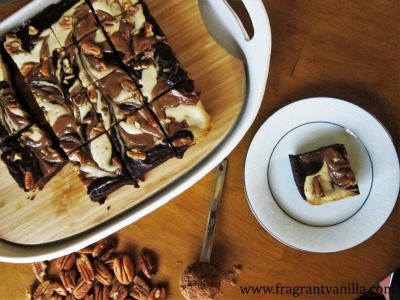 Vegan Caramel Pecan Cheesecake Swirl Brownies
Makes 16
Ingredients:
Caramel:
1/2 cup soft medjool dates, pitted (if they are not soft, soak them in water and drain well first)
1 heaping Tbsp pecan butter or almond butter
1 Tbsp maple syrup
1/8 tsp sea salt
1 tsp pure vanilla extract
1/4 cup filtered water (or as needed)
Cheesecake swirl:
3/4 cup thick coconut milk (from the top of a chilled can)
1/2 cup cashew butter
2 Tbsp maple syrup
1/8 tsp sea salt
1 tsp pure vanilla extract
2 Tbsp arrowroot starch or cornstarch
Brownies:
1/2 cup avocado or olive oil
3 Tbsp pecan butter, or almond butter
1 cup coconut sugar
1/4 cup plus 2 Tbsp reduced aquafaba or 2 flax eggs*
2 teaspoon vanilla extract
1/2 cup cacao powder or unsweetened cocoa powder
1/4 teaspoon sea salt
1/2 cup chopped toasted pecans (plus more for sprinkling the top)
Instructions:
To make the caramel, combine all ingredients in a blender and blend until smooth (adding a little water if necessary, it should be the consistency of pourable but still thick caramel).  Pour into a bowl and set aside.
To make the cheesecake swirl, combine all ingredients in a blender and blend until smooth.  Pour into a bowl and set aside.
To make the brownies, pre-heat the oven to 350F degrees. Whisk together the sugar, oil and nut butter until well combined and the sugar is starting to break down.  Add the aquafaba and vanilla and beat until smooth.
Add the flour, cacao powder and sea salt and beat until smooth, then stir in the pecans.  Scrape the batter into a greased 8x8 inch pan, then drop the cheesecake and caramel over it in 2 Tbsp amounts, and swirl it with a knife.  Sprinkle with a few more pecans.
Place in the oven, and Bake for about 30-35 minutes or until set (but do not over bake).  Let cool before cutting into bars.
*The aquafaba is the liquid from cooked or canned chickpeas.  You want it to be thick like egg whites.  If you are wanting to make flax eggs, simply mix together 2 Tbsp ground flax seeds, and 6 Tbsp filtered water and let sit in the refrigerator for 15 minutes before using in the recipe.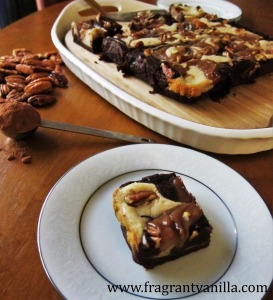 (Visited 242 times, 1 visits today)