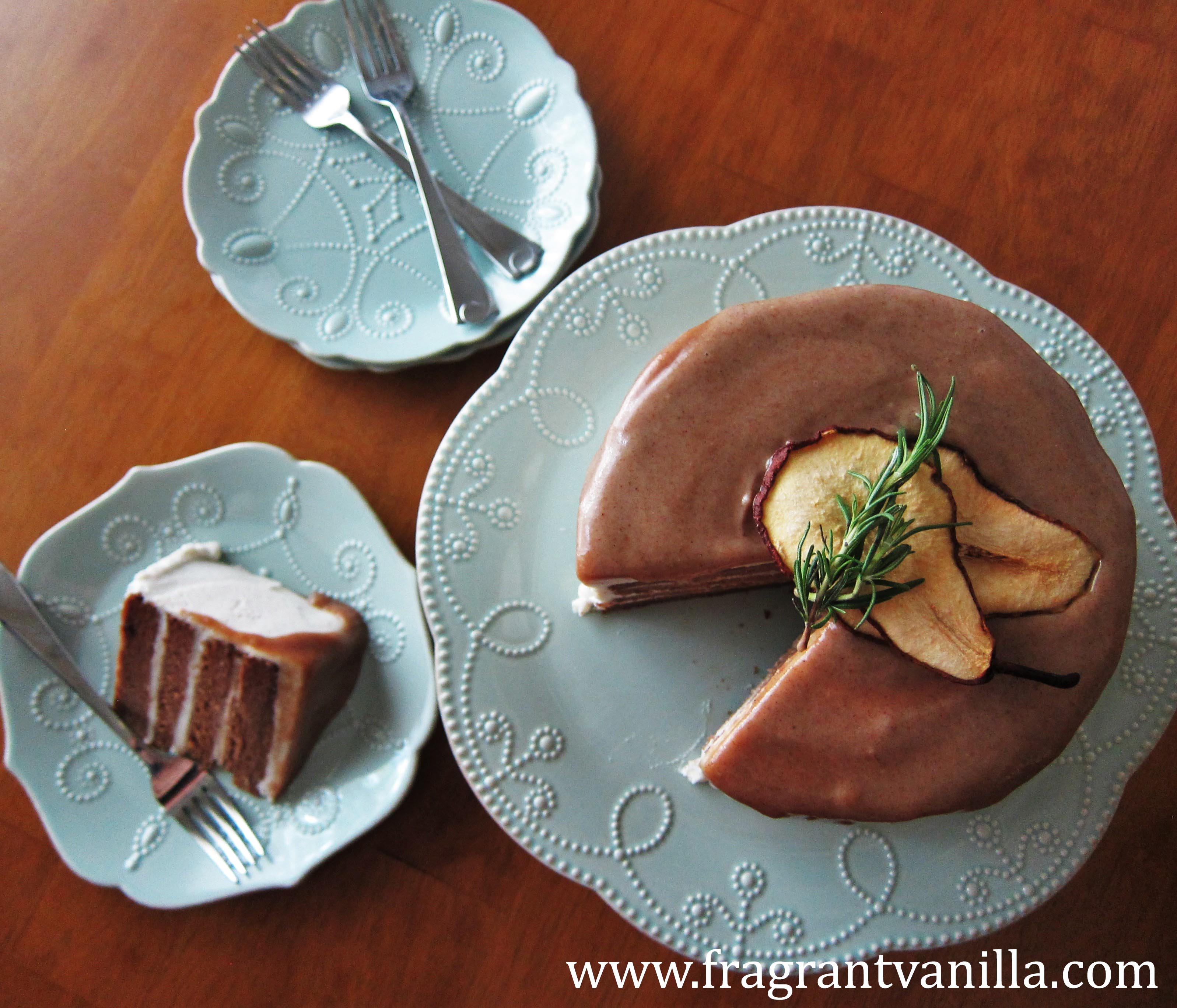 Vegan Caramel Pear Cake with Cream Cheese Frosting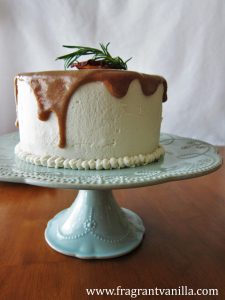 Apples get all the love in the fall.  But you know who else deserves some love?  The pears.  If you get a perfectly ripe pear that is sweet, juicy and delicious, it is like dessert.  I was never that fond of pears growing up, but that was because the ones I are mostly came in cans with syrup.  Just not the same, and nothing like fresh ones.  When I started to buy fresh ones, I fell in love.  D'anjou are my favorite, because they are perfectly sweet, but I am not going to turn down a good Bartlett.  Which is the most widely available kind around here.  I saw some perfect pears at the store last weekend and I had to get some.  I didn't yet know what I was going to use them for, but I knew they would be delicious.  I thought about a pie, mixing them with some apples I had also picked up, but I had just made pie, so I decided it was a cake baking weekend.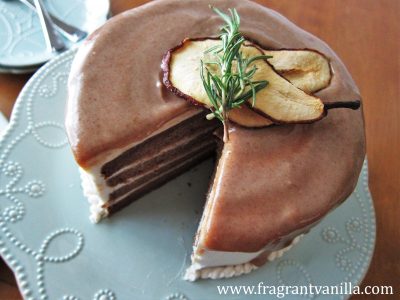 It has been a while since I have made a pear cake, so it was perfect.  I was craving caramel, and cream cheese frosting, so I decided on a vegan caramel pear cake with cream cheese frosting.  For the cake, I used the pears pureed along with some dates to sweeten it.  This also gave it a beautiful caramel flavor.  The cake layers themselves are actually fruit sweetened.  The sweeter and more juicy the pears you have, the better this cake will taste.  I added a little almond butter as well to the batter for richness, and some cinnamon to make it more aromatic, and it tasted wonderful.  Yes, I always taste my batter.  Something I learned when I was young... because I wanted something sweet, but now it is also to make sure I didn't miss an ingredient.  One time, I actually forgot to add the sweetener and I realized it before baking luckily thanks to my cravings for cake batter.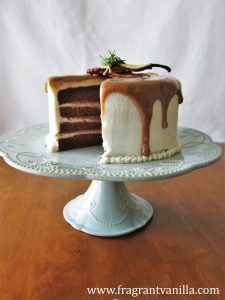 I made a date caramel to fill and top the cake off with, and a luscious cream cheese frosting to cover it.  All of the components of the cake were coming together and tasting amazing on their own, so I couldn't wait to enjoy the finished product!  It was just as I had imagined, and the perfect end to a weekend meal.  Sweet with the essence of pear, gooey caramel, and creamy decadent cream cheese frosting.  This is something I would pay big bucks for in a bakery, just sayin.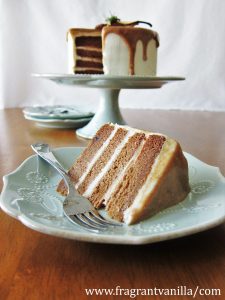 Vegan Caramel Pear Cake with Cream Cheese Frosting
Makes 1 6 inch 2 layer cake
Ingredients:
2 6 inch cake pans
Cake:
1 1/2 cups quinoa flour (or all purpose gluten free flour)
1 1/2 tsp baking soda
1 tsp baking powder
1/2 tsp sea salt
1 tsp cinnamon
1 cup packed soft medjool dates, pitted, soaked in water for 30 minutes and 1 cup of the soaking water reserved
1/4 cup almond butter
1 Tbsp pure vanilla extract
1 cup pureed ripe pears
2 Tbsp apple cider vinegar
Caramel:
1 cup soft, pitted medjool dates (if not soft, soak in filtered water 30 minutes and drain well)
1/4 cup filtered water (or as needed)
1/4 cup almond butter
1 tsp pure vanilla extract
pinch sea salt
Frosting:
1 15 oz can full fat organic coconut milk at room temperature
1/2 cup raw cashew butter
1/4 cup maple syrup
1 tsp pure vanilla extract
1/4 tsp sea salt
1/4 tsp cider vinegar
1/2 cup melted coconut butter (warmed to liquid)
2 Tbsp melted cacao butter* (warmed to liquid)
Directions:
Preheat the oven to 375F degrees and position rack in center of oven. Line two six-inch-diameter cake pans with 2-inch-high sides with parchment paper. Coat parchment paper and pan sides lightly with oil so that the cake doesn't stick and line the bottom of the pan.
Whisk flour, baking powder, baking soda, cinnamon and sea salt in a large bowl to blend well.  Set aside.
Place dates, reserved water, almond butter, pear puree, and vanilla extract into a blender, and blend until smooth, then whisk this blended mixture into the flour mixture until well blended. Whisk in the cider vinegar until bubbles form. Transfer cake batter to prepared pans and bake cakes until tester inserted into center comes out clean, about 30 minutes. Cool cakes completely in pan on rack, about 1 hour. Cut around sides of pan to loosen. Turn cakes out onto plates, and peel off parchment paper. Slice each in half horizontally so that you have 4 layers (being really careful, because it is delicate).  Set aside, covered so that it doesn't dry out.
To make the caramel, combine all ingredients in a high speed blender until smooth (add a little more water if too thick).  Set aside.
To make the frosting, combine all ingredients in a high speed blender and blend until completely smooth.  Pour into a bowl and place in the freezer until the consistency of stiffly whipped cream (about 30-45 minutes depending on how warm it has gotten.  Once it is ready place in the refrigerator until ready to assemble.
To assemble, place one cake layer on a plate, and spread frosting 1/4 inch thick over it.  Then spread some of the caramel over that.  Place the other cake layer over that, then spread more frosting, and caramel over it like the last layer.  Repeat with another layer, and top off with last piece of cake.  Spread the remaining frosting on the top and down the sides of the cake.
***If you would like a 2 layer 9 inch cake, double this entire recipe and bake in two 9 inch cake pans.  It will take longer to bake, about 50 minutes to 1 hour.
*If you do not have cacao butter, you may use additional coconut butter in its place.  Just keep in mind the frosting will not taste like white chocolate.
(Visited 476 times, 1 visits today)